Buy 3 Get 1 Free
Our Best Sale Yet! Add 4 Books Priced Under $5 To Your Cart     Learn more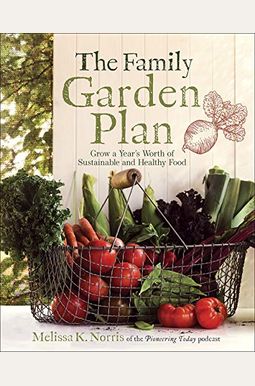 
 
The Family Garden Plan: Grow A Year's Worth Of Sustainable And Healthy Food
Book Overview
Live a Bountiful Life

Do something good for your family by learning how to plant a garden that will yield healthy, wholesome food throughout the year.

Melissa K. Norris, host of the popular Pioneering Today podcast, will walk you through each step of the process, from planning your food crops and garden space to harvesting and preserving the food you grow. Even intermediate to experienced gardeners will discover dozens of new ideas.

More than just practical advice, you'll learn how gardening can contribute to a sustainable lifestyle and give you a sense of accomplishment, peace of mind, and overall joy.

Make the One-Year Garden Plan your grow-to guide for good eating and greater well-being for you and your loved ones.

Frequently Asked Questions About The Family Garden Plan: Grow A Year's Worth Of Sustainable And Healthy Food
Books like The Family Garden Plan: Grow A Year's Worth Of Sustainable And Healthy Food
Book Reviews
(14)
Did you read The Family Garden Plan: Grow A Year's Worth Of Sustainable And Healthy Food? Please provide your feedback and rating to help other readers.
Great book

Derived From Web

, Dec 25, 2021

Her book is amazing and super informative, just like her blog and YouTube videos. She has provided a lot of great tips for beginners as well as experienced gardeners. If you're that sensitive, whiny and intolerant that you can not respect a persons religion or beliefs, then stay away from all books... Social media communication forms include social media communication, forms of media communication, and all forms of social media communication. I love that she is full of joy, love and happiness. Idk what kind of helpful person dislikes miserable information and positivity, but if it is you, you will not like this book. Remember to spread love and not hate!
My Favorite Gardening Book

Derived From Web

, Jul 22, 2020

This will become my go-to gardening book! It is one of the most comprehensive gardening reference books that I have ever read. This book will cover it all for you : from garden planning, soil preparation, seed starting and more to preservation techniques. I highly recommend it! I highly recommend it!
Gardening and Jesus? I only wanted a gardening book :(

Derived From Web

, Jun 21, 2020

The book and the info contained in this book look great to help plan and preserve our family garden. I did not know anything about the author and didn't read her bio because the book itself seemed like a good choice. I am not expecting all religious references and am turned off by them. There should be a warning on the front of the book or at least EXPLICITLY stated on the cover, letting you know that you're getting some good gardening info with a side of Jesus splattered throughout.
Picture book

Derived From Web

, May 28, 2020

Some good info, but literally every other page is a picture. The entirety of this book could be a 15 - minute YouTube video.
FREAKING AWESOME!!!

Derived From Web

, May 20, 2020

This book was delivered last night at 728 pm and by 10pm I was almost done with the whole book, including marking my favorite parts. There is not a single part of this book that I do not like. I am beginning my first garden and had lots of questions. Not just the general gardening questions of what to plant when and in what zone, but WHY?? I wanted to know the strategic and scientific part of gardening and she really came through and delivered. I know that I will refer to this book and have it sitting on my kitchen counter for as long as I am gardening. A very open minded educational gardening experience. So very happy I discovered this gem before I got started '', so very happy I discovered it.
A great beginner gardening book!

Derived From Web

, Jan 21, 2020

Full disclosure : I was part of the pre-release launch group of The Family Garden Plan. This is a great gardening book for beginners! I tried a lot of gardening books and most of them don't contain the information I'm looking for, but this one is great! Great pictures and really beautiful gardening information. It's straight-forward and nicely organized to make gardening hassle-free.
Inspiring and practical

Derived From Web

, Jan 17, 2020

In my dreams I successfully tend rows of various berries, together with corn, carrots, zucchini, tomatoes, lettuces and herbs. The thing that gets in the way is my perceived lack of a green thumb. However, Melissa K. Norris has created a book that gives me the confidence I need to begin creating the garden of my dreams slowly. Upon first flipping through the book, I found the answers to many of my gardening questions. Melissa, thank you so generously for sharing what you learned over the years.
Very Helpful Book

Derived From Web

, Jan 12, 2020

Melissa K. Norris does not disappoint in her newest book Melissa K. Norris. The family garden plan is the best book on home gardening that I have so far read. It is written in a very conversational style, so that it is easy to understand even if you are a novice gardener. There are lots of charts and worksheets that can be used in planning your garden for the maximum outcome. I read this book at just the right time : I'm about to plan my garden for the spring! She has everything set step by step so that it is easy to know what to do. I'm about to read this book again and I'm sure that I will get even more information from it this time!
For new and experienced gardeners alike!

Derived From Web

, Jan 11, 2020

I've been gardening off and on all my life. Melissa, with this book, helped me organize my planning. I have also been encouraged to focus on planting what we truly eat, not just what sounds fun. Don 't get me wrong, I am still playing with the varieties of tomatoes I plant, as well as the peas and beans. But looking at what we eat and use more often has me trying some new things. I don 't want to have to rely on the grocery store. The worksheets are indispensable. They helped me calculate just how much I need to plant. I suggest this book not only for new gardeners, but also for those who have been around it for a while. Just as I learned, you will learn something new, just as I have.
Great book for all gardeners!

Derived From Web

, Jan 9, 2020

The book is a wonderful resource! Melissa covers so many things in great depth, Melissa. Great starter info for those who don 't have a lot of gardening experience and great tips and resources for experienced gardeners too. I cannot believe how much great info is packed into this book! I can 't believe how much info is packed into this book! This is a must and one I will refer back to time and time again! Thanks for the great resource to help expand my gardening! '' Each year I do more and now I have the tools to be even more confident. Thank you so much for the kind words!