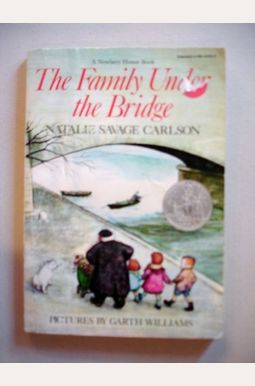  
The Family Under The Bridge
Frequently Asked Questions About The Family Under The Bridge
Book Reviews
(9)
Did you read The Family Under The Bridge? Please provide your feedback and rating to help other readers.
A Sweet Story With A Caution Before Reading

Derived From Web

, Feb 8, 2022

I bought this book for my seven year old granddaughter. I read what I buy for her before I talk about a good book with her. I was disappointed that some of the characters were willing to lie in this story. I warned my granddaughter about it before I gave it.
Good Read

Derived From Web

, Feb 8, 2022

I read this to my 3 rd grade class because I wanted them to know that Christmas wasn't just about waking up in a cozy home with gift galore. They might have a better idea of what it's like to be homeless.
Heartwarming story

Derived From Web

, Oct 18, 2021

If I hadn't been trying to get my kids to bed on time, we could have read this in one sitting. The book helped us embrace the idea that no matter how little we have, we always have something to share with others and that in sharing and being generous with others we gain unexpected things. A lovely family read aloud.
Used with advanced 8 yr old reader

Derived From Web

, Jul 3, 2021

With an 8 year old, read this out loud. One child and one adult. We talked about how some words get where they are no longer used. The book is about homeless people and how kindness can help them. It is recommended for adult child reading. It's great for talking with your child. The theme can be difficult.
The Family Under the Bridge

Derived From Web

, Jan 2, 2021

My niece is a reluctant reader. I gave her a book a month last year. The best children's and young adult books for a given year are selected by me. She wouldn't normally think about periods of history that weren't found in her history textbooks, so I wanted her to learn about them. The Family Under the Bridge is a story about a homeless man living under the bridges in Paris, a family of homeless children, and how the old scold found a family. My niece and I have been talking about the books I have sent to her. She thinks reading isn't as hard as she thought.
Heartwarming

Derived From Web

, Dec 7, 2020

There is a sweet little story. It takes place in Paris. " La! La! La! La!" Our American six- year- old was a little lost. The term " Gypsy" is used in the piece and it paints these people as criminals and thieves. This is a sweet and uplifting Christmas story that works well to remind children of the true meaning of Christmas. .
A book to remind us to be thankful and live simply

Derived From Web

, May 19, 2020

It is important to have our children read about the challenges other people face in this age of flaunting beauty and money. The book is written in the 1950s, yet it shows what really makes life: family and the kindness of people. I hope that this book will inspire my 2 nd graders to be more thankful and to help those in need.
Great book for Christmas time

Derived From Web

, Jan 16, 2019

I lived this book. My 4.5 year old liked it too. It's a good lesson for kids about different cultures. It is a great book to read at Christmas time to remind kids to be grateful.
A delightful story of understanding - a childhood favorite.

Derived From Web

, Feb 26, 2018

This is a classic that I have given to my grandsons before they go to Europe. They will understand everyone's situation as they go around the world. The story is wonderful and the pictures are sweet.