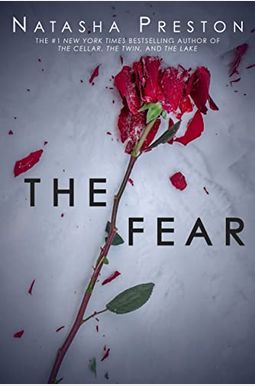  
Frequently Asked Questions About The Fear
Book Reviews
(8)
Did you read The Fear? Please provide your feedback and rating to help other readers.
I'll never learn but I don't care!

Derived From Web

, Mar 15, 2022

It was again done byNatasha. I was kept on the edge of my seat by another amazing thriller. I expected a page turner from a book.
my favorite author does it again

Derived From Web

, Mar 14, 2022

This is an example of everything she writes being amazing. I wasn't prepared for the twists and turns that she wrote, but I'm glad I read it all. I highly recommend 1010.
LOVE IT

Derived From Web

, Mar 13, 2022

I was reading between the lines to figure out who the killer is in the fast-paced book. The three suspects were thrown between me and the possibility that it was a woman. I've read a lot ofNatasha's books and I know she loves to keep her reader guessing. She used the killer perspective in the beginning to get the reader interested. Most of her books are endings. The last paragraph was not expected.
A fun twisty YA Thriller!

Derived From Web

, Mar 12, 2022

I thought this book was amazing. This one was another great read, and I've been reading it for years. When a post about sharing your biggest fear of dying goes viral, people start dying, and it's in the way that their worst fear was described. This was frightening! The main character was very strong in her stance to not share the post and tell her fear. I believed she was a smart girl who made good choices. She's the MC in a thriller and she's going to check out those bumps on her own without telling anyone. I really enjoyed this plot, and I thought I knew where it was going, but I was wrong. There were some great twists. I would definitely recommend this to people who love thrillers. I was given a copy of the book for free. I have decided to leave my review on my own.
Ugh--that last paragraph!

Derived From Web

, Mar 8, 2022

Things first. I like to read books. I find it hard to keep them on the shelves in my classroom library because my students love them. I have copies of each one. Teens respond to a meme about what their death fear would be. Which is the worst way to die? In true teen horror fashion, teens who repost the meme with their fears die in the same way that they had posted. I had this at 4 stars until the last paragraph. That's correct. The last paragraph ruined the book for me and left it incomplete. I think teens will love this.
Engrossing Thriller

Derived From Web

, Mar 6, 2022

Another great read was written by SALVAGEDATA SALVAGEDATA SALVAGEDATA SALVAGEDATA SALVAGEDATA SALVAGEDATA SALVAGEDATA SALVAGEDATA SALVAGEDATA. I was kept reading to see what happened in the story. It's about a meme that starts going around the internet in a small town about everyone sharing and reposting their biggest fears. When her classmates start dying, she knows it's because of the meme. When she finds out who the killer is, there is a surprise and big twist ending that leaves you hanging. I would definitely recommend this. Thanks to NetGalley and Random House Children'sDelacorte Press, I was able to read and review this great thriller. My thoughts and opinions are mine.
Obsessed

Derived From Web

, Mar 4, 2022

This was one of her lower books and it will leave you on the edge of your seat with a twist ending that will leave your imagination running wild.
Thrilling

Derived From Web

, Mar 1, 2022

The plot was great for this one. It was good for today's world. A meme asks people about their worst fear for death and then they die the way they were afraid. It will be difficult to figure out who is doing it because there are so many suspects. I couldn't put it down, the reader was kept engaged by the author,Natasha Preston. The perspective of the killer added a more intriguing touch to the book, and I liked it. I don't think I will recover from that. I can't wait to read this book again.