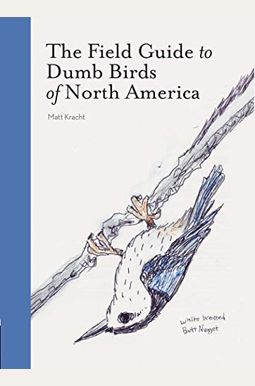 
 
The Field Guide To Dumb Birds Of North America
Book Overview
National Bestseller: Featured on Midwest, Mountain Plains, New Atlantic, Northern, Pacific Northwest and Southern Regional Indie Bestseller Lists
Perfect book for the aviary and anti-aviary alike
A humorous look at 50 common North American dumb birds
: For those who have a disdain for birds, or bird lovers with a sense of humor, this snarky, illustrated handbook is equal parts profane, funny, and--let's face it--true. Featuring 50 common North American birds, such as the
White-Breasted Butt Nugget
and the
Goddamned Canada Goose
(or White-Breasted Nuthatch and Canada Goose for the layperson), Matt Kracht identifies all the idiots in your backyard and details exactly why they suck with humorous, yet angry, ink drawings. With
The Field Guide to Dumb Birds of North America
, you won't need to wonder what all that racket is anymore
Each entry is accompanied by facts about a bird's (annoying) call, its (dumb) migratory pattern, its (downright tacky) markings, and more.
The essential guide to all things wings with migratory maps, tips for birding, musings on the avian population, and the ethics of birdwatching.
Matt Kracht is an amateur birder, writer, and illustrator who enjoys creating books that celebrate the humor inherent in life's absurdities. Based in Seattle, he enjoys gazing out the window at the Read More chevron_right
Frequently bought together
Frequently Asked Questions About The Field Guide To Dumb Birds Of North America
Books like The Field Guide To Dumb Birds Of North America
Book Reviews
(20)
Did you read The Field Guide To Dumb Birds Of North America? Please provide your feedback and rating to help other readers.
Hilarious and So Much Fun!

Derived From Web

, Mar 21, 2022

I highly recommend anyone who loves the outdoors or who is looking for a unique gift to get this book and its sequel. This book will leave you in stitches, with beautiful and humorous illustrations, gut-busting summaries, and clever nicknames.
Best bird book ever!

Derived From Web

, Jan 5, 2022

Hilarious and on the point. This guy knows his birds for sure! Also the illustrations are great : illustrations are great. Highly recommended! Highly recommended! '' Beware, though, if you're offended by language, but it adds to the experience completely.
Great for bird watchers

Derived From Web

, Nov 21, 2021

I am an avid bird watcher. I thought I was getting a guide book for my granddaughter. Most birds are really smart... but not all of them. Great reference guide to help take pictures of birds doing dumb stuff.
Hysterical!

Derived From Web

, Feb 4, 2021

This book is so funny! I gave it as a gift to two of my own bird lovers friends and they both love it. There is the fowl language. There is also a bit of bad language, but if you can deal with it, and even if you are not interested in birds, you will probably love it!
Came Damaged

Derived From Web

, Jan 25, 2021

The book came bent and ripped, but it was too close to Christmas to try to return or get something new. So we put the book under heavier books to help it straighten out. Otherwise, it looked good ''. Just disappointed in how it arrived, disappointed in how it arrived.
My boyfriend, who loves birds, HOWLED when he opened this as his Christmas present

Derived From Web

, Jun 20, 2020

We both adore birds and, while I suppose some might take off the content in this book, it is all done in fun. And that's the best part about it. The sarcasm is real-world. And it's amazing. Such a funny little book!
Of no education value and no value otherwise

Derived From Web

, May 30, 2020

GD : I think it was just written to drop F-bombs and GD expletives. I wish I had read the reviews before buying them. I had hoped it had interesting funny facts about small birds that seem to do dumb things. But no, it was just a way to swear to the birds that we see every day. It could have been written without all swearing. Humor that relies on profanity is just a cheap and easy way to laugh at a few people. It takes no intelligence to drop a F-bomb. I am so sorry that my purchase helped promote this book.
Sadly, the birds are not the dumb part of this book

Derived From Web

, Feb 11, 2020

I anticipated anticipating a book that described birds and explained some of the natural things that each species does as part of their weird behavior. This book is simply a humorous attempt at sophomoric humor. Then naming each bird with an inane variation of the proper term, and then making a short, inaccurate comment on its activities. If you like making wild noises in your armpit or using the word F as often as possible, this book is for you. At this point, I don't know what to do with it. I can 't donate it comfortably to any organization that I know, and I wouldn't want to promote this kind of thing in any fourteen-year-old males that I am considering burning.
Fun gift for the bird lover in your life

Derived From Web

, Jan 1, 2020

My bird - watching husband got a kick out of this book. He read it pretty much in one sitting, but loved it enough to take it to work and share it with coworkers. I read it a lot as he heard it!
Stupid and not funny

Derived From Web

, Dec 17, 2019

If you ever wanted to go birding with a drunk, under-educated frat boy, if you wanted to go with a frat boy? This is the book for you. I was not bothered by the gutter language, I said most of these words myself. But the text isn 't funny or entertaining, but isn 't funny or interesting. I'm sorry that I spent money on this book.