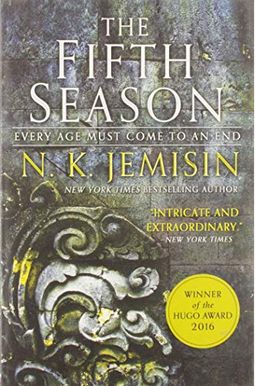 
 
The Fifth Season (The Broken Earth)
Book Overview
At the end of the world, a woman must hide her secret power and find her kidnapped daughter in this intricate and extraordinary Hugo Award winning novel of power, oppression, and revolution. (The New York Times)
This is the way the world ends. . .for the last time. It starts with the great red rift across the heart of the world's sole continent, spewing ash that blots out the sun. It starts with death, with a murdered son and a missing daughter. It starts with betrayal, and long dormant wounds rising up to fester. This is the Stillness, a land long familiar with catastrophe, where the power of the earth is wielded as a weapon. And where there is no mercy. Read the first book in the critically acclaimed, three-time Hugo award-winning trilogy by
NYT
bestselling author N. K. Jemisin.
Frequently Asked Questions About The Fifth Season (The Broken Earth)
Books like The Fifth Season (The Broken Earth)
Book Reviews
(10)
Did you read The Fifth Season (The Broken Earth)? Please provide your feedback and rating to help other readers.
This deserves all the awards!

Derived From Web

, Feb 21, 2022

I struggled at the beginning because the writing style is different from anything I've read. The flow and structure of the story were different. The show's creator and executive producer Pauley Perrette said: "The characters are fascinating. It is not something I would usually read, but I picked it to read this month for Black History month. I almost finished the book when I found out what was going on. I had suspected it was real, but wasn't sure until it was revealed. I am not saying what I am not saying because it would spoil the book. Yes, I am very happy that book two is out. Yes, I will be writing the third and final book.
A great find...

Derived From Web

, Aug 13, 2020

Only the one reason I didn't give the fifth star is because I found it a bit confusing at times with the narration and timeline. It made me have to stop and think about who was who and when they were who they are, Habo said. It's just that I dislike timeline jumps in a story line that appear unannounced. Despite this, I was impressed overall and I am looking forward to the second book. I know I'm being critical, but when you're compared to the greats of sci-fi, nit-picking is to be expected. Thanks for the great story!
The story was going normal at the beginning of the book and then just got confusing.

Derived From Web

, Dec 7, 2019

I hate when I reach the end of a book and have no idea what happened there. It was a relief to finally rape these questions, Mr. Rule told us. I would not recommend it to anyone.
Returned for Refund - Horrible Book

Derived From Web

, Feb 17, 2019

I first heard of this book on NPR—Science Friday as it was part of their book club. Even with the Prologue's help, the book is very difficult to read. It was extremely cryptic and the sentences were so jumbled they were almost impossible to read. A lot of authors do this to try and get you to read more, get you intrigued and make you think twice about it. 0 968113201 According to Barbara Allred, spokeswoman for the Association of Independent Book Sellers, "Many authors do this to try and get you to read more." It's starting to get more understandable, Habo said. The first chapter was worse, as it was written in 2nd person with more fragmented dialogue. But I couldn't stop reading, as I couldn't figure out where this book was going. The book is terrible, said Blair, and everyone I talked to said the exact same thing. The writer of the book, Douglas J. Anderson, claimed that the five star review was "beyond me." It's great to see so many people actually know how to read this program, Haviv said. Thanks for the refund.
Couldn't get passed the first chapter

Derived From Web

, Jan 31, 2019

McBride said he knows this book received high praise on so many levels, and he's certain it's deserving of the award and recognition it got. I'm a voracious reader who saw great potential in this book, but I couldn't get past the prose that left me wondering what the heck I was reading after the first chapter. I'll take the blame, Bruno said. I don't know, maybe I'm not clever enough.
Did not like this at all.

Derived From Web

, Sep 11, 2018

It was a total failure, and I couldn't get it past Page 50. In the first several pages of the book, I highlighted several words that are all made up of letters. None of this made sense, and I don't care for the bizarre writing style or prose of Saul Bellow's fiction.
First kindle book I've ever returned for a refund

Derived From Web

, Sep 1, 2018

This book reads like a distracted, low attention span writer decided they could write fantasy without reading any. This style of writing is so far removed that it might as well be someone with severe ADHD trying to shop for groceries, unavoidably confusing to anyone with a sense of logical flow. It almost sounds like somebody's drinking some acid. In short, this book has no identifiable plot, not a single substantial character, and is narrated from third person, experienced from first person and jumps from one character to another, so fast you don't know who is doing what or even the characters location at many points.
A Fresh, New, and Multifaceted Fantasy Novel for Everyone who loves stories

Derived From Web

, Dec 20, 2017

I'd had a hard time reading a good book in a while and reading had become stale for me. I missed those days of my middle school when every book I picked up was a page turner and I fell in love with the world and the characters. Well, The Fifth Season made me feel like a kid again. Not in a long time have I been so fascinated with the world, culture and politics of a fantasy novel. I was immediately drawn in by the prose and the wonderful characters, he said. Unlike many novelists, Jemisin paints multifaceted, flawed characters who you can really see. I had no intention of reading the book, and I already ordered the next one.
A unique world and magic system; highly recommended

Derived From Web

, Aug 24, 2017

My expectations were not high, and I've been disappointed by many fantasy authors trying to break the mold and differentiate themselves from the Tolkiens, Martins, and Rothfuss of today's big-book-fantasy. Yes, I was surprised by the number of books. Indeed, we're delighted that the Harry Potter series has been so successful. It is a well-written fantasy with a largely unique magic system and mythos, coupled with a satisfying personal story of loss, revenge and what it means to be an other in stratified, xenophobic society, Rowling writes. Only one of the four books I can currently conpare is by Daniel Abraham. This is highly recommended for any reader of modern fantasy looking for a unique world and system of magic.
A long journey across the world, and many lives indeed

Derived From Web

, Aug 2, 2017

The fifth season of The Young and the Restless will return to CBS on Friday, May 9. From London, she crossed the Atlantic on a long journey across the world. I'm not usually a Fantasy girl, but having read some of her novels, I decided to try it. Weinshallah, W. Va. Symphony conductor Jamison has woven a very good tale. The world is a vast and textured place full of layered and textured characters. There are plenty of subplots along the way, and some stories that truly tug at your heart, or at least mystify it. Of course, when an epic starts like that, you just have no idea what to expect next. There are some forms of magic, but it only adds to the story. The plot is unhurried, and the characters are well-developed. A steady pace and you keep turning the pages.