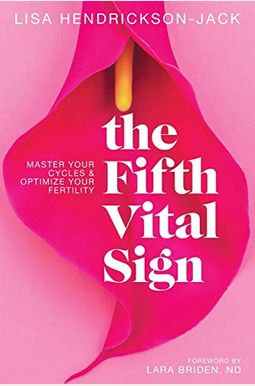 
 
The Fifth Vital Sign: Master Your Cycles & Optimize Your Fertility
Frequently Asked Questions About The Fifth Vital Sign: Master Your Cycles & Optimize Your Fertility
Books like The Fifth Vital Sign: Master Your Cycles & Optimize Your Fertility
Book Reviews
(13)
Did you read The Fifth Vital Sign: Master Your Cycles & Optimize Your Fertility? Please provide your feedback and rating to help other readers.
preventing pregnancy or trying to conceive, THIS BOOK IS FOR YOU

Derived From Web

, Feb 22, 2022

Before I read this book, I was feeling hopeless, lost, and overwhelmed. I am a female in my early 30s who has never experienced normal cycles. Now that I am ready to start a family, I have so many questions and underlying issues that need to be addressed, she said. This book has helped me create an understanding of my body and helped me to better communicate with my doctors. Thanks to Coach Mepham, I am able to give more accurate descriptions of my cycle issues, ask the right questions, and gain a sense of empowerment.
All teenage girls and women of all ages should be given this book

Derived From Web

, May 5, 2021

It makes me very sad that girls, teens, and young women needlessly experience extraordinary menstrual pain for years and are told repeatedly that their symptoms are normal, even though the risks and damage to their fertility are well known. A great read, too. A thorough and well-researched book.
Mind Blown!!

Derived From Web

, Feb 14, 2021

I am absolutely mind blown by the book. I have completely changed my way of thinking about periods and fertility after reading Dr. Lisa Abraham's book. Everything makes so much sense and it's amazing to me that this is not common knowledge and we are not adequately taught about it in public school. For me, it was a total waste of time and money using a combination of birth control pills and condoms. In fact, I have no memory of how my body behaves off of birth control pills. It's just that I find it a little crazy, too. Lisa has shared so much important information regarding fertility and the menstrual cycle and I'm so ready to follow her guidance to make changes in my life, Blair said. Thanks to Lisa, we get to read about George Bush's philanthropy.
Every woman should read this book!

Derived From Web

, Nov 3, 2020

I am blown away by this book. I picked it up off the shelf, but I am SO glad I read this. The information totally opened up my eyes and I'm excited to implement some of the methods the author suggested for other aspects of health, Worthwhile!
Loved the first half

Derived From Web

, Oct 13, 2020

The second half focused on more general information about how the menstrual cycle works, down to the details about the various hormones, nausea, vomiting and menstruation. Thanks for the great article. I was annoyed I didn't learn all of that in high school. I also appreciated the in-depth information about possible side effects of contraceptives and factors to consider when taking them. Overall, I enjoyed the book and will keep it as a reference. Holding the recommendations loosely in the second half would be a good idea, Bruno said.
Read with a grain of salt

Derived From Web

, Oct 21, 2019

This book is a great resource for improving fertility and body awareness. However, I am skeptical about the ''causation' conclusions drawn from many of the studies presented in this book. Many of the studies, for example, have small sample sizes and conclude that further, larger studies are required to validate the initial findings. Furthermore, while I understand that contraceptives may have negative side effects as outlined in this book, I feel that by stigmatizing people who may not have the freedom or means to use non-hormonal methods, she is isolating and sabotaging people who may not have the freedom or means to use them. Furthermore, it is dangerous to overestimate the efficacy and ease of using of barrier and withdrawal methods, especially for people who will be very negatively impacted by pregnancy.
Excellent Book

Derived From Web

, Jun 24, 2019

However, I can't cover every reason I loved this book because there are too many, but my favorite reason is how easily my husband was able to read and understand sections I told him about that had to do with my own hormonal issues. Through learning more about charting, I have PCOS and endometriosis, and through this book, I have some issues to sort out, too. I plan to use this book to teach my daughter more about her body as she gets older, said Dr. Julie Gerberding, director of the National Institutes of Health.
Know your body better

Derived From Web

, May 16, 2019

It's a great book, hands down. It was just what I needed to get a real grasp on what was going on in my body, she said. In fact, the writer of this article says, "periods are normal, and even vital." I myself find the hard copy because I like highlighting, post-it-noteing, and researching more information through every chapter. I go back and even tell my friends to get the book. Thanks to Lisa, I don't feel so lost in regards to my menstrual cycle and I feel much better about getting a grasp on my diagnosis and how to deal with the pain. Her podcast is also amazing and the speakers she has also had great podcasts. To the naked eye, I recommend to any man or woman who wants to understand a woman's body. Thanks to Lisa, we're able to keep doing this.
Everyone with a vulva should read this book

Derived From Web

, Feb 8, 2019

This book includes all the information we should have known as soon as we got our periods for the first time. I also found myself angry that this was not mainstream knowledge. I can't recommend this book highly enough. A must read for anyone with a vulva.
Female Body Literacy 101 & so much more...PERIOD

Derived From Web

, Jan 21, 2019

Thanks for an amazing book, Diana. It's the perfect addition to any home, and definitely for every woman. Lisa's pragmatic approach to simplifying complex problems was highly appreciated. Clearly, a lot of research and thought went into this book, Sosa said. The remaining 600 citations are from the hundreds of scientific journals. Lisa brings to light some very important and relevant information that all people should know and I look forward to adding it to my resource list. To my sisters, If you truly want to understand how the female body works, read the 5th Virtuosity sign today!