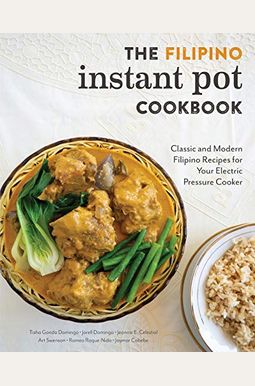 
 
The Filipino Instant Pot Cookbook: Classic And Modern Filipino Recipes For Your Electric Pressure Cooker
Frequently Asked Questions About The Filipino Instant Pot Cookbook: Classic And Modern Filipino Recipes For Your Electric Pressure Cooker
Book Reviews
(14)
Did you read The Filipino Instant Pot Cookbook: Classic And Modern Filipino Recipes For Your Electric Pressure Cooker? Please provide your feedback and rating to help other readers.
Disappointed in this book

Derived From Web

, Jan 14, 2021

Pinakbet recipe : No ensaymadasThere is a good amount of recipes missing from this book... I expected more ''.
This book makes you hungry!

Derived From Web

, Jul 11, 2020

I am a newbie in the IP family. This book helped me a lot with learning settings on my IP. Everyone has their own versions of making their dishes in a certain way. It is nice to see different styles of making them. I wish the author would have posted pictures of every dish they wrote a recipe for. At least we know how it should look as a finished product. I follow the IP group on FB and I have also noticed that everyone gets their books spiral bounded at a local office store of theirs. Its a great idea, which I also do. It would be nice for the author to do this for their customers with their future books. It keeps the book more intact and its easier to read through the verses creating the book. Usually, your hands are dirty or wet from chopping vegetables and meat, so that if you need to turn the page or refer back to a page, you can easily do this free. I know that its only 5 bucks give or take a few, but it would be more convenient to have already done.
A really great book

Derived From Web

, Jul 4, 2020

He said that the recipes were good and the meals came out delicious.
Arrived on time with Prime.

Derived From Web

, May 12, 2020

I am very happy and pleased to receive the instant pot cook book Flipino. It arrived on time and in an excellent new condition.
YUMMY Filipino Favorites!

Derived From Web

, Apr 8, 2020

The results are true and a delicious taste of home.
Gonna love this Filipino cookbook

Derived From Web

, Mar 8, 2020

I love this Filipino cookbook, you learn a lot of modern twists of Philippine chicken adobo. It seems to be a big year for Filipino cuisine, as there are numerous related cookbooks out there this year. From now on, this is my favorite cookbook. You can tell that the book was made with much love. The writer captures how the nuances of culture and various style of Filipino food weighs just enough, but doesn 't weigh the whole skeleton. It is full of pretty pictures of food and it is easy to learn using this recipe, and it is very helpful to those who have just started learning cooking for Filipino food. It is easy to follow the recipes.
Awesomeness pinoy cookbook!!!

Derived From Web

, Mar 2, 2020

This cookbook is the best, its easy to follow and what comes out is just like home-cooked pinoy food. Yum!
LOVE THIS RECIPE BOOK!

Derived From Web

, Feb 2, 2020

I did not inherit my cooking gene and my children have suffered because of it. When I learned about the Filipino Instant Pot Cookbook, I bought the book and an instant pot in hopes that it could help my cause. I am so HAPPY with all the dishes I have cooked so far. I cooked the book for the first time two days ago and have already opened three dishes. Arroz Caldo, Adobong Manok and Pinoy Chicken Curry are included. The recipes are easy to follow and VERY quick to prepare. But most importantly, my teenage children and husband, who are all very picky eaters, enjoyed all three dishes. I am so happy that I can finally cook the many Filipino dishes my mother has cooked for me and I am also grateful to be able to reconnect with my culture. Salamat Maraming!
most touched book in the house...LOL

Derived From Web

, Jan 26, 2020

I actually took the book to Office Depot and turned it into a spiral-bound spine.
Easy-to-follow recipes

Derived From Web

, Jan 11, 2020

Enjoyed how simple the recipes were and how easy it was to find the ingredients! Still experimenting how to feed the ingredients to just divide 2 people. At least the servings could be saved for leftovers for the lunch the next day! P.S. : The only Filipino foods I cook are soups and silogs. Palabok couldn t believe how easy it was to make palabok!