Buy 3 Get 1 Free
Our Best Sale Yet! Add 4 Books Priced Under $5 To Your Cart     Learn more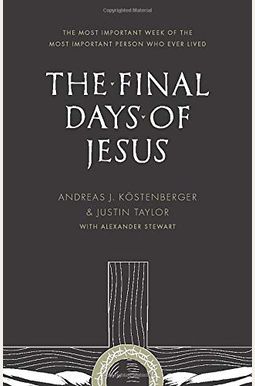 
 
The Final Days Of Jesus: The Most Important Week Of The Most Important Person Who Ever Lived
Product is currently Out of Stock.
You can add it to your wishlist and you will be notified once we receive a copy.
Book Overview
Walk With Jesus During His Last Week on Earth
On March 29, AD 33, Jesus entered the city of Jerusalem and boldly predicted that he would soon be put to death--executed on a cross, like a common criminal. So began the most important week of the most important person who ever lived.
Nearly 2,000 years later, the events that took place during Jesus's last days still reverberate through the ages. Designed as a day-by-day guide to Passion Week, The Final Days of Jesus leads us to reexamine and meditate on the history-making, earth-shaking significance of Jesus's arrest, trial, crucifixion, and empty tomb.
Combining a chronological arrangement of the Gospel accounts with insightful commentary, charts, and maps, this book will help you better understand what actually happened all those years ago--and why it matters today.
Frequently Asked Questions About The Final Days Of Jesus: The Most Important Week Of The Most Important Person Who Ever Lived
Books like The Final Days Of Jesus: The Most Important Week Of The Most Important Person Who Ever Lived
Book Reviews
(11)
Did you read The Final Days Of Jesus: The Most Important Week Of The Most Important Person Who Ever Lived? Please provide your feedback and rating to help other readers.
Good Harmonization and Devotional but not for in depth study.

Derived From Web

, Jun 3, 2022

A nice chronoligizing of the gospel accounts for the Passion Week. The comments are, however, simplistic and do not engage any questions surrounding the timeline. John's Gospel Passover references are passed with a footnote or two. Little insight is gained about dates with reference to the Nisan month. When was the beginning of removing leave? When the Pascal lambs were slain and what was the relationship between the Passover and the High Sabbath of the feast of unleavened bread? The book is good, however, as a tool for following in the Gospels. I am glad to have it. As I said, good for the novice, good for a devotional, and good for harmonizing the gospel acvounts of Passion Week!
Extraordinary

Derived From Web

, Jun 3, 2022

This was an extraordinary well-done historical account of the last days of Jesus. Regardless of religious conviction, this is a good read. Yes, there were footnotes and biblical references that you can research, but it is not necessary to enjoy reading. Whether you believe that Jesus was the Son of God or not is insignificant to what is written in this book. The fact that Jesus existed and was viewed as a prophet is generally recognised and accepted. The history that surrounded his time on Earth and his interaction with other recognizable figures of this time keeps the reader interested. Indeed, after reading this book, I had to admit that WAS was the most important week of the most important person ever lived.
Find Christ again, read & remember His love4U

Derived From Web

, Jun 3, 2022

Toughly read the subject and a must for all Christians. He did what he knew for mankind and knew what he had to do to secure the end result, saving us all by grace. Also makes one realizes that, no matter what our Cross is, it will never come close to him and places life into prospective faith, love and loyalty for all those we know and/or know, including our enemies, is all he asks for us for all he has done for us. If you ask me, WHis Love and Grace Given to Us '' makes his request easy letting us off. He DIED for YOU and HE LOVES YOU NO MATTER WHAT, you CAN DO WHAT he asks of you and all of us.
This is a pretty unique book

Derived From Web

, Jun 3, 2022

This is a somewhat unique book. We taught it as a family at home and also included it in a Sunday school class that I read. Each section applies for a day of the Passion Week. The covered parts of the Scripture are contained directly in the book, and are followed by a short commentary. There are numerous charts, diagrams and maps included. In the centre of the book are several leaves with color illustrations showing Jerusalem at the time of Christ. The only criticism I have is that some of the commentary tends to function more as a synopsis than an explanation. The main takeaway from this book is that it offers a clear perspective of the Passion Week as a whole.
Interesting facts that tie things together

Derived From Web

, Apr 16, 2021

From the Jewish perspective, very interesting to hear. The book is laid chronologically, with the events of each day by day. It pretty much walks you through the week with interesting extra insights on the way. Good to read :
Excellent parallel outline of Christ's final days

Derived From Web

, Apr 16, 2021

Jesus does an excellent job in providing a cohesive account of the last days of Kostenberger. He provides parallel accounts of specific incidents in Jesus'final days from the four gospels as an introduction before going into a detailed analysis of the theological, cultural and religious significance of these accounts. Their footnotes provide useful commentary and additional information. I would recommend this book to anyone who wants to learn more about the purpose of Christ's ministry on the Earth.
Unbelievably false infoRmation

Derived From Web

, Apr 8, 2020

Sorry folks, but read a few pages first and found two errors. First, the Romans and Jews '' were responsible for Jesus'apos ; death. How anti-Semitic the author is. Many Jews also fought to protect Jesus. The Romans have killed Jesus. Close Case : Secondly, we find out : "The gospels were written by four men who were in the best possible position to recount what Jesus said and did. According to Jesus'death, some of the gospels were written hundreds of years after the death of the biblical scholars. This book is a waste of time and money. I have put the book down after a few short pages.
Make's An Excellent Bible Study Leading Up to Easter

Derived From Web

, Aug 6, 2019

I read a few pages each night leading up to Easter and following. I found it very beneficial because it is a bit like a chronological Bible with commentary. I plan to repeat this in the future.
Nothing but a retelling of the gospels as written

Derived From Web

, Jul 10, 2019

This is nothing but a regurgitation of the Gospels, as no insight, no additional perspective, not even references. The author is very upfront about all this and even seems to be proud of the fact, but if you're looking for a reasonable discussion of the events that the Gospels describe as Holy Week, you wasting your time and money. For a more complete discussion and thought-provoking experience, read The Last Week by Crossan and Borg.
Easy, Simple, Insightful, and Pastoral

Derived From Web

, May 20, 2018

This book has been a tremendous help, as I preached the gospel of Luke. It arranged and organized the last week of Christ with historical background, parallel passages, helpful charts, colored illustrations, and concise but insightful commentary on the passage at hand. Whether it is for a personal Bible study or a sermon preparation on the last week of Christ, this is a great resource for you and others.