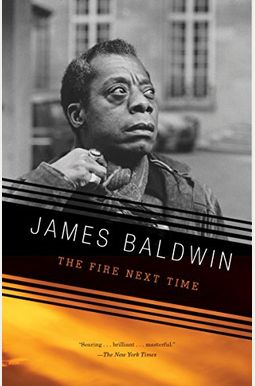  
Frequently Asked Questions About The Fire Next Time
Book Reviews
(14)
Did you read The Fire Next Time? Please provide your feedback and rating to help other readers.
A prophet and visionary

Derived From Web

, Mar 18, 2022

What an extraordinary man is. When I finished this book, I had to ask myself, how can I live my life in such a way as to achieve James Baldwin's love for each other each day? I want to do my part to finally live up to America's Promise, but I search for a way to do it. The journey starts with this book.
Use a different book service. This one misrepresented condition of book.

Derived From Web

, Nov 20, 2021

The book store that sent this sent a marked book when it was advertised it was clear. Also very expensive. Use a different service. Baldwin himself is a wonderful book by Sterne. The company is Bookswork, the company is. I charged $ 4.95 and I advertised over $14 dollars plus shipping. Avoid.
The Fire Next Time

Derived From Web

, Feb 7, 2021

James Baldwin was profoundly insightful in his analysis and articulation of the racial problems in America. A very good read.
Where are you now when we need you the most, Jimmy?

Derived From Web

, Oct 19, 2020

James Baldwin is, sometime in our lives, a must-have Honkies read by us. His is a voice we must hear in order to appreciate the truth of White Privilege. He was important during his time and his voice is even more caustic today.
CD version

Derived From Web

, Jun 23, 2020

Good singing performance : Very good. Then relisten before too long. It seems to me like a dispatch from a war torn country, which the author might say is very much the point.
Read this.

Derived From Web

, Jun 15, 2020

All I can say is that I read this is All I can say is this. Read this carefully. Read this. Read this. Read this carefully. Read this. Read this carefully. Read this. THIS READ THIS.
GREAT, CLASSIC BOOK

Derived From Web

, Dec 15, 2019

Baldwin's book is a classic. It provides unique insights into American race relations, especially as they were in the early 1960s. Every American, regardless of race or religion, should read this book.
Powerful book.

Derived From Web

, Sep 25, 2019

The first letter by itself is worth the price of many books. The second letter is hard reading because Baldwin explores racism fearlessly in America. Baldwin is one of the most honest writers I know.
An Important Document

Derived From Web

, Mar 27, 2019

As readers of my reviews know, I rarely comment on books that are well-known classics. I, however, wanted to write a few lines about this book. It is first an important historical document. Baldwin is recording life as he experienced it, Mr. Baldwin. I found his description of an evening with Elijah Muhammad endlessly fascinating, as I also noted his comments on Malcolm X before he broke with Muhammad. Secondly, there is no denying the power and passion in his prose. I have rarely come across an essaymemoir where the fire lights every page, as it does here. One may argue with some of Mr. Baldwin's observations and conclusions and I do think that the world has changed somewhat since this book was written, but this is a book that still has much to offer a reader.
The Fire next time

Derived From Web

, Feb 20, 2019

My Kindle did not work properly. It does not accept my ratings and I gave this prose at least 4 stars. Mr Baldwin is someone I wish I could have spoken with. Not only was he brilliant, he was also extraordinarily insightful on the human condition.