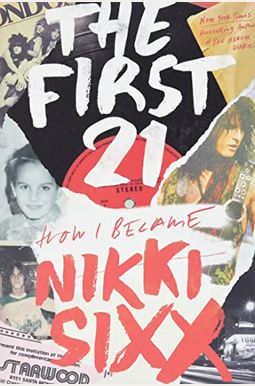 
 
The First 21: How I Became Nikki Sixx
Book Overview
Rock-and-roll icon and three-time bestselling author Nikki Sixx tells his origin story: how Frank Feranna became Nikki Sixx, chronicling his fascinating journey from irrepressible Idaho farmboy to the man who formed the revolutionary rock group M tley Cr e.
Nikki Sixx is one of the most respected, recognizable, and entrepreneurial icons in the music industry. As the founder of M tley Cr e, who is now in his twenty-first year of sobriety, Sixx is incredibly passionate about his craft and wonderfully open about his life in rock and roll, and as a person of the world. Born Franklin Carlton Feranna on December 11, 1958, young Frankie was abandoned by his father and partly raised by his mother, a woman who was ahead of her time but deeply troubled. Frankie ended up living with his grandparents, bouncing from farm to farm and state to state. He was an all-American kid--hunting, fishing, chasing girls, and playing football--but underneath it all, there was a burning desire for more, and that more was music. He eventually took a Greyhound bound for Hollywood. In Los Angeles, Frank lived with his aunt and his uncle--the president of Capitol Records--for a short time. But there was no easy path to the top. He was soon on his own. There were dead-end jobs: dipping circuit boards, clerking at liquor and record stores, selling used light
Read More chevron_right
Frequently Asked Questions About The First 21: How I Became Nikki Sixx
Book Reviews
(15)
Did you read The First 21: How I Became Nikki Sixx? Please provide your feedback and rating to help other readers.
I love nikki

Derived From Web

, Mar 23, 2022

I'm a huge Nikki Sixx fan. Really good book, great read, and I enjoyed the interview. If you have read the Hein diaries, you need to go read them also.
Great book even better audio.

Derived From Web

, Mar 10, 2022

Nikki Sixx has a very good book. Buy books from Amazon. com.
First 21

Derived From Web

, Feb 19, 2022

This book I would recommend for people who is fascinated by Nikki's life story, not just musically, but also by his books making it to the New York Times Best Seller List. Pauley, who has sold more than 20 million copies of his books, said: "He has a very good reputation. But I've been a fan over 35 years, and every story I've heard has been told by people I've never met. We love you, too, Bruno. To anybody who doesn't know about Nikki Sixx's life story, I suggest you buy all his books. I have never seen such a beautiful sunset.
Journey of a Creative Genius

Derived From Web

, Jan 3, 2022

Sir Richard was a rock god, one of the greats to live on the planet. It's great to be back home, said the writer, who added that the film "is really engaging and delves into what Nikki drivess amazing, mind once he learned to channel all that energy into his music." One wonders if he had ever founded one of the most rocking bands on earth, filled with insecurity and a sense of belonging, invaded by anger and drug addiction. Kudos to this man who one day saw the light and decided to do the work to get clean, Mr. O'Neill said. Like Heroin Diaries, this book explores that difficult period of time in his life when he tried to cope with family problems that were not his fault. It's great to see so many people trying to shed their demons and learn how to love themselves again.
Great Book

Derived From Web

, Dec 30, 2021

Great read, said Dr. Goin. I bought The Heroin Diaries when it came out. I've read this book in less than three days. I hope Nikki Sixx writes more books, he is an awesome storyteller, said Blair.
Oh Nikki your so fine

Derived From Web

, Dec 9, 2021

Thanks for sharing your youth with us! Totally enjoyed hearing your journey, you are more than just a rockstar you are an inspiration to many, and I cannot recommend this book highly enough for any rock fan.
Excellent writing, definitely keeps your attention!

Derived From Web

, Dec 9, 2021

The Diaries is a must-have for anyone who has ever wanted to be a doctor. Couldn't put either of them down after the first page. If you enjoy autobiographies or are a fan of Sixx Nikki Crue, this may be a great read. A talented artist with an interesting and unconventional background to say the least. The best part is that he's using some of the proceeds to help others, he said.
it your thinking about getting it get it

Derived From Web

, Dec 4, 2021

It was really good, Vinton said.
Another great read from Nikki Sixx

Derived From Web

, Nov 16, 2021

Like Heroin Diaries, this one was a really enjoyable read. It's great to be an author, Sixx says. As the title suggests, this was his first 21 years before starting Motley Crue. Like his previous book, Diaries, it gives a very open and honest account of the challenges in his life and the drive to overcome them. I recommend this book highly.
Nikki's Best Book

Derived From Web

, Nov 6, 2021

I've always been curious about this story. Nikki's childhood has been a secret for over a decade, and I knew a little bit of the story, but this fills in the gaps. He would find solace in the juxtaposition of brutally honest and painfully sweet teenage angst and loneliness to fuel his true self-discovery. This book brings the story into the light and just increases my respect for Mr. Sixx and what he has accomplished, says Bustamante.