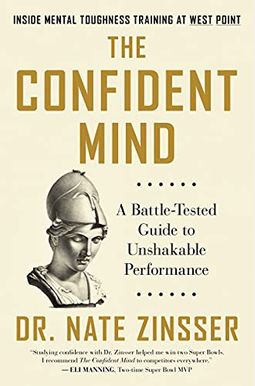 
 
The Confident Mind: A Battle-Tested Guide to Unshakable Performance
Book Overview
The director of West Point's renowned Performance Psychology Program delivers a complete guide to building and mastering confidence, the key to performance in any field.

Studying confidence with Nate Zinsser brought me to the next level in my football career and helped me win two Super Bowls. People talk all the time about how a confident attitude is what makes people succeed in pressure situations, but rarely does anyone actually do anything about it. Here is your chance: I recommend The Confident Mind to competitors everywhere, no matter what sport or what 'game' they play. --Eli Manning, Two-time Super Bowl MVP
As the director of West Point's Performance Psychology Program, Nathaniel Zinsser has spent his career training the minds of the U.S. Military Academy's cadets as they prepare to lead and perform on the highest stakes imaginable--the battlefield. Alongside this work, he has also coached world-class athletes including a Super Bowl MVP, numerous Olympic medalists, NHL All-Stars, college All-Americans, and professional ballerinas, preparing them to succeed at the uppermost levels of competition.
Dr. Zinsser is a firm believer that with the right knowledge and guidance, the confidence to perform well on any stage, on any field, and in any endeavor is something anyone can learn, practice, and deliver on Read More chevron_right
Frequently Asked Questions About The Confident Mind: A Battle-Tested Guide to Unshakable Performance
Book Reviews
(8)
Did you read The Confident Mind: A Battle-Tested Guide to Unshakable Performance? Please provide your feedback and rating to help other readers.
Confidence for anyone in any field of endeavor!

Derived From Web

, Mar 14, 2022

The real life examples are perfect illustrations of the book's concepts that are coupled with easy to use tools to develop, maintain and protect one's confidence, Thibault said. This is my go to book for my athletes and myself.
Great book

Derived From Web

, Mar 8, 2022

This book has some really insightful, practical strategies for improving your confidence especially as it relates to performance, Sosa said.
A science-backed recipe for one of life's most important skills

Derived From Web

, Mar 7, 2022

Barrera says the book is basically a step-by-step guide to building the muscle we all need. But if you coach, mentor, lead or teach others, you get a free copy. Thanks to all the people who did the research and years of experience, I think this book is going to be a great read. If it was about 150 pages shorter, I would have given it five stars, because the stories were great in the beginning and became tedious as time passed. I will refer to this book for years to come.
Extremely Valuable Information

Derived From Web

, Mar 5, 2022

As a retired guy who just wanted to play tennis to the best of his ability, this book was an answer to a prayer. Dr. Zinsser suggests that individuals follow his many prescriptions to become more confident in any activity one puts his or her mind to.
Spotoninsights

Derived From Web

, Feb 27, 2022

Just finished The Confident Mind and I feel like a just finished a great conversation with a trusted friend and mentor, Thibault said. Dr. Zinsser's voice is strong and clear and he reads. Great balance of insight, advice, and great storytelling, he said. There are more coming, we're told.
Must read for athletes and anyone who wants to excel in their field.

Derived From Web

, Feb 9, 2022

This book is a must-have for anyone seeking to gain, keep, and deploy self-confidence. Dr. Zinsser mixes psychology, physiology, and vivid examples to paint a picture of unshakable confidence and how to utilize it in all aspects of our lives. It's not a recipe for instant success nor is it a self-help doctrine. Whether you're an athlete of any age or anyone who wants to perform at your best, this is the book for you.
The absolutely best book on confidence that I have ever read

Derived From Web

, Feb 1, 2022

Although I generally do not write reviews, I am compelled to tell everyone about it. 0 14622171 1462228 This book is so well written and practical I am compelled to tell everyone about it. The book is extremely practical with excellent examples of all the tasks it sets out. However, I am a 62-year-old man and I cannot say how much I wish there had been a book with this information available when I was in high school. I have had a good life, but I suspect I would have gone further and higher had I had just had a few of the skills set out here, he said. I especially like the explination of the E.S.P. technique. Simply put, if you suffer from confidence issues and the anxiety that flow from that, get this book as soon as you can. If you did, I'm sure you'll be happy. McCartney said: "This is from the heart.
Incredible book everyone should buy it ASAP

Derived From Web

, Jan 28, 2022

Please, please, please, please, please, please, please, please, please, please, please, please, please, please, please, please, please, please, please, please, please, please, please, please, please, please, please, please, please, please, please, please, please, please, please, please, please, please, please, please, please, please, please, please, please, please, please, please, please, please, please, please,