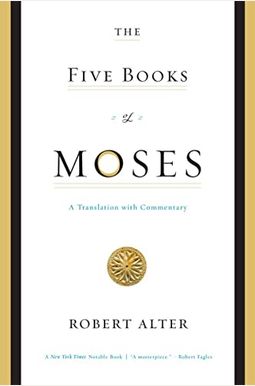 
 
The Five Books Of Moses: A Translation With Commentary
Book Overview
Through a distinguished career of critical scholarship and translation, Robert Alter has equipped us to read the Hebrew Bible as a powerful, cohesive work of literature. In this landmark work, Alter's masterly translation and probing commentary combine to give contemporary readers the definitive edition of The Five Books. Winner of the PEN Center USA Literary Award for Translation and the Koret Jewish Book Award for Translation, a Newsweek Top 15 Book, Los Angeles Times Favorite Book, and San Francisco Chronicle Best Book.
Frequently Asked Questions About The Five Books Of Moses: A Translation With Commentary
Books like The Five Books Of Moses: A Translation With Commentary
Book Reviews
(6)
Did you read The Five Books Of Moses: A Translation With Commentary? Please provide your feedback and rating to help other readers.
Questionable

Derived From Web

, Jun 3, 2022

The King James version of Numbers, on which about fifty English scholars agreed more than four centuries ago, translates the verse in which Moses spares virgins from the slaughter of his wife's tribe, by lying with him, for himself. The New International version, on which about a hundred scholars all over Earth agreed less than four decades ago, translates this verse as '' But save every girl who has never slept with a man for yourself . But this version, published by a Jewish scholar who claimed it superior to another when he omits it less than a decade ago, omits the phrase for himself. And he does the opposite earlier, adding the word abused in his translation of what Dinah did to Shechem, while no such Hebrew word is in the Torah.
misrepresentation

Derived From Web

, Jun 3, 2022

The author promised an exact and authentic translation of Hebrew. Although I am by no means an expert, I find the translation very loose and in some cases even worse than usuall and traditional. Lessons and commentaries are seldom better than what can be found in other Torah commentaries.
My favorite translation (and I'm LDS)

Derived From Web

, Jun 3, 2022

I taught Old Testament for my adult Sunday school class back in 2006 for my congregation. I bought and read Alter's magnificent translation in preparation and retracted upon it -- and especially his outstanding commentary -- from time to time in class to help explain difficult or confusing passages. Four years later, when the Old Testament came back as the annual course of study, though I was no longer teaching Sunday school, my wife and I used it as the text for the books of Moses for our joint Scripture study. This coming year we will probably do so again, since the Old Testament will be the course of study. We will probably do the same with his other Old Testament translations. While Alter and I have differences theologically and historically, I have tremendous respect and appreciation for his scholarship and insights. The highest recommendation is made.
Come for the lyricism, stay for the commentary

Derived From Web

, Dec 21, 2019

The translations of Alter are the second best thing to know Hebrew. One could, I think, skip his extensive footnotes and introductions and the translation alone would be worth owning this book. But the commentary offers a deep dive into the cultures of the ancient Middle East, their politics, art and relationship with G_d. I'd probably warn anyone away who is committed to Biblical literalism, but anyone else who seeks to understand the Bible should receive this book.
Beautifully preserved

Derived From Web

, Sep 11, 2019

Robert Alter's translation of the five books by Moses came with the dust cover and illustrated cardboard sleeve in perfect condition. The book itself is also in excellent condition. I have begun reading Genesis, the first of the five books, and is not only a work of scholarship, but also a work of art. His commentary adds much to the understanding of the ancient original text and feels luxurious at times in his translation, like silk on the mind and soul.
A profitable read

Derived From Web

, Oct 29, 2017

Robert Alter explains many of his word choices and comments on what others have to say. I find his commentary worthy of my time, but I am not a disciple of Dr. Alter, but I enjoy his version of the Torah. I started last year in the middle of the annual Torah readings and will use it this year as well.