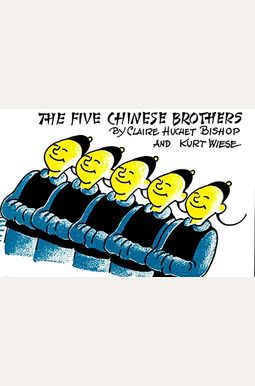  
The Five Chinese Brothers
Book Overview
This Description may be from another edition of this product.
The classic story about five clever brothers, each with a different extraordinary ability is a dramatic retelling of an old Chinese tale. (The New York Public Library). . . . when Bishop makes the tall brother stretch, the sea-swallower work, or the robust one hold his breath, young children will laugh and laugh.--New York Herald Tribune Books. Full color.
Frequently bought together
Frequently Asked Questions About The Five Chinese Brothers
Books like The Five Chinese Brothers
Book Reviews
(17)
Did you read The Five Chinese Brothers? Please provide your feedback and rating to help other readers.
My mom read it to my siblings and myself when we were young and it's always held great memories for me

Derived From Web

, May 21, 2022

This book is for me a nostalgic gem. My mother read it to my siblings and myself when we were young and it has always held great memories for me. However, I had forgotten how dark this book is. I was excited to read it to my 4 year old son. We got to the part about the boy drowning and I thought for a minute, but we continued. Then we got to them cutting the head of the one brother and I realized that this was not meant for young children. I love this book, but not for little ones.
It was always my favorite story. I wondered how that brother could drink ...

Derived From Web

, May 21, 2022

My mom used to read it to me over 65 years ago. I've wondered how this brother could drink the entire ocean. Forward to reading it to my three-year-old grandson.
Absolute classic

Derived From Web

, May 21, 2022

This is an absolute classic and should be enjoyed by all children. There are two valuable lessons for children to learn and listen to adults and families always stick together no matter the cost. The various PC gripes of the 1970s don 't really hold up anymore, as the stereotypes are so old as to be unrecognizable by small children. Quite the opposite should hold true : this is an old Chinese story and a failure to tell it would result in a less bit of Chinese culture being brought to Western children. More importantly, the kids love it.
Old Time Childern's Favorite

Derived From Web

, May 21, 2022

I remember this Biok from my childhood childhood. It was always a story that I wanted to hear over and over again. Politically, there is nothing wrong about it.
but we are so glad it hasn't caught the attention of the PC Police ...

Derived From Web

, May 21, 2022

This book seems politically correct, but we are so glad that it has not caught the attention of the PC police, because it is a delightful story. It is excellent for memory, vocabulary and pure entertainment.
It's a children's book

Derived From Web

, Mar 9, 2022

I bought it for my niece who turned five and she proclaims it to be her favorite book right now. I understand that as adults it seems violent or uses outdated stereotypes, but children are not reading it on the same level as we are. When questions about stereotypes arise, use it more as an opportunity to address them and talk about them, rather than pretending that the book never existed.
I like it!!

Derived From Web

, Oct 26, 2021

I read this as a kid back in the 70s, but I don 't remember having to suck my thumb and sit in a protected zone after reading it! After reading it again, I find it looks nice on my shelf, and I don 't need to carry it in my crybaby - hurt feelings, but I am just not smart enough to let the square little pictures in a little book affect me, I suppose I should try harder to let the little things bother me now.
Good Story

Derived From Web

, Aug 4, 2021

I bought this book because Fox News told my mom that the book has been banned and it is impossible to order anymore. After proving them wrong, I discovered that it is not a bad story. Yes, the illustrations could do with some less good updating, but the story itself is pretty racist.
Timeless

Derived From Web

, Nov 14, 2020

This was my son's favorite book 20 years ago and I am now reading it to my granddaughter.
Touchy content, but a classic children's story in my book.

Derived From Web

, Jun 1, 2020

I remember this book from my childhood in Honolulu, Hawaii. My mom still loves to read it to her grandchild. Now looking at it, I can see clearly that it deals with capital punishment and the many methods used to kill a person. But also greed... and the many different skills that each person has and cultural values... The system is beating... or something.