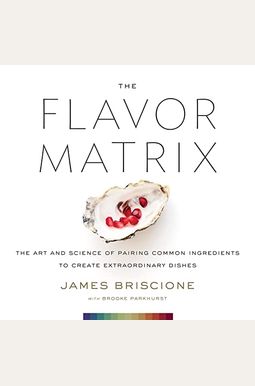 
 
The Flavor Matrix: The Art And Science Of Pairing Common Ingredients To Create Extraordinary Dishes
Book Overview
A revolutionary new guide to pairing ingredients, based on a famous chef's groundbreaking research into the chemical basis of flavor
As an instructor at one of the world's top culinary schools, James Briscione thought he knew how to mix and match ingredients. Then he met IBM Watson. Working with the supercomputer to turn big data into delicious recipes, Briscione realized that he (like most chefs) knew next to nothing about why different foods taste good together. That epiphany launched him on a quest to understand the molecular basis of flavor--and it led, in time, to The Flavor Matrix.

A groundbreaking ingredient-pairing guide, The Flavor Matrix shows how science can unlock unheard-of possibilities for combining foods into astonishingly inventive dishes. Briscione distills chemical analyses of different ingredients into easy-to-use infographics, and presents mind-blowing recipes that he's created with them. The result of intensive research and incredible creativity in the kitchen, The Flavor Matrix is a must-have for home cooks and professional chefs alike: the only flavor-pairing manual anyone will ever need.
Frequently bought together
Frequently Asked Questions About The Flavor Matrix: The Art And Science Of Pairing Common Ingredients To Create Extraordinary Dishes
Books like The Flavor Matrix: The Art And Science Of Pairing Common Ingredients To Create Extraordinary Dishes
Book Reviews
(9)
Did you read The Flavor Matrix: The Art And Science Of Pairing Common Ingredients To Create Extraordinary Dishes? Please provide your feedback and rating to help other readers.
I love this book!

Derived From Web

, Sep 27, 2021

But the Flavor Matrix shows you how to mix and match ingredients to create amazing dishes.
New Ways of Thinking

Derived From Web

, Mar 8, 2021

Definitely a good book, but doesn't necessarily help you guide into what to do with those two pairings.
Physically difficult to read

Derived From Web

, Aug 23, 2020

Sorry, I ordered this book and it was very disappointing. Fonts and colors used in the program make it extremely difficult for me to read. The Matrix is designed for people with excellent vision and lots of time. Half the content is user-generated, useful only in certain instances. I gave up trying to read it after 15 minutes because of a painful eye strain. The background is white with a gray pattern. I tried to read it today, after leaving it alone for two months. It was worse than I remembered. The book was designed by a graphic designer who was far more interested in beauty than usefulness. It could be that impressive a coffee table book. I seriously need a book that contains this information, but I cannot use it.
Wonderful purchase

Derived From Web

, Feb 23, 2020

I bought this book as a present for my boyfriend. It was the perfect choice, Mr. Dhaliwal said. He's a big fan of Italian food, and there are plenty of original recipes to try.
Does not feel right

Derived From Web

, Jan 1, 2020

It had a few inconsistencies when I first read it, Hachette said. She originally listed honey as its first recipe, but garlic and honey were not a standout combination according to its pairing wheel. Overall, the book did not have much meat.
If you like to cook, get this book

Derived From Web

, Nov 28, 2018

This book is a great reference.
This book is awesome! really cool pairing ideas in here

Derived From Web

, May 14, 2018

The book is a great read, said Dr. Steve Turner, director of the University of Minnesota's Kline School of Business. Two cool pairings of Japanese and American artists. Before diving in, make sure you have a note with one or two lines of instruction. Even with time, the information may take a bit more time to get used to. If you are a type of person who just flips open a cookbook and starts reading recipes, you may not be able to use them. For one, why would anyone buy a book when there are so many good cookbooks out there? Me, I like the stories and narrative that comes along with the book, so this worked great for me, he said.
A must have****

Derived From Web

, May 8, 2018

The book is a stunning example of how a good book can be written. There are some very good recipes included, but the really interesting part is the science and the flavor profiles. I have already made the salt-cured egg yolks, the pistachio vodka, the fig vinegar and the incredible cocoa flank steak salad. This book is by far the best.
A Thinkers Manual On Flavor Handshakes // BRAVO!!

Derived From Web

, Apr 10, 2018

If you are expecting to open this book and find 88 recipients that you can dazzle your guests with, think again. Think about it. Whether you need to start all over again in your life again, is up to you. It's a wonder the public has such a good deal of things handed to them without rhyme or reason. The book shows you how to question, how to expand your mind on a molecular level. This book is not a recipe book, but rather a guide to the traveler of flavors. The book, "Basic Concepts of Flavor," provides rational reasoning to why flavors are and can be manipulated by the handshake of another. It's just that it's beautiful, too. Only if you like to think. Experiment with your money. Experiment with flavors, books, people, decision making is so worth it, he said.