Buy 3 Get 1 Free
Our Best Sale Yet! Add 4 Books Priced Under $5 To Your Cart Learn more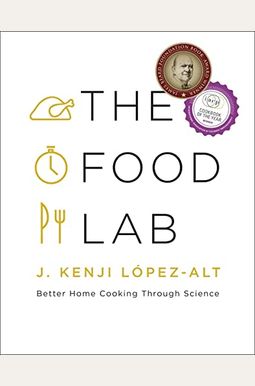 
 
The Food Lab: Better Home Cooking Through Science
Book Overview
Ever wondered how to pan-fry a steak with a charred crust and an interior that's perfectly medium-rare from edge to edge when you cut into it? How to make homemade mac 'n' cheese that is as satisfyingly gooey and velvety-smooth as the blue box stuff, but far tastier? How to roast a succulent, moist turkey (forget about brining )--and use a foolproof method that works every time?
As Serious Eats's culinary nerd-in-residence, J. Kenji L pez-Alt has pondered all these questions and more. In The Food Lab, Kenji focuses on the science behind beloved American dishes, delving into the interactions between heat, energy, and molecules that create great food. Kenji shows that often, conventional methods don't work that well, and home cooks can achieve far better results using new--but simple--techniques. In hundreds of easy-to-make recipes with over 1,000 full-color images, you will find out how to make foolproof Hollandaise sauce in just two minutes, how to transform one simple tomato sauce into a half dozen dishes, how to make the crispiest, creamiest potato casserole ever conceived, and much more.
Frequently bought together
Frequently Asked Questions About The Food Lab: Better Home Cooking Through Science
Books like The Food Lab: Better Home Cooking Through Science
Book Reviews
(14)
Did you read The Food Lab: Better Home Cooking Through Science? Please provide your feedback and rating to help other readers.
Know what you are doing

Derived From Web

, Apr 20, 2022

When you first get this book, it's a little small. It's a book. I've already learned a lot, I'm barely into the book. The biggest thing about this book is that it exposes what's happening to the food when you prepare it, rather than just following along. The book points out cooking myths that are completely wrong. I was planning on reading a good book, but didn't know that the book also has a lot of other things. There is a section about why the procedure works.
Very interesting book

Derived From Web

, Apr 20, 2022

The book is just as good as its reputation. I made his Potato Gratin, which was a fairly straightforward recipe, the oven prep took less than 20 minutes, and it turned out to be unbelievably good. His step-by-step instructions are easy to follow, with lots of pictures to help. The recipes in this book are not very healthy and tend to be very American, which is the only downside. I will be reading this book more.
Love Lopez-Alt but this book should be called The Meat Lab

Derived From Web

, Mar 14, 2022

I was looking forward to this book, but it is mostly about cooking meat, fish and dairy. I counted the pages. I eat some animal foods, but my diet is plant-rich, and it's good for my health. The book is not up to date. You're too great to get lost in the sauce.
Too wordy and blog-like!

Derived From Web

, Feb 12, 2021

You have to scroll through 3 pages of text before you get to the actual recipe if you search online. This cookbook feels like that. I bought this book after reading a lot of rave reviews. I don't feel that way. The scientific nature of why you cook and prepare food the way you do but rather than having concise, to the point information, I found that the author is much too wordy in that the cookbook feels more like a post than a book. The amount of quality recipes actually offered for such a massive book comes as a result of the author's crazy nature. I wanted more flavor in many of the recipes I made, so I was not impressed by them. This is a great book for beginners who want to learn about cooking. Pass for intermediate cooks and above.
A must-have for home cooks!

Derived From Web

, Jan 20, 2021

The Food Lab is a thick book with lots of delicious recipes and science behind cooking. I have used this book many times in my kitchen, and I am always happy with the result. There are a lot of details about how different cooking methods achieve different results, and the recipes are always a big hit with anyone I've prepared them for. Since I got this book for myself, I've found myself using less pre-packaged products and learning a lot about cooking from scratch. Several friends and relatives have all found the book to be useful, and I have given it to them as well. This is a staple cookbook in any modern home kitchen. J. Kenji-Lopez Alt put in a lot of work.
Usability-GET TO THE POINT

Derived From Web

, Apr 28, 2020

There are lots of food-science facts in this book. The book is not good for finding out how to cook something without having to read a lot of exposition. Under the heading The Best Way to Cook Pasta, the author spends 4 pages poking holes in all the wrong ways to cook pasta. I did not open the book to find out how not to do things. I opened the book for a different reason. I appreciate that he knows a lot, but what would be more useful is step-by-step how to. Some of his suggestions will make people angry. That's the time for exposition debunking outdated methods, but for heaven's sake, at least include a clean graphic or numbered step process.
Mildly insulted by his writing style. lol.

Derived From Web

, Feb 16, 2020

I like the premise of his brand, I've enjoyed the author's work before, and some of his recipes are really good. I can only take so much of the tone of his writing, which I find very condescending. I could very well be projecting, but he writes how I would try to explain something to someone who I thought might have comprehension issues, and try to make up for the insult with cool and funny anecdotes. You won't be able to get it out of your head if you read how he writes. I think he has an entitled air, but he has achieved a lot and is popular. This phenomenon of condescension has only been encountered with one other chef cook persona. Ree Drummond. There is a photograph that depicts every. single. The step. no It's a matter. How. It is simple. Either. It was redundant. Give me a break, I know how to stir something. All of this is my opinion.
All encompassing

Derived From Web

, Sep 10, 2019

Wow! As a collector of books, I almost feel like I could get rid of my shelves and use The Food Lab. This book is great for cooks of all skill levels. It is full of information about the science behind getting the most out of your food and your effort, and it is amazing. This book is for anyone who wants to improve their cooking game and understand why. Well written and illustrated. I will be giving the book to friends and family who love to cook.
You should buy this.

Derived From Web

, Dec 12, 2018

After waiting over 2 years to get my hands on this cookbook, I finally cracked it and found myself laughing in the first few pages. I like Kenji's humor. Some people may think that a more scientific approach to cooking would make for boring food, but that's not the case. Knowing why you cook a certain way is more important than knowing the technique. His explanations have confirmed some of the theories I've come up with in my years of cooking. I have a lot of cook books from many time periods and this is one of them. I'm waiting for his new cookbook, which may be out in 2020.
Wonderful resource and addition to any serious cookbook collection

Derived From Web

, Apr 6, 2018

I was waiting for the book to be released for a couple of years. It's my go-to reference for understanding what happens when heat is applied to food. The recipes are very good and appreciated all the more by knowing why. My go to recipe now is Kenji's Spatchcocked chicken recipe. I don't think I will ever roast a chicken conventionally again. I thought it would be difficult, but it is. If you like sciency food, you will love this book.