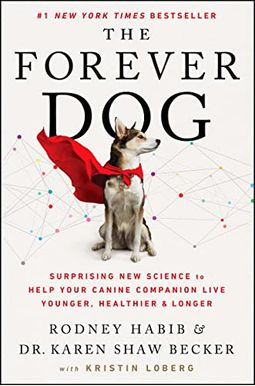 
 
The Forever Dog: Surprising New Science To Help Your Canine Companion Live Younger, Healthier, And Longer
Frequently Asked Questions About The Forever Dog: Surprising New Science To Help Your Canine Companion Live Younger, Healthier, And Longer
Book Reviews
(14)
Did you read The Forever Dog: Surprising New Science To Help Your Canine Companion Live Younger, Healthier, And Longer? Please provide your feedback and rating to help other readers.
If your dog is your best friend, READ THIS.

Derived From Web

, Mar 3, 2022

Blueberries. There are carrots. Human food. Do you think it would be good for them if it was good for us? We worry about our diet while feeding our fur babies. This will strengthen your bond and leave you both feeling great.
We can keep our dogs with us longer than we thought!!

Derived From Web

, Mar 1, 2022

It's a great resource for people who love their dogs enough to work at keeping them healthy and alive for a long time. The research for us was done by true animal lovers. It's not easy to read, but it's worth it. We have lost two dogs to cancer and one to a disease of the kidneys, and we are committed to doing our part to avoid that happening to us.
Very informative!

Derived From Web

, Jan 26, 2022

I read this book because I was suggested by my dog community. It makes you think about how the information in this book can benefit your family's health. I highly recommend!
A friend recommended the book to me

Derived From Web

, Jan 15, 2022

I looked through it, but I haven't read it. It was well written. My opinion of Dr Karen Shaw Becker in relation to animal care and love is magnificent. I was told that this book is a must read.
If you want your dog to live a long and healthy life this is the best book for you..

Derived From Web

, Jan 14, 2022

The book explains what you should feed your dog. The writers who created this well researched book went through every aspect of taking care of your dog. In clear and easy to understand words, they explain why you should use no plastic for cooking and storage of food items, why your dog shouldn't eat pricey kibble, and many other things that most people are doing for their fur children which they shouldn't be. I was impressed.
Best reference ever

Derived From Web

, Jan 9, 2022

I'm glad I got it. Dog food can be very poisonous. There are many tips to keep my dog healthy. She's more than just a dog. She is a corgi.
Well Written, Incredible Wealth of Information

Derived From Web

, Dec 28, 2021

Fantastic book. We haven't fed kibble in a long time, but I still learned a lot from this book. It was easy to focus and understand the content because it was written well. It encourages you to do any change that you can feasibly implement into your lifestyle and finances. This book is for every pet parent. The more knowledge you have, the better decisions you can make.
Very helpful information

Derived From Web

, Dec 21, 2021

This book has helped me. I feed my Yorky freeze dried organic food. Most of the time, it's Primal nuggets. I didn't know that the more supplements they list, the less quality the actual food is.
For everyone who cares about dogs

Derived From Web

, Dec 18, 2021

This book has great information. The authors suggest ways to keep dogs healthy. They admit that many of us won't implement all of their suggestions and give ways to do partial improvements.
Excellent,, excellent, excellent!!

Derived From Web

, Oct 24, 2021

There is needed scientific and practical information on caring for our dogs. It's a must-have for every dog parent who's worried about vet bills or whether or not to put a sick pet down. The audio version makes the hard science more understandable. The authors have communicated the same information through a variety of means. I'm happy to see all of the information in one place. This book is a handbook for caring for your pets in many different ways, not just walking, food, treats, toys, and all the other stuff, but a well-rounded education that can be found nowhere else. Thank you for that!