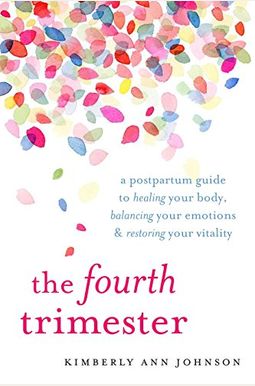  
The Fourth Trimester: A Postpartum Guide To Healing Your Body, Balancing Your Emotions, And Restoring Your Vitality
Product is currently Out of Stock.
You can add it to your wishlist and you will be notified once we receive a copy.
Book Overview
A guide to help support women through post-partum healing on the physical, emotional, relational, and spiritual levels.
This holistic guide offers practical advice to support women through postpartum healing on the physical, emotional, relational, and spiritual levels--and provides women with a roadmap to this very important transition that can last from a few months to a few years. Kimberly Ann Johnson draws from her vast professional experience as a doula, postpartum consultant, yoga teacher, body worker, and women's health care advocate, and from the healing traditions of Ayurveda, traditional Chinese medicine, and herbalism--as well as her own personal experience--to cover - how you can prepare your body for birth; - how you can organize yourself and your household for the best possible transition to motherhood; - simple practices and home remedies to facilitate healing and restore energy; - how to strengthen relationships and aid the return to sex; - learning to exercise safely postpartum; - carrying your baby with comfort; - exploring the complex and often conflicting emotions that arise postpartum; - and much more.
Frequently Asked Questions About The Fourth Trimester: A Postpartum Guide To Healing Your Body, Balancing Your Emotions, And Restoring Your Vitality
Books like The Fourth Trimester: A Postpartum Guide To Healing Your Body, Balancing Your Emotions, And Restoring Your Vitality
Book Reviews
(17)
Did you read The Fourth Trimester: A Postpartum Guide To Healing Your Body, Balancing Your Emotions, And Restoring Your Vitality? Please provide your feedback and rating to help other readers.
Over the top.

Derived From Web

, Apr 29, 2020

This book is a little out of touch with the typical postpartum experience, Postpartum magazine said. The book made me feel more like I was doing everything wrong when I was navigating the complexities of jaundice treatment, relationship changes, bleeding nipples all on about 45 minutes of sleep a night. In an ideal world, this book would have been helpful for a very primal postpartum experience, but I wish I had hung on to it and only read the books that teach you how to merely survive those first three months.
Informative and enlightening

Derived From Web

, Dec 31, 2019

I really enjoyed reading this book and researching the intricacies of postpartum and pregnancy delivery, Melissa said. It was really helpful to understand it all, Mr. Dhaliwal said. I highly recommend this book to other moms. Thanks for the help.
Essential information

Derived From Web

, Oct 22, 2019

This is essential information that every mother and mother's support system should be well versed in. I keep multiple copies of the book on my shelf to give to clients and friends as needed.
Easy read

Derived From Web

, Aug 12, 2019

So far, the book is a good read, said Pauley. There isn't a lot out there on fourth trimester, and this book seems to cover all corners of what to expect. I highly recommend it to all of my clients who have had babies to be watchful and informed about their next trimester.
A must read for moms-to-be and new moms!

Derived From Web

, Apr 13, 2019

This book was the first book I read about postpartum recovery that really touched me. The book also offers great recommendations for follow-up care and recovery from birth.
Way too hippyish - not helpful!

Derived From Web

, Mar 6, 2019

I almost fell over in my chair trying to read this book. I'm not a liberal, but this was irritatingly overboard. Not all claims are based on science. I was looking for actual facts and guidance, not just a hippy on the street talk about energy healing and aligning chakras, he said.
Not great

Derived From Web

, Feb 11, 2019

I bought this book for concrete information on how to recover from pregnancy. The vast majority of the book is written around fluff, sadness and happiness. The other five are muscle building, balance and flexibility. The remaining 5% are stories of women who don't really help, Vasant said. I'm not someone who likes facts and action, Raymond said. The book tells you to not do any exercise with running until 6 months postpartum. Only then will she suggest yoga or swimming with a kickboard. It also comes across as an opinion piece, not science or even from experience of trying different methods. I ended the book feeling like I just read random advice that pregnant strangers will give you when you're pregnant rather than any substantial guidance.
Too crunchy for my taste

Derived From Web

, Dec 8, 2018

The book is very crunchy and not based on science. If you're into energy healing and similar concepts, this book might be for you.
Doula Here- Held off for a while on purchasing this...

Derived From Web

, Nov 28, 2018

After one of my dearest clients expressed interest in borrowing the un-read book, I decided to purchase the Audible version to listen to during some of the long car rides. I was pleasantly surprised and impressed with the content of the book, Morgenthau said. It's great to know that Jennette Tamayo felt so important to all new mothers, she said. And because it is available as an audio-book, it makes it that much easier for new moms and soon to be moms. IG: @fatimasisdoula
Highly recommend

Derived From Web

, Oct 31, 2018

Highly recommend to expecting mothers. Through it all, I learned so much about myself, my body, delivery and after care. It has made a difference in the way I think about becoming a mom.