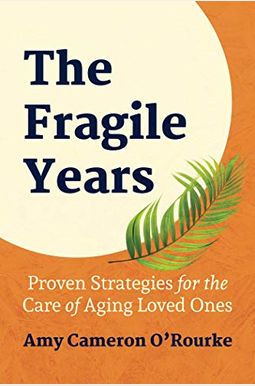  
The Fragile Years: Proven Strategies For The Care Of Aging Loved Ones
Book Overview
Inside intelligence you will need to make informed decisions, financially and compassionately, when caring for aging loved ones--whether they are living at home, in a care facility, or in the hospital or hospice care.
Do you have a parent or aging loved one nearing or in the most fragile years of life? Are you considering in-home care for them? Assisted living? A nursing home? Have they endured repeated hospitalizations, or are they facing major surgery? Are they refusing to give up their independence? Do they have adequate savings to pay for care? Are they getting the right Medicare, Medicaid, or VA benefits? This book by a veteran care management professional will help you secure the best possible care.
Frequently Asked Questions About The Fragile Years: Proven Strategies For The Care Of Aging Loved Ones
Book Reviews
(9)
Did you read The Fragile Years: Proven Strategies For The Care Of Aging Loved Ones? Please provide your feedback and rating to help other readers.
Helpful insight

Derived From Web

, Feb 7, 2022

Brace yourself, because one day they will die. What then? This book answers many of the what's up to and includes the death of this relative. On the living, death isn 't easy.
Thank goodness this book was written!

Derived From Web

, Dec 30, 2021

Very few people are prepared for the enormous responsibility of taking care of an aging loved one. I wish I had this book before I had the challenge of taking care of my beloved mother. Amy is compassionate and honest and I am so glad she wrote this book for those who will face this challenge in the future. I say from experience to say that SHE IS THE BEST!
The Help You Need to Help Seniors

Derived From Web

, Dec 4, 2021

Recommended by a nursing home administrator, this book tells you how to navigate the bureaucracies and charitable foundations of senior care. If you are a caregiver for anyone, read every page of this book and buy.
A perspective on aging from four decades of experience

Derived From Web

, Oct 10, 2021

Amy O 'Rourke became the go-to person for me and my parents as they entered their fragile years. A voice of authority and compassion for the older person, Amy shares a wealth of experience in her book about all the personal challenges associated with end-of-life care, illustrating them with medical, legal and financial anecdotes that add warmth and humor.
Strategies to deal with certain situations when caring for your parents/grandparents.

Derived From Web

, Sep 7, 2021

I have been in the healthcare field for a little over 9 years and Amy's book opened my eyes to things I did not even consider or think about when caring for the elderly population. It helped me understand better the steps needed to take BEFORE something happens. I know that we can not predict the future when your aging loved one becomes ill, but knowing the signs and being educated on the process of what to do will make the process a little easier to deal with. Amy's book GUIDES you in detail what you need to know to prepare you for just about any situation. The Baby Boomer population is growing annually, be PROACTIVE and educate yourself in advance to make your life and your loved ones better quality of life. This has helped me with my own fragile loved ones and I hope everyone who has read the book will pass it on or recommend this book to anyone 55 and up, already facing challenges or will be in the near future. Amy, thank you for your expertise! #GameChanger :
Easy to read and a priceless education for families, both practical and compassionate.

Derived From Web

, Sep 4, 2021

I bought this book because I wanted to think about the end of my life so that I don 't leave my daughters more stressed or in a harder emotional shape than they need to be. I expected a real read, but this book is brought to life with dry stories from the author's years of experience with families. It is full of clear, practical suggestions about what to watch and what to do. Hard to believe, but it actually makes our confusing and frustrating health system understandable! The advice about how to talk to each other is infinitely wise. My daughters and I have copies each and it proves a big help in approaching an emotionally charged subject.
Clear, concise information about the aging process

Derived From Web

, Sep 4, 2021

Whether you are approaching the aging years of aging, have an aging parent or want to be better informed about living options for the elderly, this book is a must! Today navigating the health care system, Medicare and insurance benefits is an overwhelming task, but The Fragile Years provides answers and options to pursue when faced with difficult and challenging situations. The chaper that caught my attention was Chapter 9, Finding Your Way Through the Maze of VA Health Care Insurance and VA Benefits. I am so glad I was given the opportunity to read this book to prepare myself as I enter my golden years, have long-term care insurance and want to die in my own home.
Superb insights for families

Derived From Web

, Aug 3, 2021

The Fragile Years is an ailing book for any family members caring for an excellent, easy to read relative. It is hard to admit that a loved one is in their last chapters, but Amy speaks with wisdom, humor and deep experience. She offers VERY helpful tips so that you can at least avoid the medical and bureaucratic headaches that are sadly all too common in this age of elder care. Since 1997, I worked in the area of elder care and hospice. I recommend that all adult children in the family receive a copy and read it so that you can literally operate from the same page.
Well written with actionable information

Derived From Web

, Jul 22, 2021

The tips at the end of each chapter are worth the price of the book.