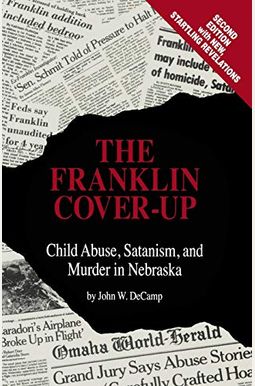 
 
Book Overview
The shut-down of Omaha, Nebraska's Franklin Community Federal Credit Union, raided by federal agencies in November 1988, sent shock waves all the way to Washington, D.C. $40 million was missing. The credit union's manager: Republican Party activist Lawrence E. Larry King, Jr., behind whose rise to fame and riches stood powerful figures in Nebraska politics and business, and in the nation's capital.
In the face of opposition from local and state law enforcement, from the FBI, and from the powerful Omaha World-Herald newspaper, a special Franklin committee of the Nebraska Legislature launched its own probe. What looked like a financial swindle, soon exploded into a hideous tale of drugs, Iran-Contra money-laundering, a nationwide child abuse ring, and ritual murder.
Nineteen months later, the legislative committee's chief investigator died - suddenly, and violently, like more than a dozen other people linked to the Franklin case.
Author John DeCamp knows the Franklin scandal from the inside. In 1990, his DeCamp memo first publicly named the alleged high-ranking abusers. Today, he is attorney for two of the abuse victims.
Using documentation never before made public, DeCamp lays bare not only the crimes, but the cover-up - a textbook case of how dangerous the corruption of institutions of government, and the press, can be. In its sweep and in what it portends for the nation, the Franklin cover-up followed the ugly precedent of the Warren Commission.
Frequently Asked Questions About The Franklin Cover-Up
Books like The Franklin Cover-Up
Book Reviews
(12)
Did you read The Franklin Cover-Up? Please provide your feedback and rating to help other readers.
it is easy to see how we have descended into darker and ...

Derived From Web

, May 27, 2022

Probably one of the most disturbing books I have read, but very necessary for understanding the present events in our country. Having the perspective of 2016 to look back at this time, it is easy to see how we descended into darker and darker times. Truly, we do not wrestle against flesh and blood, but against powers, against the rulers of this age, against spiritual hosts of wickedness in the heavenly places. May God deliver us from the evil.
I don't recommend it. But to those who want to know ...

Derived From Web

, May 27, 2022

This is an extremely important topic. If you are someone who strays from dark subject matter, I don 't recommend it. But for those who want to know truth in order to make a difference in the world, it is a must read.
Much Gratitude to Mr. DeCamp for Not Letting This Information Die

Derived From Web

, May 27, 2022

Mr. DeCamp is one of a few who decided not to participate in the cover-up. What was going on in the 80s and 90s in Nebraska, across America and beyond is appalling. Once you know the extent of the complex human trafficking ring, you can not unknow it. Most decent humans can 't shut down at this point about it. Just as complex was the cover-up that followed a national outing of what was really going on at the Franklin Credit Union and who was involved, John DeCamp names the names. He talks to the people who need to be spoken to, and the result is the most complete and thorough documentation of what happened in Nebraska and beyond. If you want to truly understand the evil underbelly of America and the things hidden in plain sight and just under the surface, read this book. You will never see the same again.
Extremely well-written and a book every American should read.

Derived From Web

, May 27, 2022

Of course, some parts are difficult to read -- we are talking about children, after all -- but precisely because he is talking about children is the reason we must not bury our heads in the sand. We can only help those who have it desperately if we have a clue as to what is going on. If children can understand it, we owe it to them to live it. Otherwise it will continue, and the soft and lax will say just what could not have happened. It is too terrible to imagine. It did and it could. Get over it, don 't wallow in it, but be prepared to fight it when it comes on your way, at least knowing the basics! Little children are counting on you and me--and this book.
A horrifying, courageous narrative

Derived From Web

, Jun 16, 2020

Had someone told me about this lot twenty years ago, I would have rolled my eyes and said, utter fantasy. We now know too much for this evil is that John DeCamp had the courage to write this case first and then to track it down. But it still goes on, and it is all around us, especially in its Satanist forms, and is no joke. These people need to be hunted, prosecuted and put away for good, whoever and wherever they are. Incidentally, they are alive and well on the Wikipedia page about the Franklin case, still slapping their heads and blocking the truth, and by now the question is who the hell are they thirty years on? One thing I know is that I am not going to bother the FBI.
Hard to read

Derived From Web

, Sep 2, 2019

Didn 't want to continue with it. I'll probably get back to it for more. It is difficult to handle. EMT Trauma Experience : But you do the book right, what you bought for? So what happens now to Epstein's info or will it become like this?
If you know a Journalist, please ask them to cover this alongside the Epstein trials

Derived From Web

, Jul 10, 2019

Anyone who values objectivity and doesn't go after wild theories should have no problem seeing what is really at play here. If even 50% of what is backed by hard evidence in this book is close to correct, we have a duty as human beings to at least discuss it. If you are a journalist, with what is happening with Epstein right now, you have a duty to cover this story objectively.
Very good source! Very sad to hear these perversions are being covered up.

Derived From Web

, Dec 21, 2018

The author is a former senator, lawyer and Vietnam vet. He gives a lot of foot notes, sources of information to hide the first hand knowledge and experience he has in deviancy and to cover up the cover up by our government to back their perversions. Sodom and Gomorrah is hidden inside the white house, Democratrepublican. It does not much matter, the perversion crosses all party lines. Thank you for this book. It is probably the only reason that the author is still alive!
Unbelievable, But True...

Derived From Web

, Sep 29, 2018

If only half of this outrageous story is true, it is still sour in the truest sense of the word. On the downside, the author settles a few too many political scores, which detracts from the narrative. Otherwise, a very well written book about a subject that is all too often ignored by our human trafficking.
it's shocking and incredibly sad. I knew are government was corrupt

Derived From Web

, Jun 6, 2018

i could not stop reading this book... it is shocking and incredibly sad. I knew that the government was corrupt, but not to this extent of depravity. I truly hope these sickos get the horrible death they all deserve!