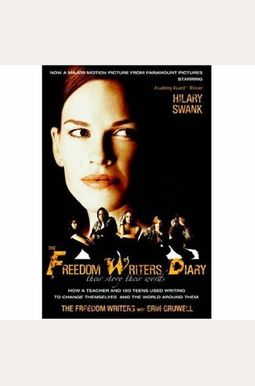  
The Freedom Writers Diary: How A Teacher And 150 Teens Used Writing To Change Themselves And The World Around Them
Book Overview
This Description may be from another edition of this product.
#1 NEW YORK TIMES BESTSELER - The twentieth anniversary edition of the classic story of an incredible group of students and the teacher who inspired them, featuring updates on the students' lives, new journal entries, and an introduction by Erin Gruwell

Now a public television documentary, Freedom Writers: Stories from the Heart
In 1994, an idealistic first-year teacher in Long Beach, California, named Erin Gruwell confronted a room of unteachable, at-risk students. She had intercepted a note with an ugly racial caricature and angrily declared that this was precisely the sort of thing that led to the Holocaust. She was met by uncomprehending looks--none of her students had heard of one of the defining moments of the twentieth century. So she rebooted her entire curriculum, using treasured books such as Anne Frank's diary as her guide to combat intolerance and misunderstanding. Her students began recording their thoughts and feelings in their own diaries, eventually dubbing themselves the Freedom Writers. Consisting of powerful entries from the students' diaries and narrative text by Erin Gruwell,
The Freedom Writers Diary
is an unforgettable story of how hard work, courage, and determination changed the lives of a teacher and her students. In the
Read More chevron_right
Frequently Asked Questions About The Freedom Writers Diary: How A Teacher And 150 Teens Used Writing To Change Themselves And The World Around Them
Books like The Freedom Writers Diary: How A Teacher And 150 Teens Used Writing To Change Themselves And The World Around Them
Book Reviews
(14)
Did you read The Freedom Writers Diary: How A Teacher And 150 Teens Used Writing To Change Themselves And The World Around Them? Please provide your feedback and rating to help other readers.
GREAT BOOK

Derived From Web

, May 2, 2022

My son and I homeschool. He loves it and spends lots of time talking about it to me. But I enjoyed the movie, and the book is very different, as it has more detail and different stories. Young readers, I think all kids should read this or at least watch the movie.
I couldn't put this down! I cried and was ...

Derived From Web

, May 2, 2022

I cried and was horrified at some of the stories, but was mostly inspired by the caring teacher and the open-minded students who wanted to improve their stories, Blair said. You can only read a few diary entries at a time because it's so heart-wrenching, but it's totally worth it.
Good reading for young children

Derived From Web

, May 1, 2021

I have the move The Freedom Writers, and I really enjoy watching it. I finally decided to order the book of diaries by the students. I am having my 10 year old read it too. He doesn't like to read, but is really into it.
Bought used, but in great condition

Derived From Web

, Mar 11, 2021

There is nothing I dislike about this book, Kelly said. The stories are so touching and enlightening, Raymond said. Some of the stories have made me laugh and some made me cry, Melissa said. The item was delivered to us in a matter of days, Mr. Dhaliwal said. I'm already halfway through and hate when I have to put it down to get something done, he said. I'm looking forward to getting back to work as soon as possible, he said.
Heart felt read

Derived From Web

, Mar 4, 2021

I remember watching the movie when it came out and thinking, 'Oh my gosh, I'll eventually read the book. I purchased the book immediately and found it to be very useful. It really went line by line of how the movie was played out, said Blair. I think the experience and lessons given by reading this book are so truth to reality of minorities even to this day, he said. It really took me back to my childhood and made me relive some of my experiences, he said. The read made me feel motivated to continue doing better and keep striving for what I want to accomplish, he said. If you want a good read, something that will take you back in time, I highly recommend picking up this book.
Freedom Writers Use a Pen not a weapon

Derived From Web

, Jul 9, 2020

This true story was inspiring and a look at inter-racial society that was mind-boggling compared to life in a small farming community where I grew up, he said. While life is different in small towns than in big cities, divorce, abuse and bigotry reign supreme everywhere. Alcohol was the drug of choice for many years, but now it's replaced by weed and crack in cities small and large. We don't know how to escape it. Freedom Writers' Bill Hollingworth and Robert Hemenway contributed to this article. Care about others--and strive for the best education possible, he said. I salute G and all the Freedom Writers.
Writing all through out the book

Derived From Web

, Jun 25, 2020

It's terrible, said Dr. Goin. All through my book. It's terrible, said Blair.
Great book but came damaged

Derived From Web

, Feb 13, 2020

Very well written and very interesting to read. The product was damaged due to a torn cover.
these diaries had to have been edited

Derived From Web

, Jan 5, 2020

These students, many of whom were not English language learners, could not have all of this. The French language could not have been authentically translated. No teenager, regardless of their background would all be so well spoken, I have to say it made me doubt the entire story. I would like to read the entire diary entries before I can edit them.
Wonderful wonderful wonderful!

Derived From Web

, Aug 9, 2019

A must read. We often forget what teenagers go through, even though they are so young. The book also emphasizes the effect and dedication of teachers, especially those working in the classroom.