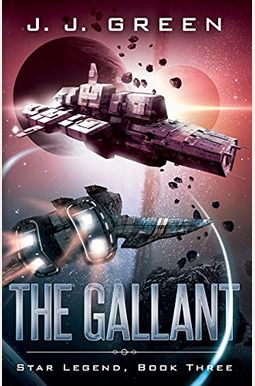 
 
Frequently Asked Questions About The Gallant
Book Reviews
(9)
Did you read The Gallant? Please provide your feedback and rating to help other readers.
Great book

Derived From Web

, Mar 17, 2022

I like this book and I am not a young teenadult. The book is very frightening and keeps you in the story the whole way. I like V.E. There are books by Schwab. This one needs a sequel.
An Eerie YA tale

Derived From Web

, Mar 15, 2022

Gallant was written by Ve Schwab. The Secret Garden has a paranormal twist. This was a great mystery and I thought it was spooky. It hooked me from the beginning and I needed to know how it ended to enjoy it. You can paint a picture in your mind. She is a unique character. But a fighter. A girl is searching for her family. I didn't like the idea of a simple story. There are only a few locations and people. I was hoping for more history in the side characters. CW blood magic, death.
Dizzying perfection.

Derived From Web

, Mar 9, 2022

You can read this book for 30 hours. There is a place where cheek bones and elbows and eyes sit on the very edge of here and not. It's not real and it's not real. Both are alive and dead. I loved every word.
Bad purchase

Derived From Web

, Mar 8, 2022

People are talking about the fantasy elements of it and comparing it to The Secret Garden. No one mentioned that this is a horror genre book. Money wasted by me.
A hauntingly romantic novel

Derived From Web

, Mar 8, 2022

I was not disappointed with Gallant, I am a fan of VE Schwab. I find her writing captivating because of the eerie dark romance. It will haunt me. I will be curious about her story and how she is doing. The splits between worlds and doors is a common theme in V's work and Gallant was definitely that. I was able to read it while sitting down. This was a great change of pace for me because I usually have several books to explore in an epic fantasy.
Another incredibly masterful work from V.E. Schwab

Derived From Web

, Mar 5, 2022

Is there another living author with the same deftness, the same touch for word and for verbal image? What is the name of the person? I'm not sure. I'm grateful that we have her. I was forced to keep reading because of the delicate intensity of the story. I enjoyed this book for several days. The book description gave me just enough of each character, so I'm not going to mention any plot or characters.
Great standalone novel and great for teens and adults!

Derived From Web

, Mar 3, 2022

It's completely different from the other works. The novel is shorter and reads faster than some of the author's other works, but it still stands up. It's unfair to compare Gallant to Addie LaRue. Gallant is a must-read because of its poetic writing and vivid imagery. Teens and adults will enjoy this book. If death is a sensitive topic to readers, it is a central theme.
interesting but a bit disappointing

Derived From Web

, Mar 1, 2022

The story is interesting, but not romantic. I am giving it a four star rating.
Perfect addition to the VE Schwab universe

Derived From Web

, Mar 1, 2022

I was taken to a new world with new rules and a confident sense of self in the same way all of Victoria's books do. She brings a lot to her work and this short story is no different. You are swept through the tale with all the excitement of a classic thriller. I recommend all her books, and this one is no exception.