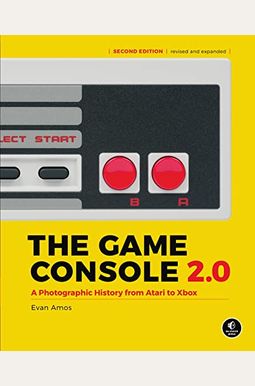  
The Game Console 2.0: A Photographic History from Atari to Xbox
Book Overview
This revised and expanded second edition of the bestselling The Game Console contains brand new content, with coverage of 50 more consoles, variants, and accessories in 50 added pages. The Game Console 2.0 is a gorgeous coffee table book for geeks and gamers that brings together highly detailed photos of more than 100 video game consoles and their electronic interiors spanning nearly five decades.
Revised and updated since the first edition's celebrated 2018 release,
The Game Console 2.0
is an even bigger archival collection of vividly detailed photos of more than 100 video-game consoles. This ultimate archive of gaming history spans five decades and nine distinct generations, chronologically covering everything from market leaders to outright failures, and tracing the gaming industry's rise, fall, and monumental resurgence.
The book's 2nd edition features more classic game consoles and computers, a section on retro gaming in the modern era, and dozens of new entries -- including super-rare finds, such the Unisonic Champion 2711, and the latest ninth-generation consoles. You'll find coverage of legendary systems like the Magnavox Odyssey, Atari 2600, NES, and the Commodore 64; systems from the '90s and 2000s; modern consoles like the Nintendo Switch, Xbox Series XS, and PlayStation 5; and consoles you never knew existed.
Get a unique peek at the hardware powering the world's most iconic video-game systems with
The Game Console 2.0
-- the perfect gift for geeks of all stripes and every gamer's must-have coffee-table book.
Frequently Asked Questions About The Game Console 2.0: A Photographic History from Atari to Xbox
Book Reviews
(9)
Did you read The Game Console 2.0: A Photographic History from Atari to Xbox? Please provide your feedback and rating to help other readers.
Great addition to gaming library!

Derived From Web

, Mar 17, 2022

My son is a true gaming historian. He has a soft spot for video games, and this book did not disappoint. He reads it, and he frequently refers to it. It has large, clear pictures of all the consoles and seems to be chock full of information. It looks good on a table, and it invites lively conversation. GenX is where I'm drawn to. Very good book, highly recommend.
Awesome book with great info

Derived From Web

, Feb 3, 2022

Thought I knew a lot about the history of gaming consoles but there are so many that I had never heard of. I highly recommend Dr. Goin's book.
Great history

Derived From Web

, Jan 11, 2022

He was so excited to get this, said Blair. History of every console, PC, and game console out there. We love all types of gaming so it was an awesome addition to our collection, said Gillian Kent, director at Warner Bros. Interactive.
Very disappointed

Derived From Web

, Dec 26, 2021

For the cost of this book, the manufacturer should have far better quality standards, Mr. Dhaliwal said.
Very impressive revision

Derived From Web

, Dec 14, 2021

As an obscure video game collector, this book is an impressive reference which allows me to check against what I have and what I need, writes Richard. It also covers the handhelds, the popular systems and the obscures.
A must have

Derived From Web

, Oct 28, 2021

It's a must have for any video game nerd. The book is probably the most detailed and in-depth look at game consoles ever written. I'm extremely pleased with the content, although I have one small complaint - it would have been great if all the consoles had photos of them torn down. It was a huge victory for the doctor, Bruno told the judge.
A great book for anyone interested in gaming consoles

Derived From Web

, Oct 19, 2021

The new edition of this book has all the latest systems and comes with the latest software. Each system has a couple of short paragraphs with some basic stats and beautiful pictures. It is a book you can spend 5 minutes reading or an hour or longer if you prefer. The quality of the hardcover book is fantastic and the photos are great, he said.
More like 1.5 Edition.

Derived From Web

, Sep 24, 2021

I was excited to get this because I really liked the first book, but this second edition seems very inconsistent. What does iOS and Android have to do with console gaming? Also what happened to the teardown pictures of the current gen consoles, like this just seems like an unnecessary revision and not worth you're money if you already own the original.
Love this book!!

Derived From Web

, Sep 7, 2021

As a lifelong gamer, I appreciated the number of gaming devices listed and photographed in the book. Thanks for the tear down photos! The Beatles' music "was almost as good as the Beatles themselves."