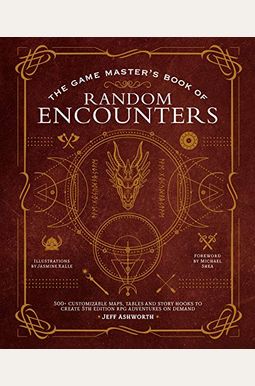 
 
The Game Master's Book Of Random Encounters: 500+ Customizable Maps, Tables And Story Hooks To Create 5th Edition Adventures On Demand
Book Overview
In a game packed with infinite possibilities, what are GMs to do when their players choose what they have not prepared?
As every GM knows, no matter how many story hooks, maps or NPCs you painstakingly create during session prep, your best-laid plans are often foiled by your players' whims, extreme skill check successes (or critical fails) or their playful refusal to stay on task.
The Game Master's Book of Random Encounters
provides an unbeatable solution. This massive tome is divided into location categories, each of which can stand alone as a small stop as part of a larger campaign.
Taverns, Inns, Shops & Guild Halls
section includes maps for
19 unique spaces
, as well as multiple encounter tables designed to help GMs fill in the sights, sounds, smells and proprietors
of a given location
, allowing for each location in the book to be augmented and populated on the fly while still ensuring memorable moments for all players. Each map is presented at scale on grid, enabling GMs to determine exactly where all of the characters are in relation to one another and anyone (or anything) else in the space, critical information should any combat or other movement-based action occur. Perhaps more useful than its
nearly 100
maps, the book's one-shot generator features all the story hooks necessary for GMs to use these maps as part
Read More chevron_right
Frequently Asked Questions About The Game Master's Book Of Random Encounters: 500+ Customizable Maps, Tables And Story Hooks To Create 5th Edition Adventures On Demand
Book Reviews
(15)
Did you read The Game Master's Book Of Random Encounters: 500+ Customizable Maps, Tables And Story Hooks To Create 5th Edition Adventures On Demand? Please provide your feedback and rating to help other readers.
Good stuff!

Derived From Web

, Mar 17, 2022

It is a fun book to read and use for random encounters. There are enough frequent encounters that you could potentially lead to a complete sandbox-y campaign.
Excellent content with better representation

Derived From Web

, Jan 9, 2022

Great book with plenty of content to use and save you time when prepping. It's a relief to see non-heteronormative representation in RPG Supplement books. The fact that it scares toxic neckbeards off toxic neckbeards is just a bonus.
AMAZING!!

Derived From Web

, Jan 9, 2022

ITS AMAZING NO LIE : I find it super hard to make decisions, I love being able to randomize play throughs and characters I cannot express how much I love this book, I am very excited to play a campaign out of it.
Missing critical information.

Derived From Web

, Sep 4, 2021

Overall, I like this book, but it fails in a key area. The NPCs all have essential challenge ratings, which are missing for balancing encounters that fit the party's capabilities. This is the reason for the two stars reduction in the rating :
Full of Useful Information- No Agendas

Derived From Web

, Aug 24, 2021

Based on a few reviews, I borrowed this book from the library to look at it before buying. Contrary to the reviews that stated that this book pushes an agenda, I did not find that to be true at all. Yes, there is an optional table with preferred pronouns, but if this bothers you, look past it simply. It is a shame to ignore the benefits of a book because of a single table. I haven 't read the book cover to cover, but I looked pretty thoroughly through it and did not see any evidence of an agenda pushed at all. The content will be very helpful for me, as I suffer from a lack of creativity. I struggle when writing modules and the ideas presented in this book have already helped me. There is a lot of detail in each adventure and the maps, which is just what I need to help me create ideas. I think that this book is a great deal as it contains a lot of useful information at a cost. Additionally, it is laying in such a way that when it is open, it is bound flat, a nice touch.
A must have!

Derived From Web

, Jun 13, 2021

This book is a must for all DMs of any experience level. In my opinion, this book is better than any Supplementary Material by Wizards of the Coast.
Fantastic Buy

Derived From Web

, Apr 9, 2021

Alot of good tables with some interesting shots and magical items. Adds some good flavor to DnD and takes some of the work off of being a DM.
Steal of a deal

Derived From Web

, Feb 21, 2021

I love all contents of this book '', I love all the contents of this book. So much content at such a great price! This thing is literally a stealthie.
Random "Woke" Encounters

Derived From Web

, Oct 4, 2020

Random Book of not so Ok encounters. Most of the content is decent, but the book is quite wavy in certain areas. If the wakingness is annoying to you, like it is to me, you'll be fine in passing on this book. Had I known that it was going to push woke ideas and ideals, although in most places it was entirely optional, I would have passed on this book hard. The book was geared more towards a certain group of gamers and if you are not part of that group, you will find much of the content in this book cringey and irritating.
A great companion book!

Derived From Web

, Sep 26, 2020

Do you like DnD? Do you like DnD? Do you sometimes struggle with stories or creating thousands of NPCs? Do you have a creative block? This book is for you! Well, this book is for you! It is absolutely full of useful information for anything, DM or player. It is a book that you can read from cover to cover without being bored from reading. For a session, every word is dripping with great content. The random tables at the end are worth the price alone.