Buy 3 Get 1 Free
Our Best Sale Yet! Add 4 Books Priced Under $5 To Your Cart     Learn more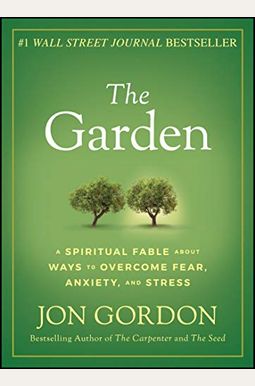 
 
The Garden: A Spiritual Fable About Ways To Overcome Fear, Anxiety, And Stress
Book Overview
From eight-time bestselling author Jon Gordon comes a spiritual fable about the power of faith, hope, and love
Meet the twins, Jay and Kay. Like many teenagers, they are dealing with stress and anxiety. One day on their way to school, they have a nice conversation with their old family friend and youth soccer coach, Mr. Erwin, who shows them a special garden he created in his backyard. The garden serves as both a place and a metaphor for Mr. Erwin to share a powerful paradigm and practical strategies to help the twins overcome their fear, anxiety, and stress.
The Garden is an enlightening and encouraging spiritual fable that reveals the 5 D's that can sabotage us and provides a proven plan to win the battle of our mind. Rooted in Jon Gordon's faith tradition, this fable is a different kind of book than his previous business fables. However, in his familiar trademark style, he takes a complex subject and simplifies it to help people take action and improve their lives.
Everyone will struggle with fear, anxiety, or stress at some point in their lives, and everyone will have to overcome these challenges to create the life they were meant to live. Given that there are many contributing factors that influence how we think and feel, Jon wrote this book to share how the power of love, encouragement, truth, faith, and belief can be part of the solution.
Having worked with countless leaders, companies, sports teams, professional athletes, and college and high school students, Jon Gordon infuses this life-changing story with thought-provoking ideas, practical strategies, and a framework to overcome fear with faith.
Frequently bought together
Frequently Asked Questions About The Garden: A Spiritual Fable About Ways To Overcome Fear, Anxiety, And Stress
Book Reviews
(18)
Did you read The Garden: A Spiritual Fable About Ways To Overcome Fear, Anxiety, And Stress? Please provide your feedback and rating to help other readers.
Not my cup of tea

Derived From Web

, Jan 28, 2022

I can see how some people would enjoy this book, but it just wasn't for me. The book takes a Calvinist worldview and my personal theology is much more Wesleyan. I also did not like how it is told as a moral fable. It was too simplistic for my taste. It would probably be a good book for Presbyterian Sunday school classes. In fairness, I was probably not the target audience.
A Spiritual Fable

Derived From Web

, Oct 28, 2020

I was drawn to this book because I enjoy Jon Gordon's work. I can always use encouragement to overcome fear, anxiety and stress. In "The Road Home," Jon takes us through a series of encounters by an old gentleman and two neighborhood teenagers where he gives the tools to confront their greatest fears. A quick trip back to the garden is always refreshing. He also reminded us that we need to watch for people in our path who need encouragement most. The book is a refreshing moment of God's grace in the invisible evil we all face. Yes, this book lived up to the back cover copy.
Awesome way to introduce the story of Adam and Eve

Derived From Web

, Sep 7, 2020

Beautifully written and well presented, this book doesn't intimidate or push Christianity on you. Even for nonbelievers, the story format can be extremely helpful. Thanks for the book, I will be buying more for gifts.
The Garden

Derived From Web

, Aug 7, 2020

What an amazing story that in a short read can be a life changer, Michael Mosley writes. I have already given it as gifts to two other friends who after reading thanked me and felt the same way. We all have areas that need guidance and do not forget your identity, he said. A definite once-a-year read for me!
Easy but Powerful Read

Derived From Web

, Aug 6, 2020

This is one of his best videos. So easy to read, but such a great message. It's great to be back home, said Blair. Loved it, sharing several copies with friends, said Gammerman.
AMAZING!!!!!

Derived From Web

, Jul 23, 2020

The fact that this small, short story has a huge, life changing impact is simply amazing! It hit the core of my, fears and stresses. I can't wait to recommend this to all of my friends, family and coworkers! It's great to be back home, said Blair.
Not your typical Jon Gordon but well worth the read!

Derived From Web

, Jul 16, 2020

If you have read Jon Gordon's books before, you might expect a book on business or life in a fable-like format. While The Garden is part that, it goes beyond just a positive living book and talks about spirituality and the fight we are in every day with the evil one. He walks us through the 5Ds that are used to keep us from a victorious life, a life that God has planned for us. The 5Ds doubt, distortion, discouragement, and division can ruin our lives if we are not aware of them and if we let them run our lives. We need the tools to fight back, Jon says. Follow Kay and Jay as they learn the tools to live a better life, becoming victorious in what God has planned for them. A simple read with a big message!
Awesome

Derived From Web

, Jul 13, 2020

It was another impressive performance by Gordon, who has dominated NASCAR's premier division since Dale Earnhardt's death in 2001. He uses fables to convey life lessons. I hope Jon will continue to share faith-based lessons in his future books. Another hit.
The Garden is Your Life

Derived From Web

, Jul 10, 2020

#1 Wall Street Journal Best-Selling book, The Garden, presents a simple interpretation of how we can overcome the enemies in our lives. By tools that are tools that are actively providing fights to minimize these anxieties, this book helps the reader understand what influences may be adding to their memorable anxieties and providing fights to minimize these anxieties. Through the power of storytelling, Gordon provides so much more than just a spiritual or religious take on self-help. His story is relatable, it's real, it strikes you deep down in your core, and you are not going to be able to take your hands off of The Garden once you start reading it. Even after finishing, you'll pick it back up time and time again to come back to as a story-based manual for different situations in your own life.
During tough times we all need some encouragement and Jon provides it in his new book?

Derived From Web

, Jul 10, 2020

Thanks to Jon Gordon for writing yet another phenomenal book for all of us to be inspired by! You share your heart, and give all of us hope by helping us focus on peace, connection, and happiness as it comes from God! You have demonstrated what it means to truly attack energy vampires by applying the power of positive spiritual thinking as we work through the challenges of a pandemic. Gloria de Jesus, widow of the slain soldier, laments the loss of her husband.