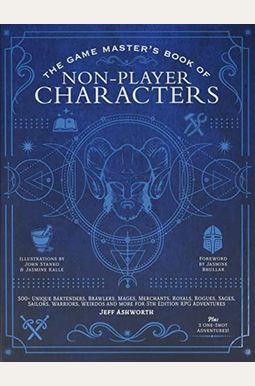 
 
The Garden Of Our B. Lady
Book Overview
More than 500 NPCs ready to populate your campaign whenever you need them

As is often the case in tabletop roleplaying games, players will often venture into locales or look for answers in places and among people busy Game Masters simply can't anticipate. Or, just as often, an adventure won't have fully fleshed out characters in place for the locations that are detailed for gameplay.
The Game Master's Book of Non-Player Characters
solves those issues and more by providing Game Masters with the information they need to fill in the holes in their campaign play. It will enable referees to instantly add depth, color, motivation and unique physical characteristics at a moment's notice to unexpected or underwritten characters which appear in their gameplay, ensuring that every encounter is a memorable one for players and GMs alike.
Frequently Asked Questions About The Garden Of Our B. Lady
Book Reviews
(10)
Did you read The Garden Of Our B. Lady? Please provide your feedback and rating to help other readers.
Great NPC resource for D&D

Derived From Web

, Jan 19, 2022

This is a great resource for an NPC you may need for an adventure. The NPCS are organized by their locales and then organized by their roles. Every NPC comes with an interesting backstory, which you could even use as a plot hook. And some of the more complicated NPCs come with a statblock and unique abilities.
Excellent book!

Derived From Web

, Oct 27, 2021

Book is great! It is highly recommended! Either to wing it or to help you prepare as you build your adventure and give you NPC ideas.
New DM

Derived From Web

, Oct 16, 2021

I can not sing the praises of this book and his other one I bought. As a new DM trying to also learn how to make campaigns, I have to say that this book is amazing. The detail and ideas that this book provided really helped me to create my campaign and deepen things on the fly.
Worth it and looks great with other 5e books

Derived From Web

, Oct 12, 2021

Very useful! Full to the brim with fleshed out but generic enough NPCs to fit any context. I love this book and bringing it to every session I DM. Authors : Great work by the authors!
Handy

Derived From Web

, Oct 10, 2021

Good resource for a DM for a DM. Many of the names are a little on the silly side, which is ok if that is what you are looking for. If not, you can always change the name to suit you. Was a bit confused with a description in particular, wherein a NPC was referred to as they '', but figured it was just a bit of virtue signaling after reading the entry and verifying that the NPC was not possessed or had multiple personalities.
Fantastic Inspiration Tool!

Derived From Web

, Oct 9, 2021

This is a last-minute resource for inspiration or fantastic plug-ins. It does not matter how long you have been DMing, everyone runs that creative roadblock or hits cheeky tables where a resource like this is great. Even from a player perspective, the descriptions of the NPCs in this book can also help you in building your own PC.
It's decent

Derived From Web

, Oct 7, 2021

Pros Very good tool in helping new dms see how things can be built in the games they run and also how npcs could be run. The tool of the quest builder was very nice, along with the npc builders. Cons not big on the names they use, feels like I am still having to make names. Some sections needed more characters than other sections. In summary, I think this book is more for new DMs to help them get a better idea of what they can do. Older dms, if you want a little more source or refresher on character building or if you have made quick npcs, try this book out. I had to give it 3 stars because it just doesn 't feel like it helped me as much as I wanted it.
This is chock full of amazingly useful tables and ready made NPCs

Derived From Web

, Oct 6, 2021

I bought the random encounters guidebook before this and loved it. This one has quite a bit of usefulness. This model, however, could be even more useful. For example, this book has a lot of random tables that will help you to create random NPCs that actually have life to them. The pre-made NPCs are also super awesome. For sure, I will add a few more to my campaign. The 3 adventures they put in are also pretty large and are more than a single shot for sure. This is all you need to get this. I've come across by far the best resource for NPC creation.
Fantastic book!

Derived From Web

, Oct 6, 2021

This book is fantastic, the creators must have thought days to come up with the ncps, again thumbs up!
Damaged cover

Derived From Web

, Oct 5, 2021

The contents of the book are great. The contents of the book are great. It was well worth the money, it was. The NPCs will be used on adventures on the way. However, the cover was damaged when I received it, which is a shame.