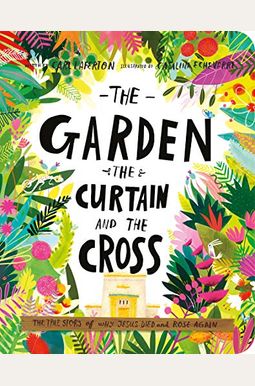  
The Garden, The Curtain, And The Cross Board Book: The True Story Of Why Jesus Died And Rose Again
Frequently Asked Questions About The Garden, The Curtain, And The Cross Board Book: The True Story Of Why Jesus Died And Rose Again
Book Reviews
(15)
Did you read The Garden, The Curtain, And The Cross Board Book: The True Story Of Why Jesus Died And Rose Again? Please provide your feedback and rating to help other readers.
I'm pretty picky about extrabiblical kids books

Derived From Web

, Apr 20, 2022

I am pretty picky about extrabiblical children's books. I'd rather read a wholesome secular book than a Christian book that contains or misrepresents the Gospel or the nature of God or core doctrines. This book held to my scrutiny just fine. It is quite sound. It is also very engaging, though my boys are only 3 and 4 and it is beautifully illustrated.
This is the very best Biblical, 'gospel presentation' for children I've ever seen

Derived From Web

, Apr 20, 2022

This is the very best biblical, gospel presentation '' for children I have ever seen. It bridges the Old Testament and the New Testament, with beautiful illustrations too. After receiving it as a gift, we bought it again for another child. I wish that this book had been available to me as a child to help me make a connection between God's Law and Grace's Grace. However, it seems to be equally helpful for adults!
great book for sharing your faith with your children!

Derived From Web

, Apr 20, 2022

This is a great overview of the Bible story, obviously focusing on the Garden of Eden, the Temple Curtain and the Cross. The illustrations are beautiful, definitely enough to catch my toddler's attention while reading. It is thick-made with well-made pages that I expect to last. It is also a great reminder for me of the effects of my own sin and Jesus's work on the cross. The book suggests to the child that at the end they say thank you Jesus. Mine loves to oblige with sign language, mine with sign language obliges. Really a great book for sharing your faith with your children! ''
The book is the Gospel as told in the Bible-well illustrated and easy to understand.

Derived From Web

, Apr 17, 2021

I bought 2 for two families - both loved it because it is the whole story of the gospel from Creation to Resurrection.
Fantastic

Derived From Web

, May 6, 2020

One of the greatest children's books we own. I absolutely loved it and provoked lots of wonderful and deep questions surrounding salvation. Get this book and keep it in your home.
Wonderful book

Derived From Web

, Apr 13, 2020

A wonderful book for children! My 4.5 year old son has begun asking many complex questions about Jesus and Heaven. And this book explains it perfectly for him. It may be difficult for children younger than 4.5, though.
I cried when I read it!

Derived From Web

, Oct 27, 2019

It is true that writing things simply enough for a child to understand can often lead to breakthrough revelations for adults. I thought myself an "expert" about the Wilderness Tabernacle, I couldn t believe it when I read this children's book and suddenly got the concept of the Cherubim. I highly recommend this beautiful, inspiring book for all ages!
The true gospel a toddler can understand

Derived From Web

, Jul 20, 2019

This book was a great find. One for each of my grandsons and one for my house bought Bought. Great way to introduce the gospel to toddlers and up. One of our favorite books. Warning that it does tell the true gospel.
Great book that helps explain big picture of the Bible

Derived From Web

, May 12, 2019

Jesus does a great job of painting the big picture of the Bible and how it fits in the whole story. In total, a great book! Honestly, many adults can learn something by reading this book, too.
Not age-appropriate for preschoolers or young children

Derived From Web

, Apr 16, 2019

This book is not what I expected. I'm surprised that only one other person reviewing this book mentions the hammering in on just about every page the Refrain because of your sin, you can 't come in. And I would have been okay with the angels in the garden, who were placed there to keep Adam and Eve from coming back into the garden, referred to as a kind of keep out sign one time. However, Keep Out is repeated throughout the book as well as throughout the book. The illustrations were also a little dark to me. To me, the overall takeaway from this book is the condemnation, not the love and compassion of the cross. Chose chose not to share it with the children at our school during chapel time and to have it returned.