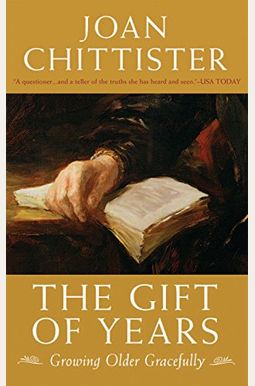 
 
The Gift Of Years: Growing Older Gracefully
Book Overview
Not only accepting but also celebrating getting old, this inspirational and illuminating work looks at the many facets of the aging process, from purposes and challenges to struggles and surprises. Central throughout is a call to cherish the blessing of aging as a natural part of life that is active, productive, and deeply rewarding. Perhaps the most important dimension revealed lies in the awareness that there is a purpose to aging and intention built into every stage of life. Chittister reflects on many key issues, including the temptation towards isolation, the need to stay involved, the importance of health and well-being, what happens when old relationships end or shift, the fear of tomorrow, and the mystery of forever. Readers are encouraged to surmount their fears of getting older and find beauty in aging well.
Frequently Asked Questions About The Gift Of Years: Growing Older Gracefully
Book Reviews
(16)
Did you read The Gift Of Years: Growing Older Gracefully? Please provide your feedback and rating to help other readers.
Best Book I've Read on Aging Gracefully

Derived From Web

, Apr 20, 2022

I've seen how many in our culture, and I'm committed to doing better, not just physically, but emotionally as well. For me, a big part of that shift is ensuring that my mind-space is in a good place, and that largely translates into not trying to chase the fountain of youth, but rather, celebrating the gift of years, wherever that may be. The book is also available in hardback. Is there any other way to put it? I've read a number of books on aging now, and this has been one of the most beautifully insightful, in fact, I had initially borrowed it from the library, but wound up purchasing it as I'm sure I will refer to it time and again. I highly recommend this lovely, poignant work, which also happens to be wonderfully written.
Wonderful Insight

Derived From Web

, Apr 20, 2022

One of the best books I have ever read. I am seventy-seven years old and almost everything that this author says makes perfect sense to me. What I am feeling is very raw, very real, and I don't know what to do with it. For the first time in my life, I truly feel normal and validated. I would recommend this book not only to those in their seventies and eighties but to their children and grandchildren so they might understand their parents better. It might help them better understand some of the residents' feelings, Mr. Dhaliwal said.
Older folk are not considered a good market for sales and are not considered in material ...

Derived From Web

, Apr 20, 2022

Joan Chitister's The Gift of Years Older Gracefully by Joan Chitister is a hopeful commentary on the thoughts of well-known people and saints who ponder what it means to grow old in an environment such as the USA where youth is most valued and to in the creation and sale of various items. Older folk are not considered a good market for sales and are not considered in material goods being offered to the public, she writes. At 70, she began to see changes in her energy and interests. The importance of meditation is also emphasized. Seidler, A.M., and Frey, S.F., eds.
This is an excellent book to digest slowly to help negotiate a change ...

Derived From Web

, Apr 20, 2022

Her witty, insightful and irreverent book follows the writer as he reflects on his life and writes about "the great challenges of aging." Each brief chapter includes a format that inspires valuable personal reflection, Morgenthau said. Adaptable and Easy To Digest: A Living Guide to Living Well After Retirement will be an excellent book to help negotiate a change in seasons while entering retirement and later.
The Gift of Years

Derived From Web

, Apr 20, 2022

It was a great surprise, said Blair, "and I ordered it for myself and for three friends as well." Joan Chittister, a marvelous writer, has a book out Monday titled Living With an Aging Population. It makes you look at the aging process in a new light.
The Gift of Years

Derived From Web

, Apr 20, 2022

This book has been utilized by many consultants who are concerned about entering into the latter stages of life. The book is well organized and the content is well thought out. I have thoroughly enjoyed the insights, said Dr. Steve Peters, director of the Stanford Center for Business and Law.
If you are 50+ or want to be

Derived From Web

, Apr 20, 2022

I used this book with a small group of over 55s. In every chapter of our lives, we found ourselves in unexpected new lives we had not expected or could not have planned. But He also tells us that in every chapter there is a burden and a blessing. In his book Agelessness, Douglas Chittister writes, "a burden of these years is allowing ourselves to become isolated from the world around us." What a blessing of these years is finding a child who will help us to step out of all the old roles and become a human being again, he said. Most of us have grandchildren, some have great-grandchildren, and each of us is learning about our own children who are now parents and grandparents.
Really helped me make peace with aging.

Derived From Web

, Apr 20, 2022

What I gained from it was so much more, Nikia said. As a recent empty-nester, I gained a healthy perspective on moving through the different stages of life with a healthy outlook and accepting that nothing really stays the same in life. The book is short and succinct, perfect for reading a chapter before bed. This book gave me a lot to think about and I have found myself re-reading many chapters. It is both inspirational and comforting, Levine said. Joan Chittister, a brilliant writer who brought spirituality into end-of-life issues, has died. I would highly recommend it to anyone.
Years of joy!

Derived From Web

, Mar 6, 2020

It brought me to tears of joy, Tunick said. It's great to finally get it. In lieu of the book, I will give it to friends and family. Only in the hands of a thousand would I have the courage to buy a thousand copies.
A unique and profound look at the meaning and purpose of the last stage of life

Derived From Web

, Mar 26, 2019

Joan Chichester looks at the subject of aging from societal, emotional and spiritual perspectives. The second book, "What We Do When We Get Older," tackles a subject of interest to senior adults, such as regret, ageism and transformation. We are here to depart from this wold as finished as we can possibly become, Raymond said. It's just that we stop growing. It is exactly the time to grow and to take risks, he said. It is the period in which we set out to make sense of all the growing we have already done, he said. It is the softening season when everything in us is meant to achieve its sweetest, most unique self.