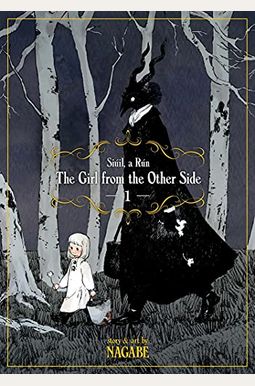 
 
The Girl from the Other Side: Siúil, a Rún Vol. 1
Book Overview
An ethereal fantasy from the editorial team behind the New York Times bestselling series The Ancient Magus' Bride
The Girl From the Other Side: Si il, a R n
is an all-new manga series that pulls readers into a magical and enchanting tale about a young girl and her demonic guardian. A haunting story of love and fantastical creatures,
The Girl From the Other Side: Si il, a R n
is a gorgeously-illustrated manga series. Each volume in the series will be released with a beautifully-textured matte finish cover and will include at least one full-color insert. In a world split between the Inside and the Outside, those living in both realms are told never to cross over to the other side, lest they be cursed. A young girl named Shiva lives on the other side, in a vacant village with a demonic guardian known only as Teacher. Although the two are forbidden to touch, they seem to share a bond that transcends their disparate appearances. But when Shiva leaves Teacher's care to seek out her grandmother, the secret behind her mysterious living arrangement comes to light.
Frequently bought together
Frequently Asked Questions About The Girl from the Other Side: Siúil, a Rún Vol. 1
Books like The Girl from the Other Side: Siúil, a Rún Vol. 1
Book Reviews
(13)
Did you read The Girl from the Other Side: Siúil, a Rún Vol. 1? Please provide your feedback and rating to help other readers.
My first Manga story

Derived From Web

, Mar 17, 2022

1. I had to go to You Tube to learn how to read it. There are reading instructions in the book, but appear at the beginning... not the end. I would like to continue to the end, but I am not going to continue for what amounts to be a few chapters per book ''.
WOW

Derived From Web

, Nov 28, 2021

What a plot twists. I won 't say it anymore. Looking forward to reading more, if not for the beautiful plot, then for fantastic illustrations.
So. Much. Potential.

Derived From Web

, Jul 14, 2019

And am completely hooked up. The direction and concepts presented are soooooo lure, I can 't wait for the next to arrive.
Spooky manga keeps being spooky

Derived From Web

, Mar 13, 2019

This dark fantasy series follows a young girl, Shiva, and her monster guardian, whom she calls teacher, who lives in an abandoned village. Nearby humans have retreated to safety to avoid the plague that turns people into monsters, transmitted by touch. Four volumes in, I'm still trying to figure out exactly what the flip is doing, but it is clear that teacher's cohabitation with her isn 't popular with either the humans or the other monsters and creepy manga is going to keep being creepy. I love the slow pace, the oppressive atmosphere and the tenderness teacher in adoptive parenting Shiva, though they can not have physical contact.
GREAT BOOK BUT NOT HAPPY ABOUT THE WEAR!

Derived From Web

, Dec 23, 2018

I only order comic books for collection reasons, not for intense reading. One of the books comes with small scabs, however. They are not big, totally 3 spots, but it is still a bummer for someone who likes to collect comics. Thoughts, I still love the comic book itself and the art style! The beautiful story and the great art style deserve 5 stars. The dress has reduced its value to 4 stars, hopefully that doesn 't happen too often.
Sweet and savory

Derived From Web

, Nov 2, 2018

This book is a little bit dreary for my tastes. The use of negative space as well as stark whites and blacks really made this book pop, but the mere act of reading it made me sleepy. But, considering I've already read the following three volumes, I suppose the cons aren 't all that glaring. The relationship between Shiva and teacher is genuinely sweet and the main thing that has kept me hooked in this series.
First Manga

Derived From Web

, Oct 26, 2018

I had never read manga before and really never had an interest. I stumbled on this one because of the beautiful cover. Didn 't pay attention to it being a manga and thought it could be a graphic novel. After a few minutes to figure out how you read one of these book types, I sat with curiosity. I actually enjoyed it ''. The artwork was dark but light and the story line was happy but sad. I just love where it goes and after the massive cliffhanger I'm going to have to continue with this story.
Really beautiful art

Derived From Web

, Mar 5, 2018

Really stunning black and whites work together to create a really sketchy fantasy story. It works really well to build this world with the outsiders. Spoilers the first vol really does a wonderful job of establishing the relationship between Shiva and her teacher. It also lays the groundwork well into the isolated world they are in. I can 't recommend this enough, I can 't wait to get the second vol.
So cute!!!

Derived From Web

, Jan 24, 2018

I was afraid that it would be scary, but three books in and it is really not scary at all. It is not either very sad or very happy. Just very cute!
Despite how it looks, this is not an Ancient Magus Bride rip-off

Derived From Web

, Oct 20, 2017

I stayed away for just this reason, not wanting to patronize a copy. But i have been given a chance to read it and not only is it good, it is not like Magus Bride outside of the superficial elements of magic and a horned Wendigo-like demon looking after a human girl. It is a modern and very slow fairy tale. It is something to read at the fire late at night, very calming and very pleasant. Not without its good moments and heart wrenching conflict sure, but the quiet almost dead and dreary atmosphere draws you in, while the good dialouge and interesting world keep you there Definetly worth a pick up or at least a read.