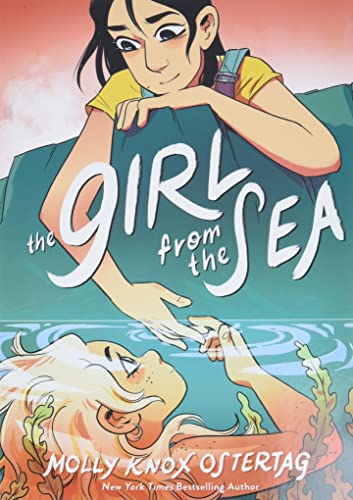 
 
Book Overview
From the author of The Witch Boy trilogy comes a graphic novel about family, romance, and first love.
Fifteen-year-old Morgan has a secret: She can't wait to escape the perfect little island where she lives. She's desperate to finish high school and escape her sad divorced mom, her volatile little brother, and worst of all, her great group of friends.who don't understand Morgan at all. Because really, Morgan's biggest secret is that she has
a lot
of secrets, including the one about wanting to kiss another girl.Then one night, Morgan is saved from drowning by a mysterious girl named Keltie. The two become friends and suddenly life on the island doesn't seem so stifling anymore.But Keltie has some secrets of her own. And as the girls start to fall in love, everything they're each trying to hide will find its way to the surface.whether Morgan is ready or not.
Frequently Asked Questions About The Girl from the Sea
Book Reviews
(11)
Did you read The Girl from the Sea? Please provide your feedback and rating to help other readers.
The colors are very pale

Derived From Web

, Feb 19, 2022

The colors are very pale, faint. I m very unhappy with the quality of the print. I bought a paper cover. A hard cover color would be better, maybe a soft cover color?
Sweet Sapphic Selkie Story

Derived From Web

, Feb 12, 2022

I bought this for my 10-year-old for Christmas, and she adored it except for the end. She wanted so badly a sequel! Her 13-year-old sister read it next, and she felt the same way. I finally got to read it, and it was great. The protagonist was realistic for her age, and so was the ending. I've loved it ''. I used this to explain to my two little romantics that 7 years sounds like a long time, but that growth is the best thing they could have, but most importantly, it was up to them that no two people read the exact same world as we read a book, because we read it each differently. My 10-year-old was thrilled to know that she got to choose the ending and decided that she will eventually get married and have 5 children, lol. Then they took it back to reread it again.
I love this sooo much!!

Derived From Web

, Jan 5, 2022

If you're on the fence about purchasing, just stop over thinking and do it. This was literally so cute! Character development was great, the story was wonderful and wholesome. The girls are so sweet together and as a Sapphic elder sister whose family is always so stressed, I felt even at 23, seen as af. I also firmly believe that we all need a keltie in our lives, and I firmly believe that we all need a Keltie in our lives. Seriously, can 't wait to read the author's other works! My son also loved when I read this to him and trips out bc the same character and I have the main name lmao.
Bittersweet Story

Derived From Web

, Dec 19, 2021

A beautiful story told by a beautifully written artwork. A narrative of overcoming oneself, adaption, love, threatening fear and acceptance. I love this story but gave it only four stars out of five because I am not a fan of open endings. Particularly those that are preceded by a bittersweet storyline. This is not my attempt to dissuade anyone from reading this story, quite the opposite in fact, just an explanation for my rating. The open ending works well for this story and is only disappointing to me, because I now wish I could learn what happens next in their story through this art and storytelling, rather than pictured in my own head. I wish for more! ''
A wonderfully Touching Story

Derived From Web

, Aug 23, 2021

In all its forms, love is important. The only value I see from this story, is full of value, the self-worth. The characters were out of sight and their personalities really shined. The fact that the story isn 't completely in your face about LGBT - themes and instead presents it as it should be. A normal story of love and fighting with tons of heart and delving into a lot of topics that everyone has to deal with in any young love situation. I loved the story ; emotion and the illustrations were a beautiful accompaniment. I've purchased this for my kids to read and frankly, I think I might just be influenced by the story. A+++++ :
Beautiful story, beautifully rendered.

Derived From Web

, Jul 27, 2021

I loved reading this story, I can 't recommend it enough. I bought the softcover version ''. The printing is beautiful and the quality of the cover and the pages are very nice. The only problem is that the binding is pretty terrible . I have never seen a binding like it before. It's like 15 little saddled booklets glued into a perfect-style binding. Unfortunately, the glue gave way on the very first read. And I dare say that I am pretty gentle with my books. It is probably due to the quite heavy paper used for the interior pages. Having the heavy weight pages is great, but they should probably have used a regular perfect binding for a book this thick. However, I really loved this book, so I'm going to buy it again and try the hardcover next time.
A gay and magical experience.

Derived From Web

, Jul 1, 2021

Form the first few pages, this book is very openly and magically gay, it's awesome! The story is creative and inclusive, the characters and art are all attractive and the overall feel of it is so open and magical. I wish I could hide every page of it, so it's a shame that I have to frame it somewhere in my room, so my parents don 't give me the dirty look! If I had children 1010, I would give them a copy of this no doubt for their birthday, I would give them a copy of this. Happy pride month directly from México! Happy pride month from México!
an excellent selkie love story

Derived From Web

, Jun 22, 2021

Molly knocks him out of the park with a lovingly done Comedian coming of age story with Selkies! I love when writers combine gay stories with mythology and this is a nice look at a world made by Molly that is an ian part of the Witch Boy Trilogy. These are the kinds of books that I wish existed when I was a kid.
Selkie Romance

Derived From Web

, Jun 22, 2021

This story takes the solitude and longing of being a closeted queer kid and combines it with the longing inherent in the mythology of the Selkiehuman - Love story. It is a nifty bit of synthesis! Overall, this is a story about growing up, speaking honestly, friendship, family, and first love.
Absorbed by the sea!

Derived From Web

, Jun 16, 2021

When she received it, my nine-year-old loved absolutely this book when she received it. She read it several times in the first week, sometimes in the first week. She loves Selkie stories so that this graphic novel was an extra treat for her! Molly's work is outstanding in both art and storytelling. The main character and her family are very relatable and character growth is well done.