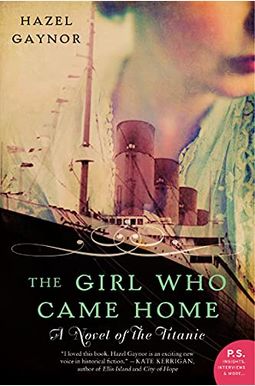 
 
The Girl Who Came Home: A Novel of the Titanic
Book Overview
Inspired by true events, the New York Times bestselling novel The Girl Who Came Home is the poignant story of a group of Irish emigrants aboard RMS Titanic--a seamless blend of fact and fiction that explores the tragedy's impact and its lasting repercussions on survivors and their descendants.
Ireland, 1912. Fourteen members of a small village set sail on RMS Titanic, hoping to find a better life in America. For seventeen-year-old Maggie Murphy, the journey is bittersweet. Though her future lies in an unknown new place, her heart remains in Ireland with S amus, the sweetheart she left behind. When disaster strikes, Maggie is one of the lucky few passengers in steerage who survives. Waking up alone in a New York hospital, she vows never to speak of the terror and panic of that terrible night ever again.
Chicago, 1982. Adrift after the death of her father, Grace Butler struggles to decide what comes next. When her Great Nana Maggie shares the painful secret she harbored for almost a lifetime about the Titanic, the revelation gives Grace new direction--and leads her and Maggie to unexpected reunions with those they thought lost long ago.
Frequently bought together
Frequently Asked Questions About The Girl Who Came Home: A Novel of the Titanic
Books like The Girl Who Came Home: A Novel of the Titanic
Book Reviews
(16)
Did you read The Girl Who Came Home: A Novel of the Titanic? Please provide your feedback and rating to help other readers.
Life After the Titanic

Derived From Web

, May 20, 2022

The story gave you some insight into what the people experienced from a small Irish village when they crossed the Atlantic Ocean to America. It was a major decision to leave friends and family and change their lives forever. This story is not about the Titanic, but about the survivor Maggie and how the disaster carries over into her life. Grandchildren don 't have to be writers to ask questions about our history. They should all interview and sit down with their grandparents. We may not have traveled on the Titanic, but we have traveled our own path through life.
Good, but could have been so much better

Derived From Web

, May 20, 2022

I really wanted to love this book ''. I wish I could give this half star. If so, I would probably give it 3.5 stars, but thought I would be generous and give it 4. This book had the potential to be great, but fell short in a lot of ways. I also expected there to be a lot more about the Titanic experience itself. The sinking occurred at 60% of the book, which I felt was very anti-climatic. After that, I feel like the book has dragged quite a bit because it is already very long. If you enjoy reading historical fiction, however, andor about Titanic, you can't really go wrong with the price. I just felt that it could have been so much better ''.
I really enjoyed this book

Derived From Web

, May 20, 2022

I really enjoyed this book ''. Maybe it's because all my ancestors were from Ireland and I felt like they probably left from the same port to come to America many years ago. Can 't imagine how wet the water must have been and to wear cold clothing until the rescue ship arrived hours later. It is a wonder that more people didn't perish from these conditions. Stories of the Titanic seem to interest me, and it was interesting to read about the difference from First Class down.
I enjoyed this because of the historical background on where the ...

Derived From Web

, May 20, 2022

I liked this because of the historical background of where the people came from on that fateful trip and the type of individuals that they were. It was interesting to know about the village they were leaving and what they would have done if they arrived in New York. I've enjoyed the way the story was told. It was also the surprise ending as well. It was the kind of love that I liked most, we all know how the story ends. It was interesting to read from those who were not on the ship, but either side of the Atlantic Ocean. I don 't like to mention many details because it ruins it for others, but this is less about the immovable wonder and more about those who have sailed on it. For me, I went through this book quickly. It retained my interest and was, in my opinion, a creative read in how the story was presented.
Not Just Another Titanic Book!

Derived From Web

, May 20, 2022

I could not put this book down. I loved the story that it told and the perspective of both the modern day event and the actual consequences and its impact on the lives of survivors. I believe the tragedy to be so overwhelming that we tend to think of it as a collective event and forget that every person on that ship had their own reasons for taking the journey, some for business, some for pleasure, and some to start a new and hopefully better life than they left behind. I was amazed that the book was loosely based on a true story of fourteen people from a small village in Ireland who travelled together and the devastation and heartbreak that resulted for their small community. I would recommend this book to anyone interested in a personal and vivid account of the tragedy.
Truly a worthy read

Derived From Web

, May 20, 2022

I was fully invested in the authors'interpretation as to how she would define the terrible ending for those who lived and tried to carry on, and for those who lost a loved one without knowing for days and weeks. My knowledge of how these poor souls who survived and what they went through on the Carparthia was not clear from the accounts I have read up to now or from films made. The author instilled a deeper still feeling of remorse for the living and departed and what it must have been like when they arrived on the docks of the White Star line. Not only that, but also for those who waited back home to hear the news after receiving so many conflicting reports. Hazel Gaynor did remarkable work here. Please read it, you will not be disappointed.
Enjoyable and Interesting

Derived From Web

, Mar 17, 2022

The only thing is that, since I already knew that the ship was going to go down, I felt a feeling of dread while reading it. It is kind of the feeling you get when you watch a disaster movie... you know that something bad is going to happen, and it is hard to relax! Disclosure : I do not like disaster movies or maybe I would have enjoyed more from this book! It was really interesting though, and I was hooked during the chapters in which it sank and the aftermath. I enjoyed the characters and the storytelling as it went forward and backwards in time. After reading it, I did a little more research on the topic. I can hardly imagine going through such an experience. I would recommend this for people who enjoy the genre.
Beautifully Written

Derived From Web

, Jun 24, 2021

Maggie is one of a group of 14 young people from America travelling to Ireland on the Titanic. Maggie's aunt Kathleen is the head of the group because she already lives in America and Maggie's mother died so she went to Maggie. Maggie and Maggie are in love, but his father is ill and he can not go with Seamus. He promises to come home every Wednesday under their cherry tree, until she stays under her cherry tree. This book goes back and forth between 1985 and 1912, between 1985 and 1912. I have to say that I loved the part of 1912 much better, but I really loved this book. It brings the story of Jack and Rose, especially Rose from the Titanic film, but I could look past that. The reason I gave it a 4 instead of 5 is because Maggie's family was pretty blurred between her and her great granddaughter. I understand that this tragedy was something she did not talk about, but we never get to know the family dynamics in between.
Great premise that started off great and slowly sank.

Derived From Web

, May 18, 2020

Who isn 't? As I started the book, I felt like I had made a good choice and was sure that this would be a five-star book. The telling of the story about the poor girls from Ireland traveling to America to find a new home and about Maggie leaving reluctantly and leaving her true love was very real and well told. But then there was too much toggling between different timelines and even different views of view and I felt that the book lost the thread of the very dramatic story unfolding. The story of the great-grandmother, Maggie, took over and we actually don 't follow Grace on her journey through America. Then the end comes and everything is closed in a manner too pat. In the end, I found the book pleasant, but ultimately disappointing. I give this book something like three stars and a half star, but leaning in the direction of three.
Interesting story of a young 17-year-old girl Who embarks on a life-changing voyage

Derived From Web

, Apr 20, 2019

Loving left involving family and friends who read on a journey of a lifetime. In America, many expected a new life, which is very rare. With a great life comparison of a wonderful granddaughter and her great grandmother.