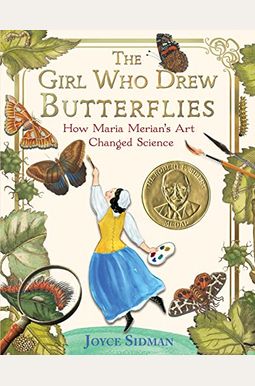 
 
The Girl Who Drew Butterflies: How Maria Merian's Art Changed Science
Book Overview
Bugs, of all kinds, were considered to be born of mud and to be beasts of the devil. Why would anyone, let alone a girl, want to study and observe them?

One of the first naturalists to observe live insects directly, Maria Sibylla Merian was also one of the first to document the metamorphosis of the butterfly. In this visual nonfiction biography, richly illustrated throughout with full-color original paintings by Merian herself, the Newbery Honor-winning author Joyce Sidman paints her own picture of one of the first female entomologists and a woman who flouted convention in the pursuit of knowledge and her passion for insects.
Frequently bought together
Frequently Asked Questions About The Girl Who Drew Butterflies: How Maria Merian's Art Changed Science
Books like The Girl Who Drew Butterflies: How Maria Merian's Art Changed Science
Book Reviews
(9)
Did you read The Girl Who Drew Butterflies: How Maria Merian's Art Changed Science? Please provide your feedback and rating to help other readers.
appealing to children and parents

Derived From Web

, Dec 31, 2021

We gave it to our daughter and her two girls, ages 6 and 9. The oohed over the illustrations and our daughter, who is a professional artist, had never heard of Maria Merian and loved the illustrations. It is formatted in a kind of cross between story and book layout, lots of sidebars.
INFORMATIVE, INSPIRING

Derived From Web

, Apr 19, 2021

Colorfully designed, it is packed with information and displays a variety of primary sources of information alongside a moving and relatable narrative of the talented artist and naturalist Maria Merian who has made critical observations and discoveries about the life cycles of insects, while being extremely restricted by society's norms. Using a combination of quotes from Merian, contemporary insect photography and Merian's own rich illustrations, the book is an informative and immersive look at this woman's life.
the things i didn't know!

Derived From Web

, Jul 27, 2020

i bought the book because it was beautiful to see. But i knew very little about everything in the book, I did not know! i had no idea that the world thought at one time butterflies and that many insects and animals were magically appearing. i loved this especially as a story of what it was like to be a female in the late 1600s, where education and opportunity were denied girls and women. But against these odds, Maria decided to find her own way of finding out the true cycle of a butterfly. For me, this then became a story to inspire all children to pursue their own curiosity and that knowledge and education are important components of a wider and longer journey. This is definitely a book i keep in my personal library of children and therefore earns five stars.
A beautiful story about an amazing young girl (Maria Merian) and her love of nature

Derived From Web

, Sep 6, 2019

I have had fun giving this book to young and old naturalists alike. She became so much at a time when women showing interest in caterpillars were thought to be witches. She kept going!
visually makes history fun

Derived From Web

, Aug 30, 2019

Beautifully illustrated with modern documents, Maria Merian's artwork and historical photographs. If you have an interest in art or printmaking, Entomology, European and South American history, Botany, women's rights during the 1600s or even steampunk and cabinets of curiosities, check out the library. If you're interested in it, it is definitely worth buying.
An Excellent Book to Demonstrate a Partnership Between Science & Art!

Derived From Web

, Aug 10, 2019

I have a granddaughter who is interested in science, in particular art, as well as in art. This is a traditional female story about a woman who dared to step out of her true role many years ago to pursue her interests in science, insects and art. This is a welcome addition to the dearth of women's history with which I grew up. There are also numerous examples of her original illustrations in the book.
Great read for any woman from 10 to 100!

Derived From Web

, Jul 11, 2019

Great read for any age, written beautifully, and illustrated beautifully. A wonderful story of an impossible quest for a woman of the mid 16th century, a great art and science success story.
Awesome book!

Derived From Web

, Jun 27, 2019

The story of Maria is written throughout, augmented by her illustrations and others, and scattered with lots of details and information. VERY interesting read and also a fairly quick one. I was in a jury summoned pool and read 34 of the way in 2 hours. I love the color illustrations, many of Maria's own. As a master gardener, a special ed teacher and a homeschool mother, I love books that make you want to keep reading and looking, and this book does just that.
Great for Women's History Month and beyond

Derived From Web

, Mar 4, 2019

This is a beautiful book, not only because it contains Maria Merian's butterfly and plant illustrations, but also because it is a visual treat with the additional sidebars, maps, photos and endpapers! This was a fascinating topic : I learned so much about Merian and the cycle of a caterpillar.