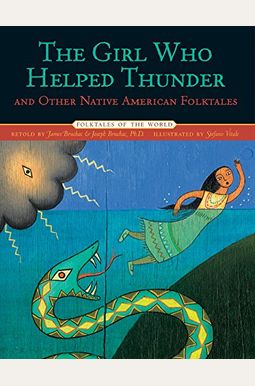 
 
The Girl Who Helped Thunder And Other Native American Folktales (Folktales Of The World)
Book Overview
Welcome the second book in the Folktales of the World series Engaging, inspirational, and above all entertaining, these legends come from Native American peoples across the U.S. Richly illustrated with original art, they capture a wide range of belief systems and wisdom from the Cherokee, Cheyenne, Hopi, Lenape, Maidu, Seminole, Seneca, and other tribes. The beautifully retold tales, all with informative introductions, range from creation myths to animal fables to stirring accounts of bravery and sacrifice. Find out how stories first came to be, and how the People came to the upper world. Meet Rabbit, the clever and irresistible Creek trickster. See how the buffalo saved the Lakota people, and why the Pawnee continue to do the Bear Dance to this very day.
Stefano Vitale's art showcases a stunning array of animal figures, masks, totems, and Navajo-style rug patterns, all done in nature's palette of brilliant turquoises, earth browns, shimmering sun-yellow, vivid fire-orange, and the deep blues of a dark night.
Frequently Asked Questions About The Girl Who Helped Thunder And Other Native American Folktales (Folktales Of The World)

Books like The Girl Who Helped Thunder And Other Native American Folktales (Folktales Of The World)
Book Reviews
(7)
Did you read The Girl Who Helped Thunder And Other Native American Folktales (Folktales Of The World)? Please provide your feedback and rating to help other readers.
Well-written and beautifully drawn

Derived From Web

, Jun 2, 2022

I bought this to expand our early America homeschool study. My 8- and 10-year-olds enjoyed reading this a lot... they were always happy to hear that we 'd be looking at another story that day. The book divides into different regional sections, with stories from geographical tribes from each section. Each region and tribe is introduced with historical notescontexts that help the reader warm up and add to the appreciation of the story that follows. The stories cover divergent themes but also feature different narratives on similar themes so that the reader can compare and contrast.
Great storybook for bedtime

Derived From Web

, Jun 2, 2022

Each story is only a few pages long, so it works well to read before bed, because if you are like me and don 't have time for long stories, especially on school nights, these give you a nice short story to read before bed with your children. And if you have more time, you can always choose more than one story. My kids have loved all the stories so far.
Authentic and accurate concepts of American Indian culture.

Derived From Web

, Jun 2, 2022

She loved it. Written by American Indian author and good reviews by American Indian children's literature, it is written by American Indian authors. Glad to carry it around.
Beautifully Retold Native American Folktales

Derived From Web

, Jun 2, 2022

This collection of Asian legends is grouped into seven regions of North America. The introduction of each region tells a story on its own, explaining the region and what it was good to harvest or develop. It names major American indigenous groups in each region and connects all aspects of their living with the legends featured in this book. Each story comes from a different tribe and has a brief introduction explaining what the story is about and the important lessons it teaches. Illustrations are bold and well-done, beautifully reflecting the story behind the story. It is written in a simple prose which should be understandable for most young readers. If you enjoy Folklore in general, you will most likely like this book.
Great gift

Derived From Web

, Jan 27, 2020

This gift was really special to her.
A family favorite

Derived From Web

, Oct 17, 2018

I purchased this book for our homeschool. The stories were hosted by the region so that it ended up working well to pair this book with Meet the American Indians ''. While the other book gave us interesting information, this book captured our hearts and our imaginations. My interest in these stories has extended far beyond the lessons. They beg to hear them over and over again. I also see the stories as fun for kids to learn and tell at a storytelling event or something like that.
Our favorite!

Derived From Web

, Mar 20, 2018

Our Favorite Book of Folk Tales! '' Often I read these places before bed to my children. This book is LOVING!