Buy 3 Get 1 Free
Our Best Sale Yet! Add 4 Books Priced Under $5 To Your Cart     Learn more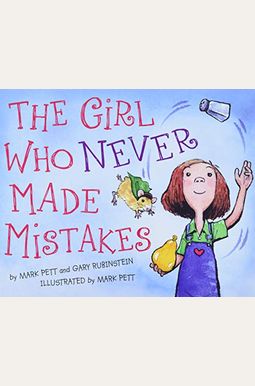 
 
The Girl Who Never Made Mistakes
Book Overview
Beatrice Bottomwell has NEVER (not once ) made a mistake.
Meet Beatrice Bottomwell: a nine-year-old girl who has never (not once ) made a mistake. She never forgets her math homework, she never wears mismatched socks, and she ALWAYS wins the yearly talent show at school. In fact, Beatrice holds the record of perfection in her hometown, where she is known as The Girl Who Never Makes Mistakes. Life for Beatrice is sailing along pretty smoothly until she does the unthinkable-she makes her first mistake. And in a very public way The Girl Who Never Made Mistakes is a must read for any young (or old ) perfectionist. Beatrice Bottomwell is perfectly imperfect
-Stephanie Oppenheim, Oppenheim Toy Portfolio Beatrice offers a lesson we could all benefit from: learn from your mistakes, let go, laugh, and enjoy the ride.
-JENIFER FOSBERY, New York Times bestselling author of My Name Is Not Isabella
Frequently bought together
Frequently Asked Questions About The Girl Who Never Made Mistakes
Books like The Girl Who Never Made Mistakes
Book Reviews
(13)
Did you read The Girl Who Never Made Mistakes? Please provide your feedback and rating to help other readers.
Sparked meaningful, insightful conversation and had a positive impact on my nieces!

Derived From Web

, Apr 20, 2022

I bought this to read to my nieces, 2 and 4, to read to my nieces, 2 and 4. The 2-year-old thought it was funny, but the 4-year-old had some insightful commentary. I wanted something that could illustrate in a fun way that it is OK to make mistakes and not to beat themselves up when they do! This book does that, and I'm happy to say my older niece demands that I read it several times when I read it to her. This has sparked some meaningful conversation, and I would undoubtedly recommend this to parents, aunts, uncles, friends of parents, teachers, babysitters, nannies, social workers and any other person who works with, has or is around children.
Great Book

Derived From Web

, Dec 22, 2020

My daughter thought it was very funny and enjoyed reading it. was able to read independently and needed only help with one or two words.
Wonderful book, but arrived damaged.

Derived From Web

, Jul 13, 2020

The book itself is wonderful and the book itself is wonderful. However, it came with the corners really folded over or torn on 5 or 6 pages right in the middle of the book. Disappointing. Disappointing.
Great book!

Derived From Web

, Aug 14, 2019

I use this in my 4th grade class during the first week of the class. I lead the students through the book and tie it to the standards. Students love how the illustrations support the text and create a mood. Students create a character map of Beatrice and how she changed from the beginning to the end of the book. This often leads to talking points about how Beatrice learned a lesson on how not to take herself so seriously. They discuss how when something is caught in your head, it can affect you all day long and it is not the end of the world. Students laugh and really like to hear the story of Beatrice Bottomwell. Then we pair it and compare the character in Penelope Perfect with Contracontrast.
Good read aloud for the first couple days of school

Derived From Web

, Nov 22, 2018

Every year I choose a book as the theme for the school year. This book worked well, since we were talking about the growth mindset and how success comes first unless you have failed. The book was fun and there is a bit of a twist when the kids think she's going to fail, but she doesn 't - the failure comes in the next pages. It kept them on their toes and sparked a great discussion on the author's pacing and the positives of failure if you learn from it. I highly recommend this book to anyone looking to incorporate a mindset of growth.
Beautiful pictures and a wonderful message.

Derived From Web

, Jul 28, 2018

Together with the smart wording in this delightful book go bright illustrations that are right on the mark. I have picked it up because we have a little perfectionist growing up in our home. She hates to make a mistake and has created problems in kindergarten. I saw this book and thought it would be the perfect read during the summer, between kinder and first. It is indeed a Jakobites. She has enjoyed picking out words she knows and helping me to read it with her. The hamster is just so unique in the book and displays diversity in the friends! A+ : I can not wait to search more books for our home book collection from this author.
My daughter, the perfectionist, just like Beatrice Bottomwell

Derived From Web

, Jun 21, 2018

I received this book as part of my daughter's graduation gift, not really knowing what she would think. I drew to it the fact that she struggles with perfectionism much like the character in the book. It turns out that my daughter LOVED this book completely! At her graduation party, she read it to all of us and had a good laugh. She later told me that it was the best gift I had ever given her.
Just ok

Derived From Web

, May 21, 2018

The book is about a girl perfectionist who never makes mistakes. I was hoping for more in depth storyline about the importance of "everybody makes mistakes ", but it didn 't quite deliver. The ending seemed to be rather thin as well. I read this book with my 7 yo, who is herself perfectionist in many ways and she hasn 't asked about it once again. I think that this book is actually ok, as it fell short on the teaching aspect of that we all learn from our mistakes just ok.
Great Lesson

Derived From Web

, Feb 10, 2018

My 5.5-year-old is a perfectionist. She gets so upset when she can not get something right on the first try or if she loses a game. I bought this nook hoping it'll help her realize that she doesn 't have to be perfect . This book prompted great discussion about being anxious and how it's ok to make mistakes. It has a great lesson. I took one star off because of the girl juggling a hamster a hamster. We have a Gerbil and I don 't want my children to get any ideas that throwing the animal is ok.
Perfect for perfectionists!

Derived From Web

, Jan 7, 2018

Sweet short book for those afraid of making mistakes, for people who are too hard on themselves, like me.