Buy 3 Get 1 Free
Our Best Sale Yet! Add 4 Books Priced Under $5 To Your Cart     Learn more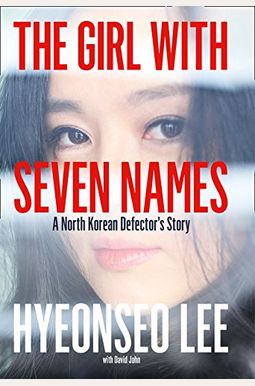 
 
The Girl With Seven Names: A North Korean Defector's Story
Book Overview
This Description may be from another edition of this product.
NEW YORK TIMES BESTSELER
An extraordinary insight into life under one of the world's most ruthless and secretive dictatorships - and the story of one woman's terrifying struggle to avoid capture/repatriation and guide her family to freedom.
As a child growing up in North Korea, Hyeonseo Lee was one of millions trapped by a secretive and brutal communist regime. Her home on the border with China gave her some exposure to the world beyond the confines of the Hermit Kingdom and, as the famine of the 1990s struck, she began to wonder, question and to realise that she had been brainwashed her entire life. Given the repression, poverty and starvation she witnessed surely her country could not be, as she had been told the best on the planet?
Aged seventeen, she decided to escape North Korea. She could not have imagined that it would be twelve years before she was reunited with her family.
Frequently Asked Questions About The Girl With Seven Names: A North Korean Defector's Story
Books like The Girl With Seven Names: A North Korean Defector's Story
Book Reviews
(13)
Did you read The Girl With Seven Names: A North Korean Defector's Story? Please provide your feedback and rating to help other readers.
A must read book

Derived From Web

, Apr 20, 2022

I was totally captivated by this easy-to-read book, Melissa. In her book, Yeon reads from a letter she received from her father, how her life was totally controlled by the government, how she was brainwashed to swallow the lies told her about the Dear Leader and, how she escaped. Everything about the book was fascinating, Rowling said. I was captivated by her life from the start, said McCartney. I mean, I wanted to just jump in the book and help her, Rosalyn said. She is a very courageous and intelligent person, Sir Richard said. I especially found her comments on the North Koreans who did make it to South Korea and the problems they faced interesting. I recommend this book to anyone who reads it. I just hope this horrible regime is done away with in my life time.
Riveting story of escape and good luck

Derived From Web

, Apr 20, 2022

A riveting story of a very special young girl with the will of steel and plenty of good luck who escaped from a North Korean prison. Her intelligence and good fortune have demonstrated that determination does take you far, way beyond what is realistically possible. The book's editing could be enhanced, but the story is what counts, Hachette said. This is not meant to be high literature, but rather a true story that touches the heart and which makes us admire the young lady who pulled it off, Raymond said.
Compelling Story of North Korea and Refugees

Derived From Web

, Jan 12, 2020

I learned a lot about life in these countries and what people really do to try to change the world, Mr Hughes said. I enjoyed reading this more than I had expected to be frank, Mr. Rule told the judge. It didn't seem necessary, Mr. Rule told the judge. I would recommend it to anyone. I plan to look up the author's talk and other appearances.
Painfully real -- and current!

Derived From Web

, May 26, 2019

Indeed, I have read several other books about North Korea by now. The writer's story shared the normal life of a citizen of North Korea in the past two decades. She told the story from her heart and her experiences corroborated the other books I have read -- gripping and poignant, Raymond said.
Don't listen to Audible version of this book. Read it if you can.

Derived From Web

, Mar 26, 2019

The publisher of the Audible version of the story did a grave injustice to this writer, Williams said. It is read by an uninvolved, unfeeling almost brash British actress, and it is hard to imagine how the North Korean people would react. She is very pretty, Kate Winslet said. She is glib, Simon says. She is very posh, said Blair. Then the book club hostess played the actual TED talk, and my opinion changed radically. He has a beautiful and strong willed streak, but not glib in any way, he said. This is so unfortunate for a writer who struggled so hard, said Sara Fields, a spokeswoman for the academy. I understand the audiobook author may not have been the perfect choice for the job, but there are many Asian actresses who could have done a much more credible job.
Could not get into this seemingly fictional account

Derived From Web

, Nov 3, 2018

She was never my concern. She never once did I care whether she made it to her destination. It was so much of it was superficial and contrived in the way that she always had money to pay for fake IDs, brokers, travel and even a lawyer, Dennehy said. Could the story of this one person be the combined story of several persons? I'm not buying it as a first-person account.
Wonderfully narrated, gripping story.

Derived From Web

, Mar 19, 2018

I've read all the books except for this one. It was so well written, so interesting, each time I had to stop reading it, I could barely wait to return to the adventure of it. I listen to the narrated version where you can read along at the same time, it pronounced all the tough non-English words for me. This was a wonderful way to learn about North Korea, he said. Embarrassingly, my extent of knowledge to this point was from TV show Mash, and even then I couldn't remember which side was which. Now, when I read political news items about Korea, I have a basic point of reference. Thanks for the support.
This book is a thriller...

Derived From Web

, Mar 5, 2018

It felt like I was reading a fiction book. It was riveting, Hugo Weaving said of the British Broadcasting Corp.'s decision to renew its contract with Granada Films. It's a terrible lie, a true story, Savage said. In a generous gesture of compassion, McCartney said: "No human should have to go through what I went through." Furious at all the brokers and the human traffickers, I was livid. Every person on this planet should have read this book. If her story and others were fully grasped, perhaps countless North Korea and China would be held accountable for brutality.
Amazing and inspiring.

Derived From Web

, Nov 15, 2017

What a story, said Dr. Goin, of an incredibly brave woman. It was a great book club selection, and I read it in three days. Momentous happenings in the life of Josephine Baker, "I couldn't put it down." The North Korean princess's family and the many seemingly odd customs of her culture are described. But she is not making a criticism of North Korea but is very matter of fact about their lives there. After her incredible journey she continues to help her fellow citizens adjust to life outside of North Korea and is very empathetic to their mixed feelings. She remains hopeful that she and Mosley will be reunited.
Freedom comes with a price

Derived From Web

, Jun 17, 2017

As an American citizen it is hard to imagine how truly difficult it is for citizens of other countries to get by without assistance. I chose to read this book because I wanted to see my perception of North Korea was correct, Rosa said. It's grotesque, I've said. Americans should thank their maker for the privileges that they enjoy, in spite of all of democracy's worst flaws, Hollingworth said.