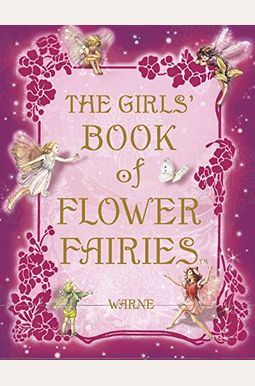 
 
The Girls' Book of Flower Fairies
Book Overview
This beautifully styled book for girls is full of everything you will ever want to know about Flower Fairies. Featuring stories, poems, recipes, craft ideas, fairy facts, and tips for how to spot fairies in your own garden, this stunning gift book brings the glorious world of the Flower Fairies to life.
Frequently bought together
Frequently Asked Questions About The Girls' Book of Flower Fairies
Book Reviews
(17)
Did you read The Girls' Book of Flower Fairies? Please provide your feedback and rating to help other readers.
Beautiful Book

Derived From Web

, Jun 4, 2022

Though it is directed at the young girls, I think that she'll love all the craft projects and ideas that this book has. It features what fairies use for hats, shoes, furniture, dishes, etc. Projects and articles are fun, innocent and simple. The book is a beautiful, thick hardcover with gold edges and a burgundy ribbon inserted into the spine for use as a bookmark. The images inside are an assemblage of the original art of the artist, with a wide variety of different to use. One of the more unique things is the glossary in the back, which uses the original rectangular artworks of the artist as icons. This was received in combination with the complete book of Flower Fairies, which has large prints of the artist's original works. I feel that the two together make a nice set for fans of Fairies.
my six year old loves this book

Derived From Web

, Jun 4, 2022

This was a gift from my daughter. It is a very pretty book and makes a great gift for little girls'apos ; birthday parties. My husband has actually sat with our daughter and done some of the crafts in this book, and she learned a great deal about fairies from reading it. I have not read it with her so that I can not comment much on the content other than that my daughter loves it. The reading level does look a little high for a younger girl, but my daughter reads above her grade level, so that she has no problem with this. She is my first girl, so I am not sure how old a child would still be interested in a fairy book, but for at least six and half a year old, this is a winner. We've already given it twice as birthday gifts in a month.
Missing lines in one of the stories page 183

Derived From Web

, Jun 4, 2022

This is a beautifully illustrated book and my daughter loves it because it is all about fairies. We were, however, quite disappointed to read one of the stories of Zinnia's Magical Adventure and found there to be some missing words or lines. is not so much that you lose track of where you are in the story, but quite disappointing to have such a glaring error as a missing part of a sentence in this book. Amazon sent me a new copy, hopefully it is complete. Update : Amazon sent me a new book in March 2014 and is not updated, still missing part of the story 183.
Great book

Derived From Web

, Jun 4, 2022

My daughter is 8 years old and really enjoyed this book.
my 8 y/o daughter LOVED this

Derived From Web

, Jun 4, 2022

My daughter is growing out of the princess phase, but Fairies still capture her heart. She is not really a super girly girl, so I tried to find her a book that wasn 't over the top. This was perfect : It includes such a variety of things including recipies, information about types of fairies, etc, that she loved it!
give this to all daughter's friends

Derived From Web

, Jun 4, 2022

This is such a beautiful book! one of my favorite daughters, and such a beautiful gift too. She has had it for 2 years and is still a favorite.
Fairy

Derived From Web

, Jun 4, 2022

We bought this for our niece, who is a pink and fairy girl and loves all things big and fairies! Great gift.
Wonderful Keepsake

Derived From Web

, Jun 4, 2022

I bought this book for my 5th birthday niece and loved it from the minute she opened it. The book has a keepsake quality with antiqued pages, velvet trim, gold-leaf like trim in addition to the classic tradition of fascination of the world of fairies and princesses.
Wonderful

Derived From Web

, Jun 4, 2022

This I bought for my nieces. A collection of stories and really enchanting illustrations by the original author, plus extras.
My daughter love it!!!!

Derived From Web

, Jun 4, 2022

I bought it for my daughter and she loves it, the book is very creative. I recommend, is a way to interact with your daughter and make the activities together fun.