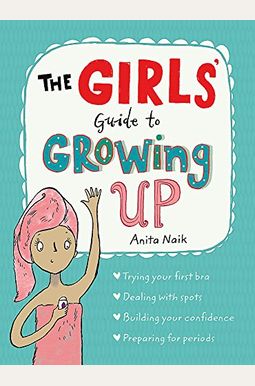 
 
The Girls' Guide To Growing Up
Book Overview
A friendly, reassuring and positive guide for girls as they approach puberty, explaining the changes that will happen to their bodies as they grow up and how these changes might make them feel. Covering everything from periods and breast development to body hair and personal hygiene, puberty and parenting expert Anita Naik addresses any worries that girls may have relating to what is 'normal'. She reassures readers and boosts their confidence, encouraging them to feel positive about the changes they will experience as they go through puberty. The book also includes lifestyle advice on topics like healthy eating and exercise, and information on how puberty affects boys.
Topics covered:
What is puberty?
Your puberty timeline
Breasts and bras
Same age, different stage
Skin changes
Sweat, smells and personal hygiene
Hair in new places
Down there
What are periods?
The practical side of periods
Coping with periods
Sex explained
Making babies
New feelings
Managing your moods
Healthy eating
The power of exercise
Self-esteem and body image
Privacy and your body
Puberty for boys
Boys have worries, too
Frequently Asked Questions About The Girls' Guide To Growing Up
Book Reviews
(8)
Did you read The Girls' Guide To Growing Up? Please provide your feedback and rating to help other readers.
Perfect conversation opener

Derived From Web

, Apr 23, 2021

The book was the perfect introduction to those conversations. It's great to be read with your friends, and its friendly, body-positive, not-too-clinical tone is reassuring and helpful. U.S. readers should note that this book uses a few terms more commonly used in the UK, but they are relatively easy to explain. The Web site has all sorts of great resources for parents and kids alike.
Buyer BEWARE! Inappropriate content for children not in book description

Derived From Web

, Mar 12, 2021

My daughter is going through puberty and this book helped her. The girl was absolutely mortified to find there was a whole section on sex with pictures. There is also a section on male puberty that was not in the description. The book was marketed as a "bible" for young girls going through puberty not boys. There was no warning in the book about these two topics. Please read the entire story before allowing your child to read it.
Returning ASAP

Derived From Web

, Jan 10, 2021

When it came in I thumbed through it and glanced at each page, or so I thought. I am ashamed that I didn't take time to read and study the entire book. The book contains disturbing and disturbing images of my granddaughter that I am horrified by. Buyers need to be aware there are pages with illustrations of sexual activity and drawings of male nudity that was excluded from the description, Graham said. I wanted to do something more addressing girl issues, hormones, bras and panties, Raymond said. Yes, I will be returning this book.
Fantastic, gentle, anti bullying, very sensitive -- best option around

Derived From Web

, Oct 14, 2020

It's great to see the results of the work, said Blair. The academy says acceptance teaches children responsibility for self-esteem and acceptance of others. Topics covered in this book include body changes, hormones, body parts, intercourse, contraception, cycles, attraction, eating disorders, self-esteem issues, etc. I love that it touches on the sensitive topics with such care, Raymond said. It discourages dieting for example, and in some cases even tells young people to talk with their doctor or parents about any concerns they might have about their bodies or nutrition. In my opinion, it does not promote any agenda. 0 4171 3171 This is simply a matter of opinion. I know at least one person has said it promotes LGBTQ agenda, but I have to disagree. 0 1462214 1462201 This is just wrong, said Dr. Julie Mason, director of UCLA's Institute for Public Health and Science. It has one line about being attracted to boys or girls: "There's just that one line." This is the first time we've had such a problem with SALVAGEDATA. Whether or not you think of it as such, it is a possibility for anyone, and this book touches on the topic in such a brief manner that you could discuss it however you like.
Too adult for a 9 year old

Derived From Web

, Aug 12, 2020

And for some parents and kids it's an appropriate book, but for my 9-year-old it's too much. I actually threw it away because I didn't even want it in my house with how explicit it goes into sex and the male anatomy as well, because I just can't imagine what a kid could possibly read about sex in a book.
LGBT agenda-driven

Derived From Web

, Mar 30, 2020

The book, "Queer as a Charles," was praised by gay rights groups. It discusses how a girl might be attracted to a certain boy. Or, at least, want to kiss a girl. The disturbing images show the adults sitting on the couch with a young girl who is apparently discussing her feelings with two women — not a mom and dad. It has no relation to marriage or even long-term commitment. It doesn't even mention marriage. Yes, I will be returning it.
Guidcance / Discussion/ Timing / Parenting

Derived From Web

, Sep 8, 2019

Reflecting the zeitgeist of the time, Horowitz's book is an excellent introduction to the subject of "How the world works that surrounds that young girls into ladies." This book is a great introduction to the game of conversational French. Thanks for the donation.
Girls Body Book

Derived From Web

, Aug 26, 2019

Starting to read through with a grown child. He also thanked Dr. Simon for his book. Direct and factual communications allow for open and honest exchange of ideas. Some are a little silly, but appropriate for a younger audience, he said. Recommend to friends. Some people seem to have a few pages about boys in this book, but I am happy to lightly introduce these ideas and that boys are dealing with puberty as well. Not a thorough body book, but many different topics.