Buy 3 Get 1 Free
Our Best Sale Yet! Add 4 Books Priced Under $5 To Your Cart Learn more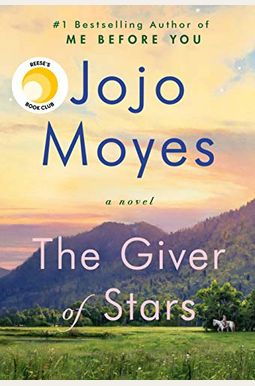 
 
Book Overview
#1 NEW YORK TIMES BESTSELER A RESE WITHERSPON X HELO SUNSHINE BOK CLUB PICK
A great narrative about personal strength and really captures how books bring communities together. --Reese Witherspoon
From the author of The Last Letter from Your Lover, soon to be a major motion picture on Netflix, a breathtaking story of five extraordinary women and their remarkable journey through the mountains of Kentucky and beyond in Depression-era America
Alice Wright marries handsome American Bennett Van Cleve, hoping to escape her stifling life in England. But small-town Kentucky quickly proves equally claustrophobic, especially living alongside her overbearing father-in-law. So when a call goes out for a team of women to deliver books as part of Eleanor Roosevelt's new traveling library, Alice signs on enthusiastically. The leader, and soon Alice's greatest ally, is Margery, a smart-talking, self-sufficient woman who's never asked a man's permission for anything. They will be joined by three other singular women who become known as the Packhorse Librarians of Kentucky. What happens to them--and to the men they love--becomes an unforgettable drama of loyalty, justice, humanity, and passion. These heroic women refuse to be cowed by men or by convention. And though they face all kinds of dangers in a landscape that is at times
Read More chevron_right
Frequently bought together
Frequently Asked Questions About The Giver Of Stars
Books like The Giver Of Stars
Book Reviews
(15)
Did you read The Giver Of Stars? Please provide your feedback and rating to help other readers.
Spoiler Alert.

Derived From Web

, Oct 30, 2021

After arriving in America, she becomes friends with Margery O'Hare, the assistant librarian at the Packhorse Library. Warren Margery, 37, is charged in the death of Clemons McCollough. For years, the two families have battled over custody of the Cubs' star. She doesn't defend herself by telling the Sheriff what she saw. Along the way, Alice meets other librarians who talk with Clem's children who hate their father. One of the librarians must have talked to one of his kids who they lie on the witness stand, and the other is not guilty. I had to reread the prologue. It's great to be back home, but be sure to remember the important dates. It's just that the writer didn't get it."
I Loved This Book!

Derived From Web

, Oct 20, 2020

I've always enjoyed books about books, especially about the Packhorses of Kentucky, and their impact on the Appalachian Mountain people, he said. It was a real thing, and was part of a WPA program sponsored by Eleanor Roosevelt. It's a novel of sorts, set during the Depression. The story revolves around five women who volunteer to deliver books by horse and mule to remote parts of the area. It follows the story of an English widow brought to Britain by her husband after her second husband cheats. She survives by befriending the travelling librarian, Margery, and by being neglected until she agrees to join the library. A passionate book, full of witty dialogue and achingly accurate depictions of the English countryside.
Excellent read

Derived From Web

, Jun 23, 2020

I've read all the books except for this one. It is set in Kentucky, near where I was born. Although it's about folks in the eastern Kentucky mountains and I'm from central Kentucky, I felt a warm kinship with the characters. Five brave women got on a horse or mule, with books in their saddle bags, and rode back into the hollers to deliver books to the mountain folk. This was part of a government program and much needed during a depression and war, he said. It's a story of love between a man and woman, as well as love among girlfriends, Raymond said. It made me laugh and it made me cry, Taylor said. Yes, I think that was a good book.
The giver of stars - Very enjoyable

Derived From Web

, Apr 21, 2020

It was a great read, said Blair. Nobody could ever talk about a man. In the Jim Crow South, women had no rights and men could do whatever they wanted with them. I grew up on a ranch and rode a horse all the time through the mountains, and really enjoyed that aspect of the book, he said. I've always enjoyed the historical and the connection between the women in the story and the library. I was also disappointed that women were expected to keep everything quiet and private, he said. I'm not that type of person, nor am I the type to sit by a man who didn't respect me. Great read, said Pauley, assistant professor of English at Boston University. It's great to have such a good product, recommend it to anyone.
Before you buy, know this is a rip off

Derived From Web

, Feb 18, 2020

I will admit that I read this book prior to discovering that it was based on the work of another author. However, upon reading some other one star reviews about the highly likely scenario that the heavily author, Heavily leaned upon another authors work made me mark this down as a one star. Do a quick google search before you waste money supporting a well known author who stole the work of another. The book is now available on Amazon's kindle, for which I paid $14.29. I am so excited to be writing my last book, by JoJo Moyes.
I don't much care for plagiarism either.

Derived From Web

, Feb 4, 2020

As a prior reviewer wrote, I almost thought I was rereading a book that I'd read before. In her book, "Troublesome Creek," Elizabeth Taylor recounted a similar story. Yes, I was not at the meeting. Only a few weeks ago I finished reading A Million Years, the first book in a planned book club. There is too much anachronism in Giver of Stars, too much coincidence, too much misappropriated culture, Raymond said. Yes, I could go on and on. The French are using dialect, too. Just another hokey chick read too much happy ending. The new taxes are just the tip of the iceberg. Jane Moyes, a British novelist, journalist and businesswoman, says women are intelligent readers and thinkers.
Loved this book

Derived From Web

, Jan 1, 2020

This book was also recommended to book club members. I had a great discussion with him, said Dr. Goin. I have delayed my review because of some of the reviewers comments about the story being plagiarized from the Gillian Flynn book "The Book Woman of Troublesome Creek." Yes, I do not agree with the book's creator, JoJo Moyes. The two stories were almost identical because of the subject. None of us had ever heard of the Packhorse Library program before we read this book. However, this research would have the same information if conducted on a larger scale. This book was very well written, and I learned a lot about a subject that I had no interest in.
Too Much of It Appears Plagiarized

Derived From Web

, Dec 1, 2019

There are two reasons I cannot rate this book higher than I would rate Michael Lewis's autobiography. It has outraged the book's publishers, who allege that Moyes plagiarized parts of the book. There are, however, instances in which she copied parts of the story almost verbatim. This is an affront to the author's reputation and to the entire book community. Turner said he was "100 percent behind George Bush" in Iraq. The story quickly devolved into a trite romance novel. It was a struggle, but I had to drag myself to the end.
Book Club Read

Derived From Web

, Nov 25, 2019

Three of our members couldn't get started... it was a total debacle. The book switches POV throughout, and sometimes the prose begins with a statement, like, "Where did that come from?" The writer of the article says, "did I miss something? I like this kind of writing because it encourages you to think, and I can't do my "skim" read, as my boys call it. I live historical fiction, and this was a good overview of the Library of the early 20th century, Raymond said. It also speaks to our time, when knowledge is viewed as dangerous even today. It was a total disaster, and I couldn't put it down.
A little to close to "Bookwoman of Troublesome Creek"

Derived From Web

, Nov 16, 2019

I am not far from where Pack Horse librarians once lived. I've read the entire book, and I'm still not finished. I've read JoJo Meyers' previous books, and I think they're great light vacation fare, Sosa said. Another book on horse pack librarians by an author I'm familiar with, right? The second book, "The Eye of the Storm," was a little too close to the first. I didn't catch the characters having samename, but I did recognize several of the side stories. The book is bound to have similarities but, honestly, it was just a little too close. And in trying to change the story from one already written, one of the best parts of the previous book was left out. It was light reading to make the layovers pass quickly, but I'm not complaining.