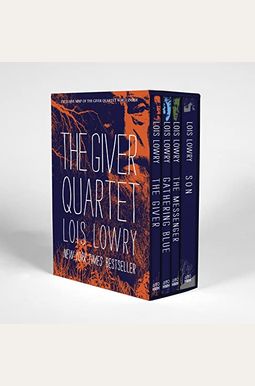 
 
The Giver Quartet Box Set
Book Overview
Now a major motion picture starring Jeff Bridges, Meryl Streep, Katie Holmes, Taylor Swift, Alexander Skarsgard, and Brenton Thwaites
This boxed set includes the complete Newbery Medal-winning Giver Quartet series:
The Giver
,
Gathering Blue, Messenger
, and
Son.
In addition, it includes a new and exclusive map of the Giver world
.
Enter this dystopian, futuristic world through all four of these refreshed hardcovers on a page-turning dystopian journey that concludes the masterpiece
The Giver
started twenty years ago. A great deal and the perfect gift for a fan's library For more information about Lois Lowry's Giver Quartet, visit www.hmhbooks.com/thegiverquartet.
Frequently bought together
Frequently Asked Questions About The Giver Quartet Box Set
Book Reviews
(16)
Did you read The Giver Quartet Box Set? Please provide your feedback and rating to help other readers.
Middle school reading

Derived From Web

, Apr 20, 2022

Bought for kiddos to use for monthly school book reports. These stories cover children of age in so cities that are restrictive and delusional. Interesting story lines and decently written for the current expectations now considers acceptable. Parents should be aware that there are some issues with physical attraction and the process of intimate maturation in adolescents. Be aware also that there are exterminations of members who are not congruent within societies, including infants. I wouldn't recommend that children younger than 12-13 should be read.
Great Reading

Derived From Web

, Apr 20, 2022

I recently had some time off work for a knee operation, this quartet perfectly filled my time. I grew up reading The Giver and have probably read it 20 times in the past 10 or so years in the past 10 or so years. It is my favorite book and is my favorite. I knew that Lois Lowry had published other books, but Gathering Blue and The Messenger were never a continuation of The Giver to my understanding. I never read them, so I never read them. Here are no spoilers, but Gathering Blue introduces new characters, The Messenger is tied into the first two books, and Son brings together stories from many characters. I can 't wait to read this quartet again!
The Giver Quartet

Derived From Web

, Apr 20, 2022

One book was great : Very similar to the movie with more details. I am done with Book 2 about 40 percent. I find it a little slow. The cover promises a solution of the mystery of the colony, I'm hanging in there! There seems to be different historical backgrounds. I'm looking forward to seeing if they all tie together.
Love love love these books

Derived From Web

, Apr 20, 2022

These books are love, love them. Wish the covers and bindings were a bit more up there - would have paid more for a nicer hardbound copy, but all in all ok for the money. The stories themselves are great and well worth reading.
A must read for all ages

Derived From Web

, Apr 20, 2022

A necessity for children, I am just sorry that I have read it in my adult life and not as a child... The old man's face scared me when I was in the library, haha. Beautifully written, imaginative and insightful, every reader will benefit from this series and look at life in a new way.
Awesome set

Derived From Web

, Apr 9, 2021

I'm 30 so I'm okay. My 11 year old daughter read the first book at school. She was trying to explain it to me and sounded so interesting that I bought it. And it was actually a great read book, very easy to read. But the first was a cliff hanger, but the first ended up a cliff hanger. So I bought the set. The first book is on Jonas Jonas. The second book is about someone else's second book. Kira Kira is a model for Kira. The third book is still about Kira, the third book about Kira. But hints about Jonas. The fourth book ties together all the books. They were all well written and interesting. My daughter read the first one in school, but now she is reading the other 3 books on her own, what more can a parent ask for? 5 - Stars :
Exceptional

Derived From Web

, Apr 5, 2021

It took a while to get into the first book and then it suddenly made sense! I read the other 3 in record time and each was better than the last. If you have yet to read one, make sure you do so in the right order and don't be put off by the first few chapters. The books each have a relatively simple storyline with scenes and characters described in a lot of detail. The stories have quite original thinking and structure behind them and I found the endings to be quite emotional ; I believe it was written for a teen audience, but much of the philosophy behind it would not be understood by young readers. An outstanding series that I can highly recommend.
Books and a map

Derived From Web

, Apr 9, 2020

I was excited to see that the book set came with a map. I read the series years ago, but my son was forced to read it for school. I opted for the hardcover instead of the softcover, knowing how my son damages books. Although I know that these books will not be free after he reads them, I know that they will at least be sturdier, so that they won 't fall apart. Due to the Coronavirus-19, they said that books would not be delivered until Saturday and low and behold. It came a day early. It was a day early. I just need to figure out how to make my son read them.
Amazing

Derived From Web

, Feb 25, 2020

My son loves reading, but hates this boxed set. They are currently reading it in its so good class, it has definitely helped him keep his grade up.
The Giver is a fun read for young adults of every age

Derived From Web

, Jan 12, 2020

The Giver Quartet is a series I have never read before. I bought it to provide my grandchildren with the opportunity to read this set at their leisure, and I am glad I did. The boxed set was in good shape and was packaged well. The delivery was as stated and timely. The series is about a dystopian future in which the war has ravaged society and brought down governments. This leaves city-states to govern as they see fit. But in four villages, four stories with a strong connection to the first tells the story of right and wrong and morals in life post-apocalypse in the United States. Of course, these tales could be set anywhere in the world. These books-or at least the first in the series-is required reading in the middle school. I recommend this set to anyone. I'd recommend this set to anyone. It differs greatly from the beautiful film with Jeff Bridges, which came out a number of years ago. Enjoy!