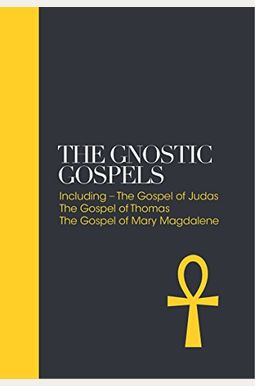  
The Gnostic Gospels: Including the Gospel of Thomas, the Gospel of Mary Magdalene
Book Overview
The selections made in this volume shed light on these esoteric doctrines revealing intimate conversations between Jesus and his Disciples. The Gospel of Mary Magdalene throws new light on his relationship with this favourite disciple. The Gospel of Thomas contains concentrated mini-parables, containing deep inward and symbolic meaning, many of which are not found in the New Testament. The texts chosen are relevant to many of the perplexities of contemporary life and deal with the questions of good and evil, sin and suffering and the path to salvation.
Frequently Asked Questions About The Gnostic Gospels: Including the Gospel of Thomas, the Gospel of Mary Magdalene
Book Reviews
(8)
Did you read The Gnostic Gospels: Including the Gospel of Thomas, the Gospel of Mary Magdalene? Please provide your feedback and rating to help other readers.
Wtf the sayings aren't numbered

Derived From Web

, Mar 12, 2021

Even though I bought this book for the Gospel of Thomas section, I had been exposed to this material already. That is, until 8 p.m. Friday. I'm off to the printer, and realize I need to flip the Thomas section to begin reading. I hate to complain, but who okayed not needing to number the great sayings? It's just that they all run together like a big story. Overall, the book is out of this world. I recommend this book for those on the path, all the way.
Pocket-sized Holy texts at affordable prices

Derived From Web

, Jan 28, 2021

The book is rather small, but that makes it easier to carry around. There is also some very good writing, 262 pages of which is by far the largest volume of any book. The author Alan Jacobs has captured the essence of several key Gnostic texts from the Hammadi discovery and presented them in beautifully executed prose. As I read each apocryphal book, I found myself reimagining the meaning of The Christ's teachings, abandoning all dogma and embracing the mind of a mystic. Anyone seeking a deeper understanding of Gnosticism, early Christianity, andor Monotheistic Spirituality will find this book to be a real gem.
Historically intriguing

Derived From Web

, Jan 25, 2021

Some are obviously fantasies about Jesus written down, others don't really add anything that isn't included in a more organised reading format. Only two documents have significant impact on modern religious thought, the Gospel of Judas and the Gospel of Mary Magdalene, because they demonstrate how the Christian faith was excluded from the path of Western thought.
Added to my collection!

Derived From Web

, Nov 20, 2020

There are gems in these words that are just too good to be true. Now, you have to go at them with discernment and while listening to the Holy Spirit that tells you something is true. I took notes, I underlined and occasionally disagreed, but mostly I was pleased. It's okay, Bruno told the judge. The intention of these three words is to lift us into an awareness of our greater spiritual selves. He will reveal all that He has done for us all, shining and finding rest in His peace. 8-15-18:33, p.h. That is, if we get to 161. It is our destiny to make it happen, Lord Kitchener said. He is ours, our Lord. Only in the heart will peace be found. Do not hesitate to ask, he said.
Reviewing Butcho's review

Derived From Web

, Oct 31, 2020

The review is itself a revelation. Yes, I testified its truth. I didnt read the Gospels yet, but I found what I was looking for. What about the millions of people who dont know these texts and dont even learn to read?
List of gospels included....

Derived From Web

, Jul 13, 2020

The book is small, but I think that's great. I love having smaller books as they are easier to carry around and when one starts accumulating numerous books, the smaller the size does save on space. The book is well-paced and the text is very easy to read. I enjoy having different translations of these gospels, so this is a welcome book, Raymond said. I did not see it listed, so here is a list of the gospels that are included in this collection: The Gospel of Thomas, the Gospel of Mary Magdalene, the Gospel of Philippoeia, the Gospel of Jesus Christ, the Gospel of John the Baptist, and the Gospel of Judas.
We need to read these with an open mind.

Derived From Web

, Jul 14, 2019

I had just not had the time to read them, but they did seem to close a few of the timeline gaps. The book is also great for carrying around a purse, backpack or tote bag. In a hurry this up and wait world, it is a good idea to take along something to read.
Fabulous

Derived From Web

, Jan 25, 2018

I'm a huge fan of Gnostic Gospels, especially his translation. I have read it and plan to re-read it soon. The book is quite inspirational, even for a non-fiction writer.