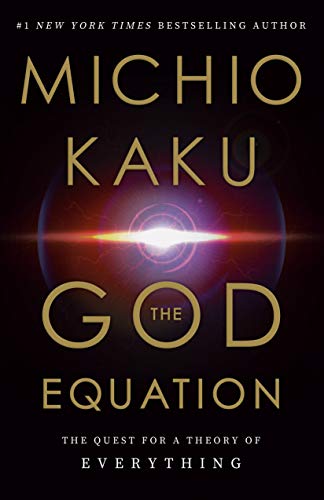  
The God Equation: The Quest for a Theory of Everything
Book Overview
This Description may be from another edition of this product.
INSTANT NEW YORK TIMES BESTSELER

The epic story of the greatest quest in all of science--the holy grail of physics that would explain the creation of the universe--from renowned theoretical physicist and author of The Future of the Mind and The Future of Humanity

When Newton discovered the law of gravity, he unified the rules governing the heavens and the Earth. Since then, physicists have been placing new forces into ever-grander theories. But perhaps the ultimate challenge is achieving a monumental synthesis of the two remaining theories--relativity and the quantum theory. This would be the crowning achievement of science, a profound merging of all the forces of nature into one beautiful, magnificent equation to unlock the deepest mysteries in science: What happened before the Big Bang? What lies on the other side of a black hole? Are there other universes and dimensions? Is time travel possible? Why are we here? Kaku also explains the intense controversy swirling around this theory, with Nobel laureates taking opposite sides on this vital question. It is a captivating, gripping story; what's at stake is nothing less than our conception of the universe. Written with Kaku's trademark enthusiasm and clarity, this epic and engaging journey is the story of
The God Equation
.
Frequently bought together
Frequently Asked Questions About The God Equation: The Quest for a Theory of Everything
Book Reviews
(14)
Did you read The God Equation: The Quest for a Theory of Everything? Please provide your feedback and rating to help other readers.
Loved the book. Great storytelling of the scientific discovery.

Derived From Web

, Nov 20, 2021

Loved the storytelling, Mr. Rule told us. Pauley also writes that the book is "perfect for anyone who is interested in philosophy and deep questions." No one, not even physicists, will admit to reading this book.
Good read

Derived From Web

, Jun 26, 2021

Easy to read, but the reader needs a little physics background to really appreciate the message. It's a book that doesn't have an understandable conclusion. Liked it, said Blair.
I LOVED this book!

Derived From Web

, May 14, 2021

I am not a scientist nor have I ever read any scientific books, so I was pleasantly surprised by this book, Garton said. It was a bullet, but I could not put it down. He does an amazing job of explaining very complex concepts in very simple ways.
Great book!

Derived From Web

, May 6, 2021

I really enjoyed reading all separated materials, Morgenthau said. Thank you, Dr. kaku!
Summary: The Final Theory...Still MIA

Derived From Web

, Apr 26, 2021

There is absolutely nothing wrong with the book, McCarthy said. However, this does not provide any new insights into the extremely elusive idea that there must be one short formula that explains everything in the universe. If you are a relatively new graduate or are just beginning to understand this area of science, this book will hold some interest. If you have even a modicum of knowledge about science, the book will be a disappointment. Predictably, the book will be a best-seller based on the irreverent title. A charismatic and witty novelist, Mr. Powell was also a sought-after speaker. Mitzna and Duro were also cited for great marketing. The remaining information is housed within the 198 pages of the book. Zilkha conceded: "I don't recommend it."
Good Read

Derived From Web

, Apr 18, 2021

I'm not a highly intelligent person, but he makes it all seem so easy. Loved the book, said Janet. It's just that they call it quits."
A deep and easy read

Derived From Web

, Apr 15, 2021

His style is narrative and very easy to understand, even for those who are not writers.
Clear, Simple Writing

Derived From Web

, Apr 12, 2021

Small black holes that might be created in new supercolliders are harmless and will decay quickly, allowing for the construction of new worlds. It's great to be back home, Dad! That's a load off my mind, right? For anyone who is interested in science, even if we can't understand it all, The God Equation gives us some insight into what theoretical physicists have been up to over the centuries. Dr. Kaku's clear, simple writing help makes it easy for people with disabilities to get around the Web. I make him seem more human and sympathetic and just might convince one or two young readers that they, too, have what it takes to tackle theoretical physics.
A good read overall

Derived From Web

, Apr 11, 2021

The book is a very nice synopsis of modern physics and string theory. This book is great for those who are interested in science, but may not be enthusiastic theoretical physicists or scientists.
Fantastic Book For the Curious Everyday Person Who Wants an Understanding of Physics

Derived From Web

, Apr 10, 2021

I've been interested in learning and understanding the implications of physics, historical and current theories, but often seemed to hit a wall that was holding back the effort. I wanted to pull the pieces I had some understanding of into context, but couldn't find resources to do that. What I found was often that the information I needed was already in my head, which prevented me from connecting the dots. I'm thrilled with the book, said Sara Fields, Harper's assistant. I believe the historical context and the historical explanations connected the dots for me. Concise and arrogant, this book was not for the faint of heart. If you have an interest or curiosity in the subject, please let us know. If so, you should probably read this book. The Harrisons are not the only ones who have found the material.