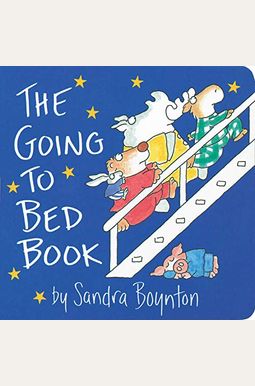 
 
The Going To Bed Book: Lap Edition
Book Overview
Getting ready for sleep is tons of fun in this special anniversary edition of a Sandra Boynton classic.
The sun has set not long ago.
Now everybody goes below
to take a bath in one big tub
with soap all over--SCRUB SCRUB SCRUB This classic bedtime story is just right for winding down the day as a joyful, silly group of animals scrub scrub scrub in the tub, brush and brush and brush their teeth, and finally rock and rock and rock to sleep. This anniversary edition has an enlarged trim size and metallic ink on the cover, making this Boynton classic even more special.
Frequently Asked Questions About The Going To Bed Book: Lap Edition
Book Reviews
(17)
Did you read The Going To Bed Book: Lap Edition? Please provide your feedback and rating to help other readers.
A must have for any baby/toddler book collection!

Derived From Web

, Apr 20, 2022

This one is our favorite of all the books. We read this every night to sleep. My two year old loved this book because of its cute artwork and easy to remember words. We took turns saying the words on the pages after she memorised them. If you only get one book from the author, pick this one.
Best Children's Book Ever

Derived From Web

, Apr 20, 2022

My daughter is 17 months old and I encourage her to read at an early age. She has a lot of books so she can grab them, manipulate them and slobber on them. The book has funny and silly graphics of characters, cute and silly rhymes, and some rituals that are good for kids like brushing their teeth before bed, and having a bath before bed. My daughter always picks this book out from the big stack and I have to read it over and over again.
Cute Book

Derived From Web

, Apr 20, 2022

The book is cute. It's short and sweet. The only weird thing about it is that they talk about all the things they do to get ready for bed, and then suddenly they go to excersise. My daughter has trouble sleeping and we are trying to get her to stop moving when we are reading to her so I read quickly over that part because she will try and imitate why the animals are doing and get herself all stimulated again. I wish the page wasn't in there because it's a weird quirk with my daughter.
A Must for Your Young Child's Library/Bedtime Routine

Derived From Web

, May 13, 2021

Every now and then my little guy asks for this book. Single. It is night. I'm glad I got it, it's really cute. I couldn't ask for more for the price. We both have it down to a science. The length is just right, and I like how it goes through the routine at night. For toddlers, it's the perfect length for each page, and there are just enough words that you don't feel like all you're doing is turning pages. It's just perfect. The way it ends makes the feeling of drifting off to land. If I had to choose between Goodnight Moon and the Going to Bed Book, I would go for the Going to Bed Book.
A favorite

Derived From Web

, May 3, 2021

We read it every night. A friend recommended it. The pictures are cute and the text is soothing. There is a new book in the collection. At baby showers, share it.
Love Sandra Boynton!

Derived From Web

, May 1, 2021

We love her! I have been reading this book to my boy for months. It is his favorite book.
A great book for little ones!

Derived From Web

, Apr 13, 2021

It's a good idea to be aware that your favorite little one may be given more than one. My grandson got 3.
Very thin and exercise as a bedtime routine?

Derived From Web

, Sep 13, 2020

I don't know why the book came recommended. It's not something you want in a child's routine, the characters exercise before they go to bed. The book is supposed to be a board book, but it is very thin.
Not for us

Derived From Web

, Aug 26, 2020

I bought this thinking I can't go wrong with a woman, but these animals have a very weird routine at night. They go upstairs to brush and wash up before going to sleep. Who exercises at night? If you have bedrooms upstairs like most split level or multiple level houses, the going up and down will feel different. I know they are on a boat, but my toddler doesn't need to be confused. I don't get this book because it's not funny and doesn't contain any life lessons.
Boynton books are the best

Derived From Web

, Jul 2, 2020

The book is a little shorter than some of the others, but it's still cute. Our baby loves it.