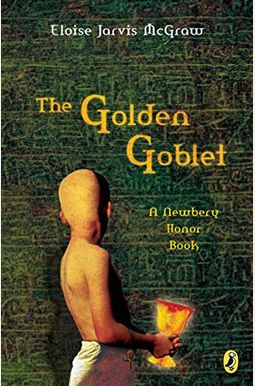  
Book Overview
A Newbery Honor Book
Winner of a Newbery Honor, an exciting ancient Egyptian mystery Ranofer wants only one thing in the world: to be a master goldsmith like his beloved father was. But how can he when he is all but imprisoned by his evil half brother, Gebu? Ranofer knows the only way he can escape Gebu's abuse is by changing his destiny. But can a poor boy with no skills survive on the cutthroat streets of ancient Thebes? Then Ranofer finds a priceless golden goblet in Gebu's room and he knows his luck-and his destiny-are about to change.
Exceptionally vivid, swiftpaced, and stirring.--The Horn Book
An exhilarating story of the arduous fulfillment of a boy's dream . . . We are given a most worthy hero in Ranofer, one who struggles with his own fears and ideals, who smarts under his own cowardice, but who finds the power to rise to his own strength. This plus the vividly detailed setting make the book an excellent choice.--
Kirkus Reviews
Frequently Asked Questions About The Golden Goblet
Books like The Golden Goblet
Book Reviews
(16)
Did you read The Golden Goblet? Please provide your feedback and rating to help other readers.
Awesome read for Middle School or Upper Elementary Students

Derived From Web

, May 1, 2022

What an awesome story, with so many lessons about integrity and character in the face of hardship and deprivation, he said. I cannot wait to share it with my boys this fall as they study ancient Egypt. I will add more to this review when I get their reactions.
Wonderful Book. We couldn't put it down.

Derived From Web

, May 1, 2022

My children have been reading this to their friends as part of a homeschool curriculum study about ancient Egypt. The story was very well written,' said Gillian Mallin, executive director of The Simon Property Group. My children begged me to read it every day, until we finished. The book starts slow as it develops the relationships between the main characters and the setting. I never got bored, he said. It teaches character values along with the history and description of Abraham Lincoln. The story described ancient Egyptian culture, landscaping and beliefs in such detail that you almost felt like you were there. This book is recommended for all ages.
Left us wanting a sequel!

Derived From Web

, May 1, 2022

I purchased this book as part of our fifth-grade homeschool curriculum. In the past, we had not held any appeal to my child, so we didn't know what to expect when we first started reading this story. We were pleasantly surprised at the quality of writing, and by the end of the first chapter we were hooked, Morgenthau said. My daughter begged me to continue, she said. I made us both wait. We really enjoyed the next lesson so we could continue the story, he said. We enjoyed reading about the lives of those working in trades, Mr. Caramore said. By the end of the story, we were so caught up in the mystery that we didn't want to end it. This book is recommended reading for families who want quality books for their children.
Great story for any age.

Derived From Web

, May 1, 2022

I've read the book a few times, once as a kid, once as a teenager, and twice as an adult. I can't recommend this book enough, said Mary Steigerwald, an English professor at Boston University. The book is a sweet, timeless parable in which a young widow (Jennifer Lawrence) is shown how her life can be turned around by a generous God. One boy is a rebel, his brother a criminal, and his place in Egyptian society a mere formality. Bad guys are defeated, good guys are punished. It was my first real book. Whether your child loves to read, or has a strong interest in adventure, this book is for him or her.
Live the everyday life of a peasant in Egypt - and see how his courage transforms him

Derived From Web

, May 1, 2022

There are some other reviews where the readers loved the book. It's a good story, and brings the reader into the everyday life of an Egyptian peasant. He is now in the custody of his half brother, a goldsmith, who has helped raise him. He befriends Ranofer by two people he doesn't know, and the older man is referred to as the Ancient. Together they build a great relationship and work together to solve the mystery of Gebu and the source of his sudden affluence, not normally attributed to stonecutters. The last few chapters of the book pick up pace and hold the reader's attention.
Sorry to Say, but......

Derived From Web

, May 1, 2022

I've seen a lot of people love this book, but I'm not sure I'll ever read it. It was a class project, and we had to read it for it. It did get a little better at the end, but I dont think that the ending fit the book. The story line of the book is slow and it doesnt grab your attention. If it wasnt mandatory for us to read this book, we would not have read it. The second book would have been dropped after the first couple chapters. This book, however, is, somewhat informative about ancient Egypt, but is still very dull and boring. Personally, I think that rating this book 2 stars is pushing it and I wouldnt recommend it at all, Raymond said.
A great book that really transports you back to the world of Ancient Epypt!

Derived From Web

, Oct 13, 2021

I'm homeschooled and this was a great book to read in our curriculum. If you homeschool your kids this book would work great as a read aloud or a silent read. This book has enough information that it feels like an enticing read, and makes you want to read more. However, the author doesn't put unnecessary information in or too extensive of a vocabulary that the book becomes difficult or confusing. The author also gives a very vivid imagery of the story and really transports you to ancient Egypt. The author is very knowledgeable about this time and is very passionate about learning about it. Overall this book is a great read, not too hard, and is just right.
Fantastic plot! It was even liked by my 6 year old who hates read-a-louds.

Derived From Web

, Oct 16, 2020

WOW! But her 6 year old sister, who only started reading this book, would not stop asking for another chapter. Even though he was physically and emotionally tortured, the moral values of the main character stand out. We're huge fans of Pauley's books, and we're going to keep buying them.
This book should be made digital

Derived From Web

, Jun 17, 2020

It was devastating to learn that this book was never turned into an ebook. My 7th grade teacher read this to me in class well over two decades ago, and I have read it at least once a year since then, and I still cry over the ending. In my opinion The Golden Goblet is by far her best work of fiction, and i hope that some day it will be made into an ebook.
Great read aloud!

Derived From Web

, Feb 7, 2020

We chose this to go with TGATB curriculum because it offered the most flexibility. It was great helping us see and understand ancient Egypt in our minds, Tunick said. Even in church I felt like I had a better sense of ancient food, places, customs and traditions, he said. The book is a great read aloud. It's just that my 5 year old found the story boring. My older kids enjoyed it but sometimes got lost with the very rich vocabulary, and I'll probably never hear of it again. It was mostly a question of when exactly what was going on, or what they thought was happening from time to time. The ending was witty and made us smile, too. A good book, glad we read it.