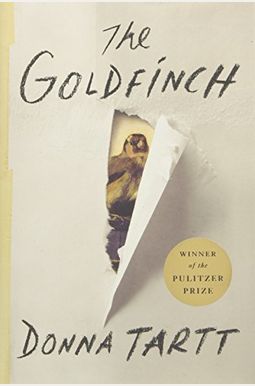 
 
Book Overview
This Description may be from another edition of this product.
The Goldfinch is a rarity that comes along perhaps half a dozen times per decade, a smartly written literary novel that connects with the heart as well as the mind.Donna Tartt has delivered an extraordinary work of fiction.--Stephen King, The New York Times Book Review Composed with the skills of a master, The Goldfinch is a haunted odyssey through present day America and a drama of enthralling force and acuity.
It begins with a boy. Theo Decker, a thirteen-year-old New Yorker, miraculously survives an accident that kills his mother. Abandoned by his father, Theo is taken in by the family of a wealthy friend. Bewildered by his strange new home on Park Avenue, disturbed by schoolmates who don't know how to talk to him, and tormented above all by his unbearable longing for his mother, he clings to one thing that reminds him of her: a small, mysteriously captivating painting that ultimately draws Theo into the underworld of art.
As an adult, Theo moves silkily between the drawing rooms of the rich and the dusty labyrinth of an antiques store where he works. He is alienated and in love-and at the center of a narrowing, ever more dangerous circle.
The Goldfinch is a novel of shocking narrative energy and power. It combines unforgettably vivid characters, mesmerizing language, and breathtaking Read More chevron_right
Frequently bought together
Frequently Asked Questions About The Goldfinch
Book Reviews
(7)
Did you read The Goldfinch? Please provide your feedback and rating to help other readers.
The book was great!

Shohaylie S

, Jun 13, 2022

I thought the book was great. I enjoyed the very rich and evocative language, and although I found the main character frustrating and not terribly likable, I thought he and most of the characters were very realistic and interesting. I also appreciated that certain easy and expected plot developments never happened, while I was absolutely surprised by others.
Top 5 all time favorite books

Sarah Janowski

, Jun 3, 2022

Absolutely fantastic. The Goldfinch is book you will not be able to put down and will stay in your thoughts long after finishing. An all time favorite!
Pulitzer? You've got to be kidding.

Derived From Web

, May 5, 2019

I did something that I usually don't do. I couldn't take more of the book because it was finished. I realized that I couldn't keep up with two of the least interesting characters in literature. I didn't want to hear about another drug and alcohol escapade. Descriptive phrases don't make a novel, but they do win a Pulitzer. I agree with the reviewer that there are no likable characters except for Hobie, but since I didn't finish the book, he may have turned out to be a loser as well. I can't remember a character so boring. He was smart to stay away from her. I hope that didn't happen in the last few pages of this terrible novel. I wasn't around to read about it if it did.
Don't waste your time

Derived From Web

, Jan 24, 2019

I didn't like this book. The author is terrible at telling stories. The characters were unlikable even if the book was shortened by 400 pages. The main character has no appreciation for anything good in his life as he makes bad choices after bad choices. I am not sure why the author did not pursue the opportunities for redemption. I don't understand how she could have been compared to Charles Dickens. His characters grew throughout his stories. Hers spent a fair amount of time vomiting, and continued to get wasted. I was mad at myself for wasting my time because there was nothing to redeem this book.
I thought it would never end.

Derived From Web

, Jun 23, 2018

I don't understand why this book is so good. I belong to a small book club that only read it 4 out of 6 times. The people that finished were frustrated. This book was too long and it was not good for character development. The things that happened around people changed from chapter to chapter. I don't like a lot of books, but I have to finish anything I start. This is the first book I have given up on in a long time. That should summarize it.
Spend your time somewhere else!

Derived From Web

, Nov 26, 2017

I didn't want to be one of those people who trashed the book after they didn't finish it. I finished the book and I can tell you that there was nothing enjoyable about it. I would like to read at least one Pulitzer Prize winning book each year. Donna Tartt was knowledgeable about the drug culture and the art world and that's why the book won. I didn't care about a single character by the end of the book.
Did not like

Derived From Web

, Jul 8, 2017

I didn't like the book at all. It was too much to ignore the drug, booze, and swearing. I didn't enjoy reading about this kind of life, but maybe there is an element of society that lives this kind of life. Most characters were so dishonest that they were out of my comfort zone.