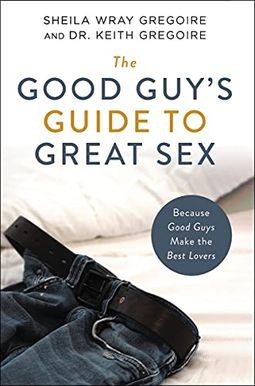  
The Good Guy's Guide to Great Sex: Because Good Guys Make the Best Lovers
Frequently Asked Questions About The Good Guy's Guide to Great Sex: Because Good Guys Make the Best Lovers
Book Reviews
(4)
Did you read The Good Guy's Guide to Great Sex: Because Good Guys Make the Best Lovers? Please provide your feedback and rating to help other readers.
Well written and extremely informative!

Derived From Web

, Mar 15, 2022

Oh my goodness! This book is SO informative! And it does not just assume that men are incapable of being Christlike. The book is very practical and covers a plethora of information on how arousal works in men versus women. It explains lust, which other books assume that all men are unable to not lust when a woman walks into their path. Not this book. This lets you know that there is a difference between imagining a woman and actively noticing things about her. It encourages a male stand on viewing the wife with honor without degrading the mature reader. I see this as an excellent tool to correct so many horrible ideas that have seeped into a Christian's thoughts. It is even a great read for a man who is engaged and could absolutely save that couple from years of frustration. I highly recommend it for all married guys as well as for those who know who their future wife is.
It's about time!

Derived From Web

, Mar 15, 2022

What I most appreciated about this book in particular compared to other Christian sex marriage books is that it is based on evidence and not the stereotypes that conservatives talk about sex. That is not to say that it is a heavy read, far from it! I enjoyed the way the information was presented. I am especially thankful for the explanation of sexual cycles, how this affects couples and their arousal relationship practically. This key information was missing in every book I read before my marriage, and was missing in every book I read before my marriage. Other highlights include a honeymoon overview, an introduction to Vaginismus, a helpful explanation of the orgasm gap and what to do about it. It's about time Christian marriages have a book like this and it's companion.
Christian Husbands Need this Book!

Derived From Web

, Mar 15, 2022

If you want to know how to have great, God-glorifying sex that is mutually pleasurable and intimate, then you need this book. Christian men desperately need to understand that God has made women sexually different, and that's good. The Church has done a poor job of communicating this, teaching either that sex is not for women or that women should enjoy sex, like men do. News Flash - Women and men have different reproductive systems that work biologically differently. But both are capable of orgasm, but neither are capable of. Both are worthy of love and pleasure of love. This book does a wonderful job of giving husbands tools and framework to understand their wives'sexual response cycle, their hang-ups, their needs and their God-given dignity. From now on, I give copies of this and the Good Girl's guide to every engaged couple in my life.
I wish I had read this earlier in my marriage!

Derived From Web

, Mar 15, 2022

I wished my wife and I had read this book during our premarital counseling! This book is exceptional, well written and organized, and backed by tons of research and hard work. A few men would not benefit from reading this book ; I recommend it highly. Though couples who have been married for years would benefit from this book, I would also recommend it highly for couples interested in premarital counseling. I believe that many counselors and couples will benefit from this publication for years to come. Excellent!