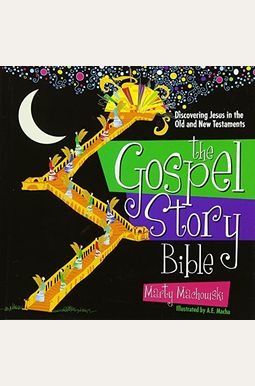 
 
The Gospel Story Bible: Discovering Jesus In The Old And New Testaments
Book Overview
Can a Bedtime Story Change a Life?
It is easy to forget Jesus in the midst of busy schedules and conflicting priorities, but the truth is that he is the only one who can change the lives of parents and children. As you share these Bible stories together, you and your family will meet Jesus and learn together a new, life-changing way of recognizing him as the hero of every story. Based on the ESV Bible, this unique, illustrated Bible storybook uses 156 stories to present God's plan of salvation in Christ from its opening narrative in Genesis to its finale in Revelation. The Gospel Story Bible is one of the many products available in the Gospel Story for Kids series.
Frequently bought together
Frequently Asked Questions About The Gospel Story Bible: Discovering Jesus In The Old And New Testaments
Books like The Gospel Story Bible: Discovering Jesus In The Old And New Testaments
Book Reviews
(9)
Did you read The Gospel Story Bible: Discovering Jesus In The Old And New Testaments? Please provide your feedback and rating to help other readers.
Finally.

Derived From Web

, May 14, 2022

We searched for this for a long, long time. This is the only children's Bible I have ever seen that has understandable stories, complete with children, and does not resort to changing the stories to make them relatable. The fact that he explained how each story points to Christ is an added bonus I have been reading the Bible my whole life and have seen many connections I missed. It seems a little too bizarre to me, but is completely subjective. It is colorful and keeps my daughter's interest. This Bible is beautiful written - it is what the Bible of Jesus should have been. Here another reviewer states that it has received more actual scripture references than the JSB, but the storytelling isn 't quite as creative. Well, there you go. If you want to enjoy a little creativity from man, you have a lot of options when it comes to children's Bibles. If you want to get creative and truth from God, get this.
This Bible would be best for upper elementary children and up

Derived From Web

, May 14, 2022

This Bible would be the best for upper elementary children and young children. One of the great things about this retelling is that it contains 156 stories - 78 from the New Testament and 78 from the Old Testament, and each is directly related to God's character and God's plan to send Jesus for our salvation. Each story fits on a single page, which unfortunately means there is only one picture for each story.
Great for young kids

Derived From Web

, Jul 21, 2021

Great way to introduce young children to the Bible. Read the first 20 stories to my 10 year old grandson, who had no exposure to the Bible and helped him a lot.
We LOVE this bible!

Derived From Web

, Apr 16, 2020

We have loved so much this Bible absolutely! My children are engaged in the stories. Without being too long and losing their attention, they are a good length. At the end of every story, we love the comprehension questions. They are helpful in driving the discussion about the passage and making sure that they understood what we read. We were looking for the next step up from another popular Bible for children and this was exactly what we were looking for. My only issue is with the binding : The binding fell apart after only a month of owning it. The middle pages of our Bible are entirely fall out on the verge of it. The binding was really disappointing in the quality of the binding. Weve perhaps a dud? I would love a replacement copy.
My Favorite Story Bible

Derived From Web

, Jan 9, 2020

We've been through a lot of story Bibles and this is my favorite for beyond the toddler years. It includes many of the common stories, but also so much more!!! It is rich in material from the Old Testament and points always to Christ. We went through this when our children were about 4, 6 and 8 and it met them each where they were at, even with age. This was so well-done that we moved to Machowski's "Long Story Short " and next plan to do " Old Story New ".
GOSPEL CENTERED! YAY!!

Derived From Web

, Jan 19, 2019

I love it so far. It is hard to find a Bible that is Gospel centered and not a compilation of moralistic stories, but as the name suggests, it is hard to find a Bible that has Christ as the focus of the old and new Covenant, but I love the illustrations, so that I've a little better. I also have a Bible that is Christ centered.
Great for daily reading to your children

Derived From Web

, Jun 21, 2018

In addition to the Bible of Jesus, we bought this to read to our daughter. She is still an infant and it is basically just to continue the practice of daily reading for her from the Bible. The JSBB took us 2 months to read and I do not want to go through the same stories 6x a year. I felt this was a good addition and I remembered reading it after reading stories during a Sunday school class. We are so far enjoying it. I look forward to reading from it and being able to ask the accompanying questions. I can 't speak for what age it is because everything is too much for our current child, but I feel like I am learning from it as an adult. I also like how it is written and that the Bible is presented on the pages from each story.
Excellent!

Derived From Web

, Jan 11, 2018

The family loves this Bible! We wanted something that had more Scripture than our other Kid's Bible, and this has been wonderful! It is a little bit expensive for our kindergartener, but we bought it with our child pro, in mind because she was ready for more detail and depth, which this provided. It is not an "animated" recollection, but it is accurate, relevant and there are so many stories! None of us like the illustrations, at the same time we appreciate how abstract it helps separate it from other fictional stories, but still provides children with a visual treat to help them remember and understand the story. My favorite aspect of the book is how the Old and New Testament is referenced in each story. It offers a popular picture of the Bible, like another Bible for children, but is much more scripturally accurate and applicable. We adored it as much as our children!
FAVE!

Derived From Web

, May 23, 2017

My elementary 20something daughter is reading this with my older daughter as we continue to grow her in Christ. The pages of this book never disappoint, the stories keep her attention and teach the Bible in a way that is easy to comprehend for the younger child!