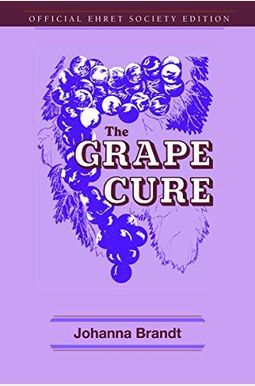 
 
Book Overview
This classic is still making its mark over 70 years since its debut. Author Johanna Brandt shares a personal journey of living with cancer and her discovery of how the beneficial properties of grapes cured her disease by refreshing and purifying cell structures. The virtues of naturopathy are extolled, and readers are encouraged to detoxify their bodies and prevent disease (namely cancer) through a combination of fasting and a diet of grapes and other raw foods.
Frequently bought together
Frequently Asked Questions About The Grape Cure
Book Reviews
(8)
Did you read The Grape Cure? Please provide your feedback and rating to help other readers.
Recommended

Derived From Web

, May 3, 2022

It not only saved our mothers life but has helped anyone in the family who has used it. I bought several of these to share with my friends so they can try it.
Nature's cancer cure....

Derived From Web

, May 3, 2022

I absolutely loved and believed in her, Raymond said. I have never felt so good. Traditional medicine has lost a lot of its luster. It could cure cancer. What happened to me was astounding, Mr. Kennedy said.
WHATEVER, MR. Barrett...

Derived From Web

, May 3, 2022

The book's publisher, Simon & Schuster, said it has "stood the test of time." Second, I would say this from personal experience. I know, I know, you are just some allopathic doctor who loves to collect money for prescribing drugs. The m and the d behind your name don't mean you always know what you're talking about, Bustin said. Before that the English word doctor was used to mean teacher. Things have changed. It's a shame, huh? That payment Mercedes is just going to have to come from sending someone to collections for not paying their co-pay, Mr. Dhaliwal said.
Healing on a Simple Scale

Derived From Web

, Apr 13, 2020

I really enjoyed this book, Melissa. I was inspired by Dr. Robert Morse to take a journey doing a mono-grape cleanse. Although I have done a grape cleanse multiple times, I never actually read the entire book. Her story is a compelling and arousing to anyone who wants to find a simple yet effective way to heal their body on a deeper level. This book has allowed me to continue my own path of detoxification, and find the correct alkalizing food mother earth has provided for us all, Thibault said. Whether you are ready to align with the divine spirit of natural healing or not, this book is for you. Thanks for the many blessings.
Wouldn't be sad if I never read it.

Derived From Web

, Apr 20, 2019

The ship arrived on time for its scheduled delivery. I had been thinking about buying it for several months. It's mind blowing, I thought. It takes between three and four hours to read a book, compared with a few minutes to read a newspaper. Only 4 stars were awarded because the author, Sandra Day O'Connor, recommended dairy. As a fan of Dr. Robert Morse, I do not include dairy products in a detox program. I received the official edition and was surprised nobody took the time to correct those. If you are a fan of Dr. Robert Morse and are on a budget, just don't buy this—watch some Dr. Morse videos on YouTube for free. The rest is just mechanical, Web site said.
Useful Knowledge

Derived From Web

, Feb 20, 2019

I'm on the third week of my fast and I am now able to levitate and talk to animals, he said. And I can regenerate damaged body parts and read minds.
A book everyone should know

Derived From Web

, Oct 28, 2018

It's great to be back home, said Blair, "and everybody should know this book." The book combines the power of Eckhart Tolle's "The Power Within" with the Mucusless Diet Healing System by Arnold Ehret. I have bought and will be re-selling both books for friends and family. The value of the original content is incalculable, Hubach said.
VERY INTERESTING READ

Derived From Web

, May 31, 2018

Fascinating book, said Dr. Charles Bloom, director of the UCLA Center for Ethics. I still can't believe it, said Johanna Brandt. Big Pharma and the medical establishment were just as corrupt as they are today, Schweizer said. Simply prolonging their lives long enough to drain all their life savings out of them.