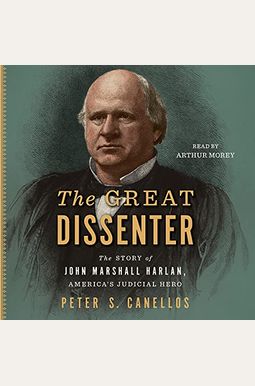  
The Great Dissenter: The Story of John Marshall Harlan, America's Judicial Hero
Product is currently Out of Stock.
You can add it to your wishlist and you will be notified once we receive a copy.
Book Overview
The definitive, sweeping biography of an American hero who stood against all the forces of Gilded Age America to fight for civil rights and economic freedom: Supreme Court Justice John Marshall Harlan.They say that history is written by the victors. But not in the case of the most famous dissenter on the Supreme Court. Almost a century after his death, it was John Marshall Harlan's words that helped end segregation, and gave us our civil rights and our modern economic freedom. But his legacy would not have been possible without the courage of Robert Harlan, a slave who John's father raised like a son in the same household. After the Civil War, Robert emerges as a political leader. With Black people holding power in the Republican Party, it is Robert who helps John land his appointment to the Supreme Court. At first, John is awed by his fellow justices, but the country is changing. Northern whites are prepared to take away black rights to appease the South. Giant trusts are monopolizing entire industries. Against this onslaught, the Supreme Court seemed all too willing to strip away civil rights and invalidate labor protections. As case after case comes before the court, challenging his core values, John makes a fateful decision: He breaks with his colleagues in fundamental ways, becoming the nation's prime defender of the rights of Black people, immigrant laborers, Read More chevron_right
Frequently Asked Questions About The Great Dissenter: The Story of John Marshall Harlan, America's Judicial Hero
Book Reviews
(9)
Did you read The Great Dissenter: The Story of John Marshall Harlan, America's Judicial Hero? Please provide your feedback and rating to help other readers.
An excellent book

Derived From Web

, Feb 26, 2022

I have read 8 or 9 biographies on Supreme Court justices's decisions and this is my favorite. It follows an individual with southern ties before the Civil War and follows his evolution until his death in 1911. It is hard to believe that some of his dissents were even necessary, but that was our country in that era. Like it did for Harlan, the book reflects on how this country has evolved and exposes the costs of decisions from our highest court. The book delves into several significant court cases without being weighed in legalese. When a book triggers my interest to look beyond its pages, I know that it was a good one. Canellos certainly did, and so did Canellos. I understand that some reviewers took exception to the mini biography of Robert Harlan contained within this book and I also had initial reservations about this inclusion, but I think that the author wowed this part effectively.
An excellent read of Justice Harlan's lasting legacy.

Derived From Web

, Sep 15, 2021

Living near Justice John Marshall Harlan's birthplace in central Kentucky, I can attest that today the diversity in thought and action is evident among the people of our state, as witnessed by Harlan. From the post Civil War era and the continuing struggle for civil rights, Justice Harlan's dissenting opinions on a number of issues addressed this diversity in line with his belief that equality is for all. As the author notes, Harlan brought a more instinctive sense of justice, a firmer fairness '' to the court. The Commonwealth of Kentucky takes pride in the legacy of Justice Louis Brandeis as well as Justice Harlan's. In their own right, distinguished sons and native justices were born.
John Marshall Harlan, Giant

Derived From Web

, Sep 8, 2021

John M Harlan and his brother Robert are his brothers. John, who kept the door of constituonal freedom open a crack in Plessy v Ferguson and continues to influence court opinion, saw his family prosper over the years. Jim Crow, shackled by Robert, slowly descended into misery and oblivion. A great story.
A wonderful history of the times

Derived From Web

, Aug 19, 2021

Very vast and contains a engrossing corpus of notes. A delightful book and perfectly placed to give us courage and perspective now.
Read this book to understand our country's struggle to manifest constitutional rights

Derived From Web

, Aug 17, 2021

WOW, I am so glad you are here. I am shocked by this book and how the politicized US Supreme Court in the post-reconstruction years resembles our current court, which is in opposing basic constitutional rights of citizens and defending the rights of corporations, favoring the wealthy and those in power. Read this book to learn how the Supreme Court set up emancipation to fall and the rich to rule, and how a Justice planted a fierce seed of dissent for others to stand up and demand that we have laws that support the meaning of our Constitution.
What a visionary was justice Harlan!!!

Derived From Web

, Aug 16, 2021

This book was the best history I have ever read about the events that lead to it during and the aftermath of the Civil War. The biography of John Marshall Harlan and his predictions of the aftermath of the Supreme Court rulings of that time are just right. A true American hero...
Best nonfiction book I have ever read

Derived From Web

, Aug 11, 2021

I learned more about this book by listening to David French and Sarah Isgur's podcast Advisory Opinions. They raved about the book so I bought a copy and their review was completely accurate. This is a fascinating analysis of our country in the second half of the 19th century, written through the lens of Supreme Court decisions and the man who had the foresight, intelligence and courage to join the dissenting justice John Marshall Harlan. The style of writing is almost conversational and does not get bogged in legalese, so that it is page-turning reading for everyone. In fact, this book should be required reading in all high schools, as it gives a valuable perspective on our history and puts today's conflicts into their proper historical perspective.
Deceptive title

Derived From Web

, Aug 10, 2021

This is less a biography of John Harlan, as it is of Robert and his half-brother John, whose mother was a slave owned by John and Robert's father. Robert is given way too much attention.
A prophetic voice for freedom and equality

Derived From Web

, Jul 30, 2021

Harlan's often lone dissents were a source of hope for the victims of segregation, and an inspiring road map for Thurgood Marshall in the fight for Civil Rights.