Buy 3 Get 1 Free
Our Best Sale Yet! Add 4 Books Priced Under $5 To Your Cart Learn more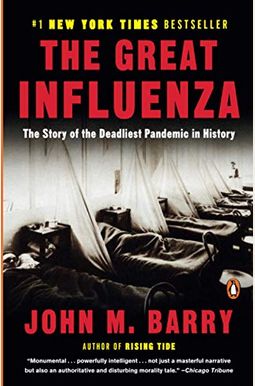 
 
The Great Influenza: The Story Of The Deadliest Pandemic In History
Book Overview
#1 New York Times bestseller
Barry will teach you almost everything you need to know about one of the deadliest outbreaks in human history.
--Bill Gates
Monumental. an authoritative and disturbing morality tale.--
Chicago Tribune

The strongest weapon against pandemic is the truth. Read why in the definitive account of the 1918 Flu Epidemic.

Magisterial in its breadth of perspective and depth of research,
The Great Influenza
provides us with a precise and sobering model as we confront the epidemics looming on our own horizon. As Barry concludes, The final lesson of 1918, a simple one yet one most difficult to execute, is that.those in authority must retain the public's trust. The way to do that is to distort nothing, to put the best face on nothing, to try to manipulate no one. Lincoln said that first, and best. A leader must make whatever horror exists concrete. Only then will people be able to break it apart. At the height of World War I, history's most lethal influenza virus erupted in an army camp in Kansas, moved east with American troops, then exploded, killing as many as 100 million people worldwide. It killed more people in twenty-four months than AIDS killed in twenty-four years, more in a year than the Black Death killed in a century. But this was not the Middle Ages, and 1918 marked the first collision of science and epidemic disease.
Frequently bought together
Frequently Asked Questions About The Great Influenza: The Story Of The Deadliest Pandemic In History
Books like The Great Influenza: The Story Of The Deadliest Pandemic In History
Book Reviews
(11)
Did you read The Great Influenza: The Story Of The Deadliest Pandemic In History? Please provide your feedback and rating to help other readers.
It's Only The Flu

Derived From Web

, Apr 20, 2022

On February 25, 2016, my healthy 48 year old son died from flu symptoms. This terrible event has sent me in search of knowledge about the virus. The search took me to this book . The book is well researched, yet the key element that makes the book readable is the narrative about the state of medical science, medical schools, and their evolution at the beginning of the 20th century. Then the historical context is set up for the events that followed. There is also a detailed account of why the Pandemic took such a toll on the world. Every year, we are vaccinated against the flu and told to get vaccinated against the flu. After reading this book and having lost my son to the flu, the book gave me a deeper understanding of the forces at work and why sometimes the result can be so deadly. I highly recommend '' this book.
Well worth it.

Derived From Web

, Mar 13, 2021

Lots of pages and book doesn't really get into the meat of the story right away. Lots of medical history that medical professionals may seem unnecessary. Lots of medical terminology and description of how the flu spreads, mutates, develops that can be confusing for those of us with little medical background. I must admit that I did skip some of that. Having said all that, I found the book fascinating and not too surprised at how relevant it is to today's pandemic, how it was handled and mishandled by politicians, and how medical professionals - scientists were ignored. History does repeat itself. To me, it is a book to be read, put down and picked up again. Since that was too difficult to borrow on LIBBY, I bought the book to read at my leisure, and to absorb these parts a bit difficult to understand at first reading. Bottom line, well worth reading.
An astonishing history of American medical education and then the pandemic - very well-researched.

Derived From Web

, Feb 27, 2021

Having visited the US medical museums of the University of Bologna, I was quite amazed that historical medical schools were very late to start and that Drs went to Europe to study. There was really a different attitude to medical training in the USA from Europe and maybe this trickles down to the lack of a national health system today in the US. The book goes from army site to army site and is very well documented, describing leaders who tried to fight the 1918 influenza epidemic. It is a very thorough work, if at times a little tedious. More colorful descriptions of the different locations where the influenza epidemic was found would have helped the reader better relive history. The book has a distinct US bias. I was interested that the pandemic disappeared in Philadelphia very suddenly. The links between different players in the book make it a useful resource for learning the management of pandemics.
People think we've got it hard now…

Derived From Web

, Dec 19, 2020

... we got it easy compared to 1918. A lot of detail that I hadn't seen before... We came so close to being in real trouble in 1918... I knew it was bad, but the amount of detail makes it even worse. Politics and the press lied or got things wrong or understated, sometimes trying to keep the people calm, sometimes just plain ignorance or prejudice. This book explained how quickly the virus traveled around the world... If we get one like that now with our even faster transportation, I think civilization probably couldn t survive. Disease details, death rate this thing was vicious, Covid 19is nothing by comparison. Should be read by a lot more people.
Great read. Well written and well researched

Derived From Web

, Apr 13, 2020

I read this in the beginning of the corona virus pandemic in late March and early April 2020. Parallels are both instructive and disturbing. It appears as though our scientific leaders learned nothing, while the political community's warnings went unheeded much like 1918. The structure of the book is surprising first. It introduces the beginning of the flu, then veers off into a discussion of medicine before and during that time. It is main, but left me wondering when we would get to the instructive story. Likewise, the author spends a lot of words extolling the virtues of key medical players. At times it becomes overkill. Similarly, a lot of names are introduced and it can be taxing to keep track of who is what. The book is a captivating read and highly informative despite these shortcomings. A definite buy.
Must read for those interested in the pandemic

Derived From Web

, Apr 1, 2020

A well written account of why the flu was so deadly. Many human factors played a role. The lack of scientific medical care, administrative errors by the Wilson administration, the army and civilian leaders caused many more deaths than should have occurred. History is repeating itself 100 years later, 100 years later. This well researched, well written book should be required reading for anyone in authority during the current pandemic. Also helpful for anyone interested in epidemiology, is helpful for anyone interested in the subject. Must read! Must read!
Fascinating, but badly needed editing

Derived From Web

, Mar 28, 2020

The #tory of the 1918 epidemic is fascinating and told quite well. Unfortunately, the author digressed to excess into biographical sketches of the leading researchers. The disease is hardly mentioned for the first hundred pages. The readers should skim or skip the chapters that discuss the researchers. Still, in the spring of COVID 19, this book is valuable and well worth reading in the spring of COVID 19.
A book that rhymes with our times.

Derived From Web

, Mar 26, 2020

I read this sobering history for the first time in 2004. Since then, I have reread it three times and since then, I have since reread it three times. It is really two histories, one of the rise of the scientific US medicine and one of the global pandemic of 1918. Although called the Spanish Flu, Barry reveals that the flu most likely originated in Haskell, Kansas. The gathering and traveling American troops in preparation for World War One acted as a perfect and lethal incubator for a virus that killed tens of millions of lives worldwide and estimated 675,000 in the United States. Some communities were particularly slow to respond to some communities. Philadelphia paid a brutal price for provoking a massive war bond rally that fueled a crisis that killed thousands of its citizens. Some communities, especially in parts of the West, succeeded in reducing deaths through rigorous bans. This history is an insightful history of an event that is often ignored after it happened. This book rhymes with our times.
Boring, Excessively Wordy, Waaay Too Much Unimportant Information

Derived From Web

, Mar 26, 2020

There is no information too unimportant to be left out of this book. About the weeds of detail about various scientist lives, Just goes off into the weeds of detail about various scientist lives. I kept skipping pages in the hope that I'd find some meat in the book. Way too long : He or his editor needs to take a sharp knife to the book and reduce it to a few hundred pages. It would probably be a lot more interesting to read and would probably convey as much important information.
Waste of time and money

Derived From Web

, Mar 25, 2020

Heard about this book and the author interviewed on NPR... sounded fascinating. Ordered it on impulse-one of the most boring books I ever tried to read. All the interesting details on radio are overwhelmed by long, long passages of description-the barrenness of the Kansas landscape-and boyhood histories of doctors who had little to do with the pandemic as far as I can tell. Total waste of time and money :