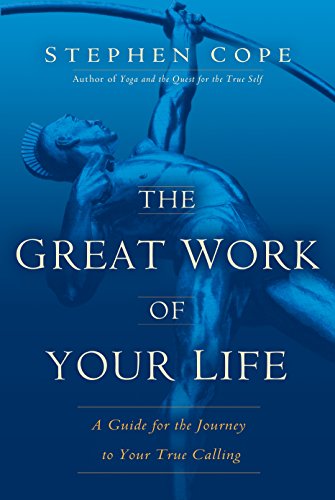 
 
The Great Work of Your Life: A Guide for the Journey to Your True Calling
Book Overview
This Description may be from another edition of this product.
Discover the deep purpose hidden at the very core of your being
To know your true calling--your dharma, as the yogis say--is perhaps the greatest desire within each of us. And yet, few can say we know our purpose with absolute certainty. Fortunately, there is a time-tested guide--an ancient map--for discovering and fulfilling your unique calling. In The Great Work of Your Life, Stephen Cope walks you through each step of the journey.
Cope teaches that the secrets to unlocking the mystery of your dharma can be found in the spiritual classic, the Bhagavad Gita--a timeless tale about the path to dharma, told through an instructive dialogue between the fabled archer Arjuna and his divine mentor, Krishna. In The Great Work of Your Life, Cope uses Arjuna's journey as a framework for each of us to discover our own dharma, masterfully weaving together stories of both well-known and ordinary Western lives.
Throughout the book, Cope explores the Four Pillars of Dharma, or the stages we move through as we fulfill our own true callings. Each pillar is illustrated with riveting true stories, including: Jane Goodall's ability to follow her heart without question
- The little-known tale of Walt Whitman's dharma discovery in the second half of Read More chevron_right
Frequently bought together
Frequently Asked Questions About The Great Work of Your Life: A Guide for the Journey to Your True Calling
Book Reviews
(12)
Did you read The Great Work of Your Life: A Guide for the Journey to Your True Calling? Please provide your feedback and rating to help other readers.
an action packed inner journey

Derived From Web

, May 15, 2022

For those who truly want to make the most of the gift of time in this short life, cope offers powerful tools to awaken you to the wisdom within you. This book will reward those willing to pay attention to its ideas with deep insights that will allow them to find beauty and meaning in our collective, interconnected human journey, and continue to perceive it.
DO WHAT LIGHTS YOU UP

Derived From Web

, May 15, 2022

I liked the way the author wrote his book in plain, easy to understand language ''. I enjoyed learning how some of the world's great people and their gifts shared with the world were often ordinary people.
I love this book

Derived From Web

, May 15, 2022

Cope does so well in teaching the lessons of the Gita by relating them to people and situations we know and can recognize in our own lives. So much highlighting, and I come back to passages of this book all the time when writing new yoga classes.
A most worthy read.

Derived From Web

, May 15, 2022

A penetrating exploration of a fantastic and poignant inquiry. A tome worthy of the plunge take the plunge. Mr. Danke for the kind words. Cope is grateful for your kind efforts. Well traveled.
Vocational calling

Derived From Web

, Sep 29, 2020

If you are wrestling with vocational calling, deprioritized ambitions or just a nagging sense that there may be a better life for you, I believe this book may be of service to you. It has certainly been kind of me. I found particularly helpful the idea that one can go through several dharmas in life and that some must be let go to graduate to the next. Any of the real life examples are alone worth the cost of the book. It is an inspiring combination of biographical and spiritual wisdom.
Astonishing Insights

Derived From Web

, Aug 24, 2020

The writer was very practical and helpful about how to determine if you are actually called to something, and then gave insightful and helpful advice about what steps to take to fulfill your Dharma. At first, I was a little put out by his use of spiritual vocabulary and Hindu concepts, but there was so much meat in the book that I was able to overlook what seemed a little pretentious. In fact, I came to the conclusion that the word Dharma is exactly the right word for vocation, duty. Maybe it was just the right book at the right time for me, but I would recommend it to anyone seeking wisdom about following a call.
I wish I'd had this book at 15

Derived From Web

, Feb 25, 2019

I would never have read it, but it was assigned to my yoga teacher training. Don 't get me wrong... I have a successful career and raised a family, but through it all this little nagging feeling that I was not really loving what I was doing. And I sort of looked wistfully at those few people I ran into in life who seemed to know what they loved and did it with Zeal. Well, this book gives the reader a way to identify what they love so that they can pursue it vigorously.
Lovely balance of ancient and contemporary...a book that will change your life. REALLY.

Derived From Web

, Jan 25, 2019

I was expecting ancient wisdom, but received grounded, enriched truths that have enriched my life. Like this one-elimination, darling, think of the large as small. Wow, I was there. When we get Grandiose, we get off our game and our purpose. And using Thoreau as an example of this is brilliant. I have extensively traveled in Walden... We don 't find what we are looking for outside ourselves. Check out what Krishna has to say to Harrriet Tubman. Really? This book is for sale.
Life help from the Bagavad Gita

Derived From Web

, May 3, 2018

Worthwhile read : Better to read as a young person, since it aims to promote a thoughtful use of one's life.
Bhagavad Gita for the 21st century reader

Derived From Web

, Mar 15, 2018

Stephen Cope does a modern job of unpacking the Bhagavad Gita for a masterful reader. Excellent job of relating the current wisdom to the timeless day to day life.