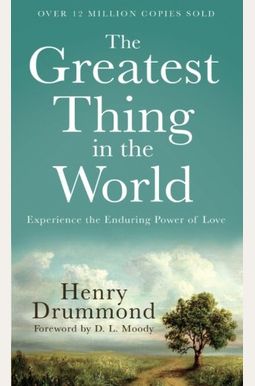 
 
The Greatest Thing In The World
Book Overview
This Description may be from another edition of this product.
I was staying with a party of friends in a country house during my visit to England in 1884. On Sunday evening as we sat around the fire, they asked me to read and expound some portion of Scripture. Being tired after the services of the day, I told them to ask Henry Drummond, who was one of the party. After some urging he drew a small Testament from his hip pocket, opened it at the 13th chapter of I Corinthians, and began to speak on the subject of Love. It seemed to me that I had never heard anything so beautiful, and I determined not to rest until I brought Henry Drummond to Northfield to deliver that address. Since then I have requested the principals of my schools to have it read before the students every year. The one great need in our Christian life is love, more love to God and to eacho ther. Would that we could all move into that Love chapter, and live there. This volume contains, in addition to the address on Love, some other addresses which I trust will bring help and blessing to many.
Frequently Asked Questions About The Greatest Thing In The World
Books like The Greatest Thing In The World
Book Reviews
(13)
Did you read The Greatest Thing In The World? Please provide your feedback and rating to help other readers.
A gem

Derived From Web

, May 28, 2022

I had no idea, it would move me as much as it did. I read the 13th chapter of the 1st Corinthians many times and love it. In fact, my wedding ring contains inside it the inscription of 1st Corinthians 1313, so that I can remember how love and marriage are intertwined. However, in reading this book, I was shown an even deeper understanding of the importance of love in everything and the necessity of not limiting it to just the familiar. We deserve love from all of us. We need to show more love, more importantly. This book is for reading. As I do, I keep it on a shelf close to your bed and read it just before falling asleep.
He thoroughly examines the scripture and concludes rightly that "the greatest of these is love

Derived From Web

, May 28, 2022

As a 19th century evangelist and writer, Mr Drummond explores 1 Corinthians 13 as a deep thinker. I found myself re-reading and highlighting major portions of the book, as his profound interpretations and applications were surprisingly relevant today for believers. He examines the scriptures thoroughly and concludes rightly that the greatest of these is love. Not a long book, but good for a devotional or deep study of love. For me, lots of light bulb moments were very important.
Greatest thing in the world book

Derived From Web

, May 28, 2022

If you are interested in understanding how to treat people, it is well worth the effort.
Henry Drummond book

Derived From Web

, May 28, 2022

We found the book The Greatest Thing to be a well written and enticing book that will inspire you to think.
Powerful!

Derived From Web

, Apr 26, 2021

This essential treasure is a power packed discourse on the small work of love, God's love, in the life of the believer. However, let's be careful not to confuse simplicity with ease. It is not easy or possible to love like God without having access to a transformative work in our lives.
Truly a great book about the greatest truth.

Derived From Web

, Apr 9, 2021

My mother had this book and gave it to my daughter with all the special thoughts outlined from beginning to end. I ordered my own copy and then received more for other special loved ones. In honor of my mother, who truly knew how to love everyone around her, I read the book again.
Very cheaply made. I guess I should have checked other versions

Derived From Web

, Mar 14, 2021

Just gotten through it. It is a short read. This review is not against the content, but rather it is book quality. Paper is cheap. Coverage is cheap. I have already torn a page and I don 't even know how I did it. I want to have a permanent copy. I 'll look for imitation leather or hardcover elsewhere. This one will not hold up Bc.
The Key to the Truth

Derived From Web

, Aug 22, 2019

Once upon a time one finds a book as worthy as this book! Today, fresh as when it was written, an inspired straight forward telling of eternal truth,
Enthralling

Derived From Web

, Jan 4, 2019

As Paul and other disciples tell us, love is more powerful and precious than any other aspect of Christian life. John Drummond does a masterful job of discussing this. I am not usually that enthralled with non-fiction books, but I could put his down hardly. For me it was definitely a page-turner and should be read by everyone.
CAUTION: This is NOT the original sermon delivered by Henry Drummond.

Derived From Web

, Dec 22, 2017

CAUTION This is NOT the original sermon by Henry Drummond. In the adjacent part of the product description it says : This is a reproduction of a historical artefact, this work may contain missing or blurred pages, poor pictures, errant marks, etc. I believe that the product description should have put this information up front instead of just hiding it in the book's more section. It actually looks as though someone would have cut the pages with a pair of scissors and put them together. The pages are not parallel to the bindingcover like a normal book, but was purchased as a gift, but I would be embarrassed to give it to anyone. This purchase was VERY disappointed and I plan to return the book.